Chinese GP papers: Hamilton reduces Rosberg 'to a ranting wreck'
Fleet Street feel German psychologically beaten after Shanghai rant
By William Esler
Last Updated: 21/04/15 1:03pm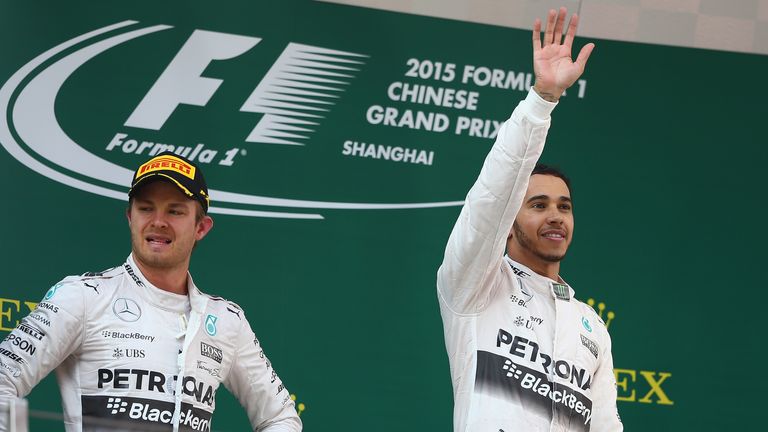 Lewis Hamilton reduced Nico Rosberg 'to a ranting wreck in Shanghai' according to The Times, as the latest Mercedes row dominated Monday's papers.
The word "selfish" was smeared across the majority of back pages as Rosberg accused his team-mate of ruining his race by driving too slowly.
However, Fleet Street disagreed with the German and feel that this is the race which showed him to be the clear number two at the Silver Arrows.
'Champion tames feeble Rosberg', was Ron Lewis' headline in The Times, adding that Hamilton he had watched 'the Briton take charge and reduce his team-mate to a ranting wreck in Shanghai'.
'Hamilton treated Nico Rosberg, his Mercedes team-mate, with a dismissive slapdown on the way to the most straightforward of victories at the Chinese Grand Prix,' he wrote.
'The German pushed Hamilton hard for the world title for two-thirds of last season; this year he seems completely subservient.'
In the Daily Mail, Jonathan McEvoy concluded that Hamilton had now psychologically destroyed Rosberg after yet another defeat.
'It was easy to sympathise with Rosberg, but difficult to agree with him', he wrote. 'Even though he was somewhat stronger here than during the opening two race weekends, he must be reaching his wits' end, frustrated to distraction, wondering how on earth he can possibly beat Hamilton when he is on form.
'It seems to this cod psychologist that it was Rosberg's deep exasperation that led him to behave like he did.'
In The Guardian, Paul Weaver concurred: 'The mystery is, if Rosberg felt he was being held up by Hamilton's rubber management, why did he not attempt to overtake? Is it because the German has been psychologically scarred by Hamilton's run of eight victories in 10 races? Rosberg knows he cannot beat Hamilton in wheel-to-wheel action, if both cars are in the same condition.'
After examining the race strategy, The Daily Telegraph's Daniel Johnson says Hamilton drove the correct race for the team.
'Hamilton drove conservatively, managing his tyres, particularly in the first half of the race,' he wrote. 'But the memory of Ferrari's triumph in Malaysia was fresh in his mind. His fear – and the team's – was that their rubber would give up earlier than Ferrari's, allowing Vettel a chance to steal victory. This seems a reasonable argument.'
With just a matter of days before the battle resumes in Bahrain, Johnson concluded: 'It is Hamilton who holds all the cards. He is qualifying faster, racing better, and is well in the ascendancy when it comes to mind management.
'Rosberg must regain his composure or he will be relying on more dubious explanations than the one he advocated here.'
The Sun's Ben Hunt likened the fight between Hamilton and Rosberg to a boxing match between two fighters in different weight categories.
'In truth, if their inter-team battle were a boxing match, it would have been stopped some time ago as Hamilton toyed with his opponent. Rosberg looks like a lightweight being pounded by a heavyweight,' he wrote.
'Perhaps, then, it is understandable that after being so embarrassingly outclassed, Rosberg would come out swinging like a punch-drunk fighter and accuse Hamilton of playing dirty.'