Martin Brundle: A positive start to F1 2017 but also negative concerns
Sky F1's Martin Brundle reviews the season-opening Australian GP & reflects on both the high points and a worrying lack of overtaking
Last Updated: 28/03/17 8:37pm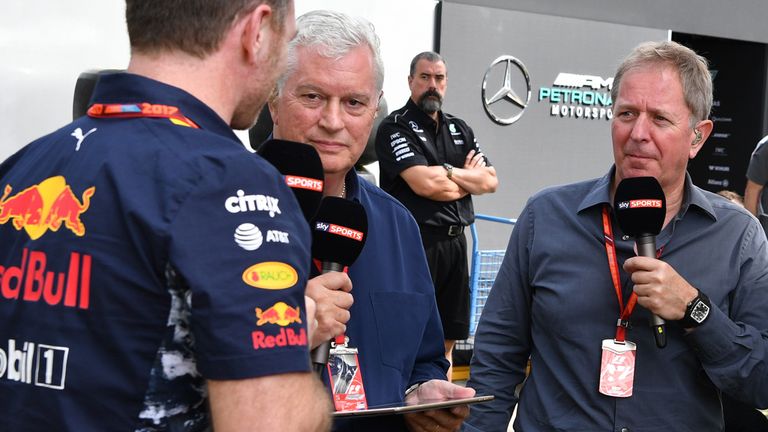 Finally the long-awaited and highly anticipated 2017 Formula 1 season is underway. For the first time in years, it appears we are going to be rewarded with a season not dominated by one team.
There will be a development war at every race of course, especially now there is close inter-team competition, but in my experience, good cars are good cars all season long and at all types of circuit.
The grid looked a bit skinny with 20 contenders, or sadly only 19 with Daniel Ricciardo's Red Bull parked in the garage with gearbox gremlins from where he would eventually emerge two laps down.
Let's look at the positives first. Every driver is getting out of the car with a smile on their face and saying they're much more fun and challenging to drive, and that they can really attack the track.
This is backed up by the Pirelli tyres fundamentally changing behaviour. While previous specs would have given up more than two tenths of a second in performance every lap, the 2017 tyres degrade nearer 0.075 per lap on average. This means that as the cars burned through their fuel loads, the lap times became faster over a stint, like the Bridgestone days.
Many drivers did their fastest laps near the end of the race and they will now push harder earlier to make sure they are using the full potential over the life of the tyres.
Even more importantly, the tyres don't fry up and melt beyond recovery if the drivers spin up the rears or slide around. Once again this will encourage them to increasingly push.
Given the difficulty in overtaking - more of which later - I also perceived that the drivers enjoyed the extra mechanical and aerodynamic grip in the first few corners and laps to have a go. It was pretty frantic.
The upside of all this means that driving style, race strategy and overriding conversation will no longer be totally dominated by tyres. The downside is that we've lost a significant variable.
This will also mean that a grid penalty or poor start will become increasingly painful because teams can't change strategy with racey multiple pit-stops to bring their driver back into play.
Once the race pattern settled down, it was very evident that, despite following relatively closely, Sebastian Vettel was more comfortable in his Ferrari than Lewis Hamilton was in his Mercedes. Lewis was on the radio clearly struggling to maintain such pace as they pulled a little clear of Valtteri Bottas in his first race for Merc.
It's easy to say that Ferrari got lucky when Hamilton pitted for his only stop for fresh tyres and came out behind Max Verstappen, and then lost time. But they earned that right by being so fast and able to pit at a more productive time in terms of traffic.
As an aside, I wouldn't normally expect to write that Verstappen being slow cost somebody a race victory...Red Bull didn't have a great weekend and these regulations were supposed to play into their hands.
It was common to see tyres doing more than 30 laps of the expected 58-lap race and indeed Dany Kvyat managed 34 on his ultrasofts and he wasn't exactly sliding around as if he was on ball bearings. Stoffel Vandoorne managed 46 laps on his two steps harder 'softs'.
Vettel sailed to a comfortable victory as Bottas impressively reeled in Hamilton but ultimately had to settle for third. Kimi Raikkonen suffered initially with understeer and was a steady fourth, while Verstappen drove the wheels of his Red Bull and made a choice of supersofts work very well.
Even so, Red Bull were the best part of half a minute behind a cruising Ferrari and they have much work to do.
Fernando Alonso attacked every braking zone and apex with his usual verve, despite his woefully underpowered Honda engine, until his McLaren cried enough. I understand his patience is already waning quickly.
And there isn't much else to say. There were clusters of cars here and there having fun but without much changing of position. The lap times weren't especially impressive, 1.7 seconds faster in qualifying and 2.4 in the race than last year, albeit with less pit stops for fresh tyres.
In a normal year of development without the enormous cost and hype of the new cars I would expect the teams to have found half of that anyway.
The drivers had clearly prepared physically well for the highly anticipated challenges but they hardly looked battered and troubled at the end of the race or on the plane on the way home. This is not surprising given the lap times were not significantly faster.
Trackside, the cars were visibly faster though, particularly through the mid corner and especially in slow braking and traction areas where the greater mechanical and aero grip really calmed them down, and so generating more forward than sideways action. I'm not surprised they are much more satisfying to drive.
Now with 105kgs of fuel available and the extra formation lap after a clumsy grid form-up due to Ricciardo's car missing and an errant warning light in race control, fuel saving was not a key feature.
Now the elephant in the room. Overtaking. First, let's remember it is Albert Park and it's a sample of one for the 2017 cars so far. The brief for the these cars was to go 3-5 seconds a lap faster. Improved overtaking was never at any point one of the key objectives.... I didn't make that up.
The race was won in the pits, there was no overtake for track position. Yes, I know it's often been like that but we want it changed. Many drivers were saying after practice that following another car was very difficult. If you load up the upper surfaces of a racing car with 100 aerofoils, turning vanes and strakes, this is no surprise.
We know that wet races are often very exciting with limited grip, when they are 20 seconds per lap slower. We know that MotoGP can be very exciting, and they lap nearly half a minute slower. It's not purely about speed. Cars often look fastest when they are sliding around and/or side by side.
The teams have worked to the wrong brief, the cars have become too heavy, too quiet, too complex and expensive, and too aero dependent.
We've wasted billions of dollars on this tech fest. Other tracks will generate better racing, and I'm relishing a Ferrari and Mercedes duel with hopefully Red Bull joining in, but Ross Brawn and his team have a critical job ahead of them and we can't wait until 2021 for the solution.
One early fix might be to mandate two pit-stops but that would require unanimity from the teams for this season, although I'm not entirely sure that would change much except for some variability.
Let's see what Shanghai and Bahrain bring.
MB
Don't miss the final word on the season-opening Australian GP in the latest edition of F1 Report. The first airing is on Wednesday at 8.30pm on Sky Sports F1, with the show repeated on the channel and available On Demand and online throughout the week.
Sky customers can now upgrade to Sky Sports and get 12 months for just £18 per month. Upgrade now!