How Lewis Hamilton's F1 record compares to Ayrton Senna's
With Hamilton in line to equal two of his boyhood idol's career landmarks in Singapore, we look at how their F1 numbers stack up
By James Galloway and William Esler
Last Updated: 18/09/15 1:14pm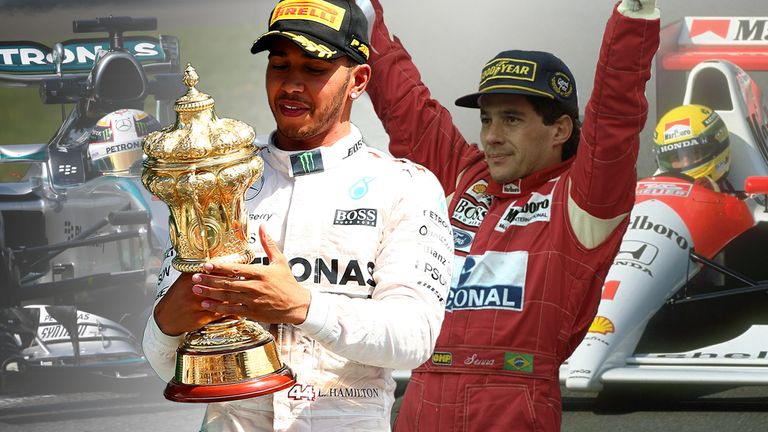 "It's kind of neat to be in amongst an area of what Ayrton achieved because when I was a kid I always wanted to emulate him. To say that I'm on par to do that is quite neat."
Having grown up idolising the late great Ayrton Senna during the Brazilian's heyday in the late 80s and early 90s, Lewis Hamilton has the chance to reach one of his hero's most significant milestones in Sunday's Singapore Grand Prix - 41 race victories in Formula 1.
While far from being an outright record - Michael Schumacher is out on his own on 91 wins ahead of Alain Prost (51) while Sebastian Vettel and Senna also boast 41 - being on the threshold of equalling his boyhood idol's victory tally inevitably represents a landmark moment in Hamilton's career.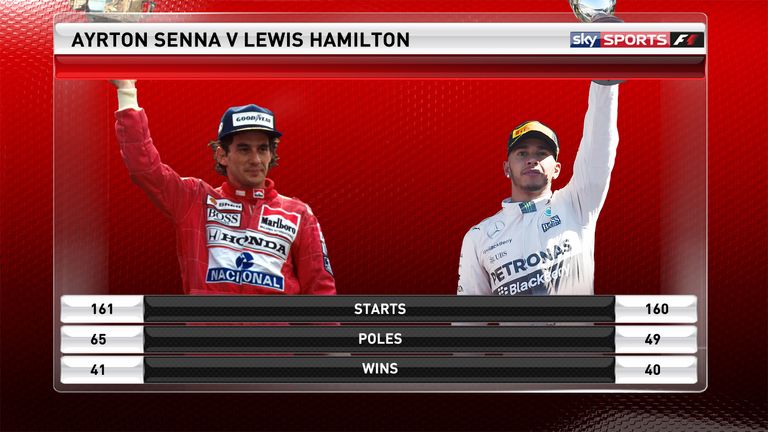 What's more, were the Mercedes driver to win Marina Bay's night race for a third time then his F1 record would be identical to that of Senna's: 41 victories from 161 starts.
That's a win rate of 25 per cent, although Senna's 41st win actually came on his 158th start in the Australian GP at the close of the 1993 season, three races and six months before he lost his life aged just 34 in a crash at Imola.
While comparing driver records from different generations in F1 is fraught with problems - Senna, for example, racked up 63 DNFs in his 161 starts (39%) whereas Hamilton, in an era of far greater car reliability, has failed to finish on just 22 occasions (14%) - the basic statistics nonetheless reveal a remarkable similarity in the numbers between Hamilton and his hero.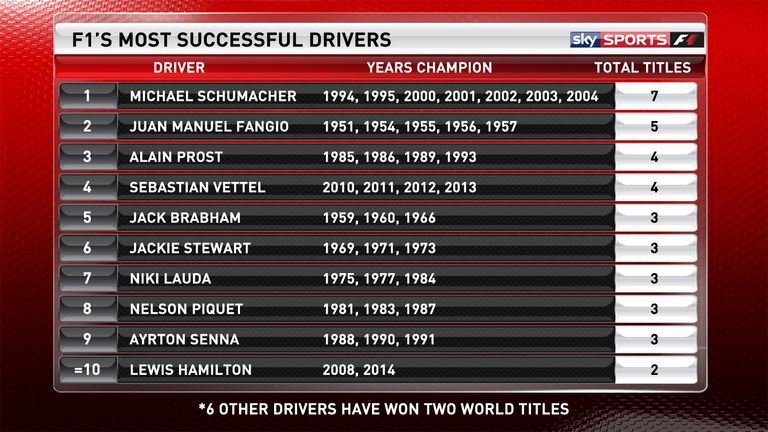 Having won at least on race in each of his seasons in F1 since his debut in 2007 - a feat which, so far, remains unique - Hamilton has consistently worked his way up F1's all-time tables, with his progression into the top five especially rapid since Mercedes' rise to dominance 18 months ago.
The world champion's victory last time out at Monza saw him pass Senna's tally of 80 podium finishes, with the Briton's haul of 81 now placing him behind Fernando Alonso (97), Prost (106) and Schumacher (155).
Hamilton also leads his idol for fastest laps (25 to 19), Senna has three more front-row starts (87 to 84) and, significantly, 16 more pole positions. While it may not have been an outright record since 2006, when Schumacher raised the benchmark to 68, Senna's 65 poles - and remarkable 40% strike rate - remains perhaps the three-time champion's most eye-catching achievement.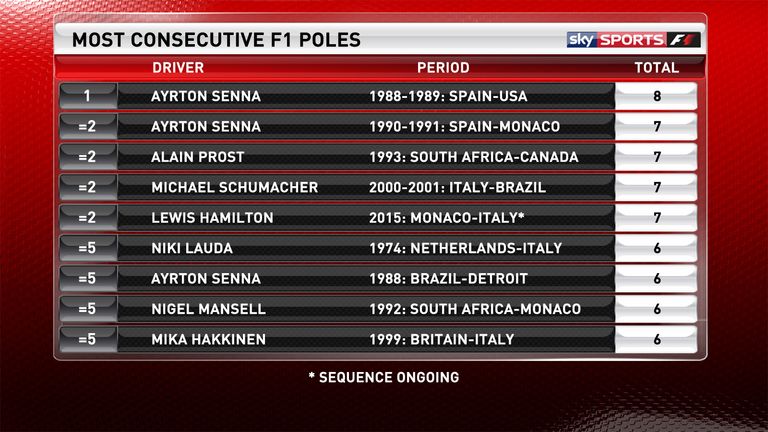 In Singapore Hamilton can, however, equal one qualifying record of Senna's which has stood for 26 years - eight consecutive pole positions. Having finished fastest in every qualifying session dating back to Monaco in May, Hamilton will join the Brazilian on eight straight P1s if he tops Q3 again on Saturday.
And should another pole be followed by another win in Singapore, then Hamilton, already 53 points ahead in the championship race, will be even closer to emulating the one achievement of Senna's he has made no secret of the fact he's always dreamed about - three world drivers' titles.