Singapore GP organisers planning extra security after track invasion
Investigation finds man who entered track scaled security fence, crossed protected enter and then entered track via access point in barrier; Singapore considering beefing up marshal numbers for 2016
By James Galloway at Suzuka
Last Updated: 29/09/15 10:48am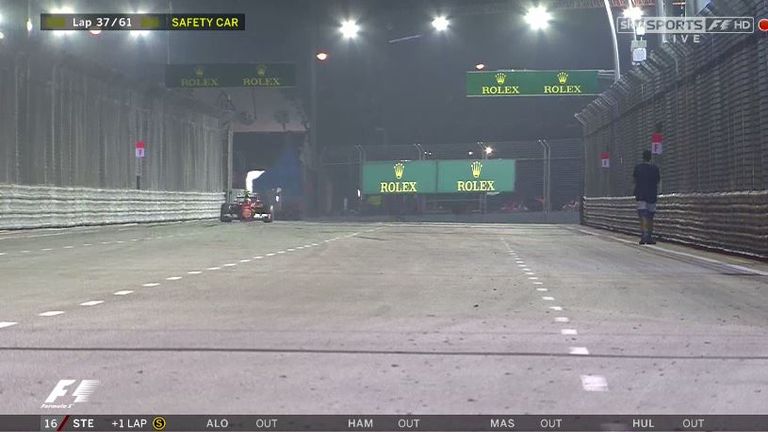 Singapore GP organisers are planning to increase security and introduce higher spectator fences in the wake of the track invader at last weekend's race.
A British national, 27-year-old Yogvitam Pravin Dhokia, was arrested by local police and subsequently charged with committing a 'rash act' after climbing through an opening in the fence to cross the track.
The clerk of the Marina Bay course, Gabriel Tan, has now submitted his findings to the FIA and made a series of recommendations to avoid a repeat in future.
"The Singapore Grand Prix organisation is currently studying plans to increase security in identified areas," a statement issued by the FIA at the Japanese GP read.
"In the affected area where the intrusion occurred, it is considering plans for the installation of higher spectator fences. A substantial increase in the number of marshals in attendance at the event is also being evaluated. These marshals would work hand-in-hand with the security personnel in spectator areas."
Singapore organisers found that Dhokia entered the circuit via a designated opening - termed an egress point, which is a horizontal slot which personnel can slide through to gain access to the track.
"The individual climbed over a 1.1 metre high security fence, gained access to a protected 2-metre-wide Marshal Zone, crossed a carriageway and slid through the opening in the EP. He managed to enter the track in less than 10 seconds," the FIA explained.
"The 1.1m fence in question is of a similar height to fencing used at a number of other F1 events."
The man, who walked in the opposite direction to oncoming cars down the inside of the track at Esplanade Drive, was "immediately apprehended by marshals who handed him over to the police who arrested him" once he exited the track.
"As is common with most circuits, race officials man approximately half of the EPs or other access points located within marshal zones around the circuit," the statement added. "The remainder would have security personnel patrolling the areas and/or spectator fences as an additional barrier."