Singapore GP driver ratings
Lewis Hamilton was the big winner but he wasn't the star of the show as F1 went crash, bang, wallop under the Singapore lights
By Jonathan Green, James Galloway, Matt Morlidge and Pete Gill
Last Updated: 18/09/17 8:17pm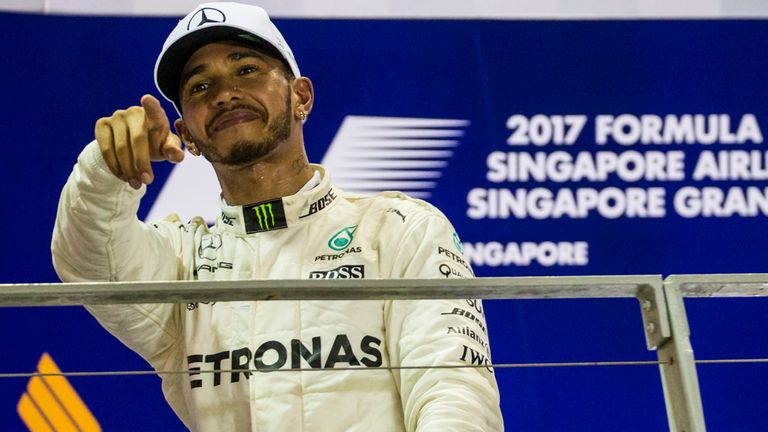 So much for damage limitation. Lewis Hamilton claimed he knew he could win the Singapore GP from fifth place as soon as it started bucketing down on the grid, yet even in his wildest calculations he surely could never have envisaged three of his chief rivals falling so spectacularly at F1's equivalent of the first hurdle.
He even got to see Sebastian Vettel spin into the wall right in front of him exiting Turn Three. How's that for good fortune?
His rivals' inadvertent game of Total Wipeout presented Hamilton with an 'open goal', but it was still a target the Mercedes driver could have missed with barely an error on a circuit that requires enough concentration even when it doesn't resemble an ice rink, as it did in Sunday's opening stages.
Yet Hamilton pulled away from Daniel Ricciardo expertly and consistently after all three Safety Car restarts and, although the Red Bull was hindered by a gearbox problem, Mercedes' car had only been the third-quickest in the dry all weekend.
A hat-trick of wins since the summer break, a 28-point championship lead, a fourth world title for Hamilton has never looked more likely than it does right now.
Rating out of ten: 9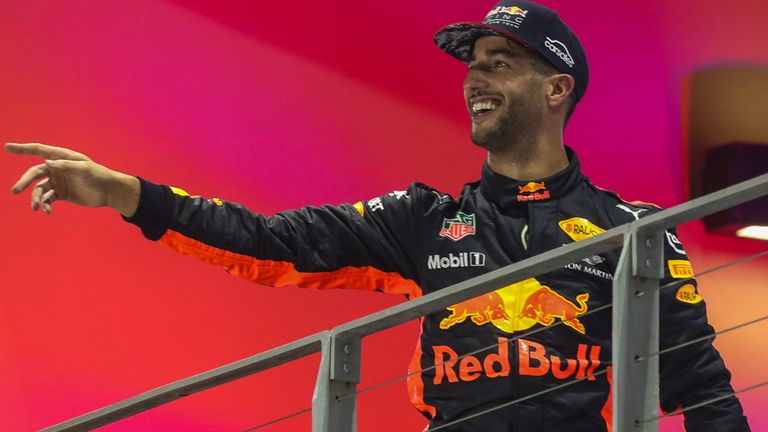 Another Singapore GP in which Daniel Ricciardo was forced to settle for being the bridesmaid as he finished second for the third consecutive year. "I can't win the bloody thing. I'm trying, I'm trying," he joked on the podium.
On paper, it was a disappointing end to the weekend for the Australian after he had dominated on Friday but been forced to play catch-up in Qualifying and the race.
But the reality was it could have been a whole lot worse. By starting third and having a sluggish start, Ricciardo managed to keep himself out of the first lap carnage which accounted for team-mate Max Verstappen's seventh DNF of the season.
And team principal Christian Horner revealed to Sky F1 that Ricciardo had been suffering a gearbox issue which prevented him from truly pushing Hamilton and could have forced him out before half distance.
Given Red Bull's strength round Marina Bay, perhaps 2018 will finally bring him victory under the lights.
Rating out of ten: 8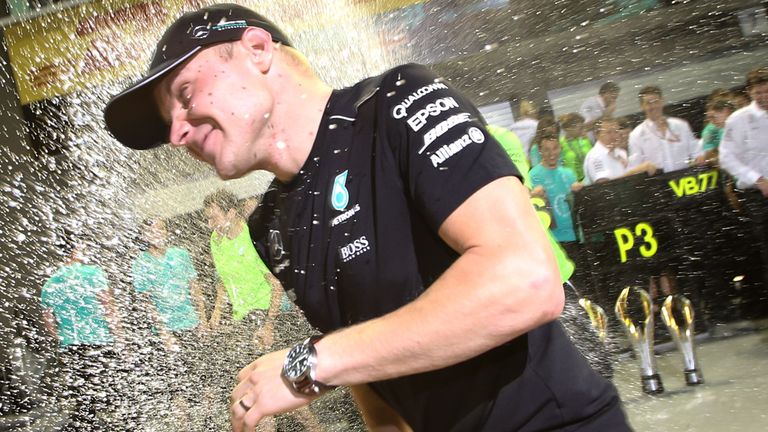 His Mercedes team-mate may have been helped to a race win thanks to the dramatic start-line crash - but was Valtteri Bottas the ultimate benefactor?
Bottas was merely the sixth-fastest driver all weekend, some 1.3 seconds off Vettel's pole time, and there's little evidence to suggest his race pace would have changed that.
But the Finn now walks away with a 10th podium of the season, and he is now just 23 points behind Vettel in the drivers' standings.
Like Hamilton and Ricciardo, Bottas avoided the chaos into Turn One despite an unspectacular getaway but his running on the intermediate tyre wasn't particularly impressive after that, passed by a rampaging Jolyon Palmer early on.
Bottas eventually recovered and a podium was always going to be comfortable given the car, but Hamilton showed the potential of this Mercedes and his team-mate never got near that - nor could he challenge a faltering Red Bull.
He has a new contract for 2018, but it's clear Bottas will be playing a support role for the rest of the season. "The decision becomes obvious," admitted Toto Wolff.
Rating out of ten: 6
Carlos Sainz started the weekend with confirmation of a high-profile move to Renault and he finished it with the best performance of his impressive F1 career. How's that for dealing with the added pressure?
This was a fabulous drive from the 23-year-old Spaniard, a mature performance that points at race - and maybe even championship - wins in the future.
Rather than storming through the field, Sainz had to hold his nerve on Sunday - keeping a generally quicker Force India at bay for much of the evening while keeping tabs on his tyres.
Sainz's display was especially impressive when considering the pace, or lack of, from Toro Rosso team-mate Daniil Kvyat. Sainz has scored 92 per cent of the team's points this season - proving how much of a loss he will be in 2018.
"I'd say this is probably my best day in Formula 1 up until now," said Sainz. "After a weekend with so much media attention, to put together a perfect weekend and finish the race in P4 is just amazing."
Rating out of ten: 9.5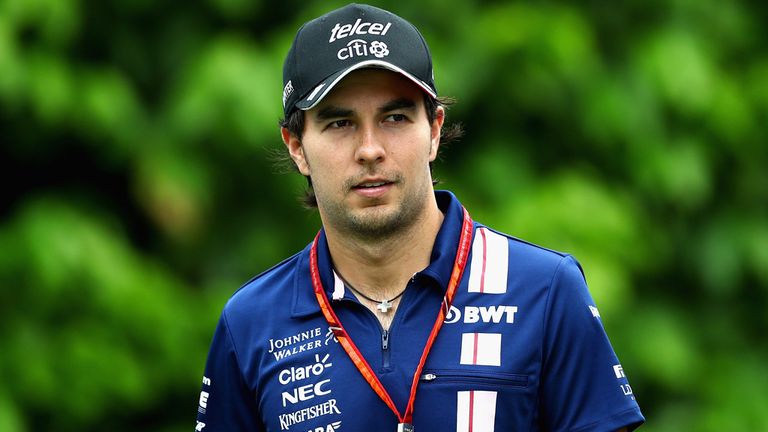 Armed with a new one-year Force India contract, Sergio Perez did what he always does in the Singapore GP - finishing in the points after starting outside the top 10. Fifth place this year was his best yet in seven attempts and was another example of the reliable Sunday performer Perez has become over recent years.
The Mexican made massive headway on the chaotic opening lap, moving up from 12th to fourth, although lost position to Sainz when he had to change down to intermediates from full wets. He harried the Toro Rosso in the closing dry stages to no avail, but it was nonetheless a strong result from where the team qualified.
Rating out of ten: 8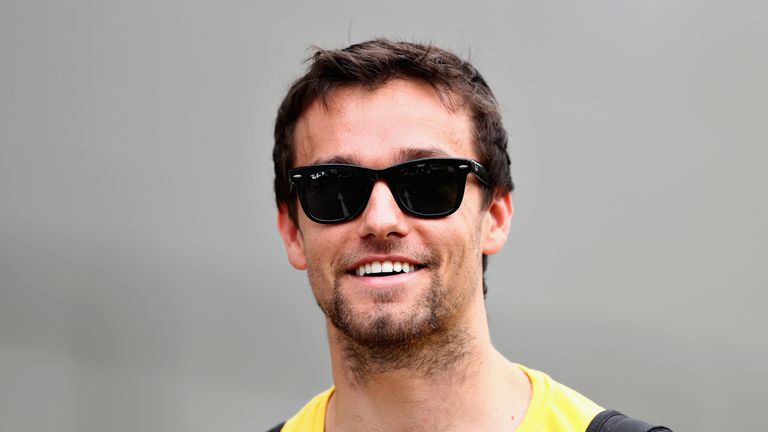 A weekend which started as one he would want to forget ended with a race day to remember for Jolyon Palmer as he recorded his best finish in F1.
Two days after it was confirmed Palmer would lose his Renault seat in 2018, the Briton put himself in the shop window with a sixth-place finish and pulled off an impressive move on Valtteri Bottas early on.
"This result could have come earlier," he told Sky F1. "This result is finally a bit of good luck." And for all his mistakes earlier in the season, Palmer was faultless in the most testing of conditions.
"Despite the circumstances, he drove an error-free race on a night where it would have been easy to make many," Renault boss Cyril Abiteboul said.
After his first points of the season, Palmer will hope to build on the momentum with a strong final six grands prix and secure a 2018 drive.
Rating out of ten: 8.5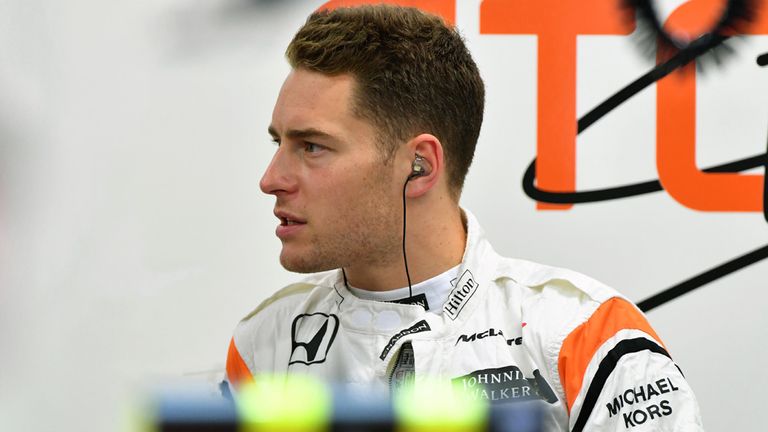 His cause was aided and abetted by the first-lap mayhem which accounted for four faster cars, including that of team-mate Fernando Alonso, but Stoffel Vandoorne's best F1 finish was also reward for a solid and sensible drive - virtues not ever-present elsewhere on Sunday.
Sixth may have been possible, and probably would have been achieved but for a slow second pit-stop, but given that Vandoorne's only previous points-scoring finish this season was 10th, we doubt he'll have any complaints.
Rating out of ten: 8
Qualifying remains a big concern for Williams as a team, but Lance Stroll is finding some consistency on Sundays and delivered one of his best performances yet to finish eighth on his Marina Bay debut.
Williams' split their wet-tyre strategy for the start and the cards fell in the intermediate-shod Stroll's favour, with the Canadian reaching the top 10 by the time of the second early Safety Car. Although an error on lap 20 let Vandoorne through, Stroll was the third driver on to slicks as the track dried and was sure-footed from there on, keeping Grosjean behind in the closing stages.
"Congratulations to him for achieving that, he'll be very proud of himself for holding steady and driving so well throughout the whole two-hour race," said an impressed Paddy Lowe.
Rating out of ten: 8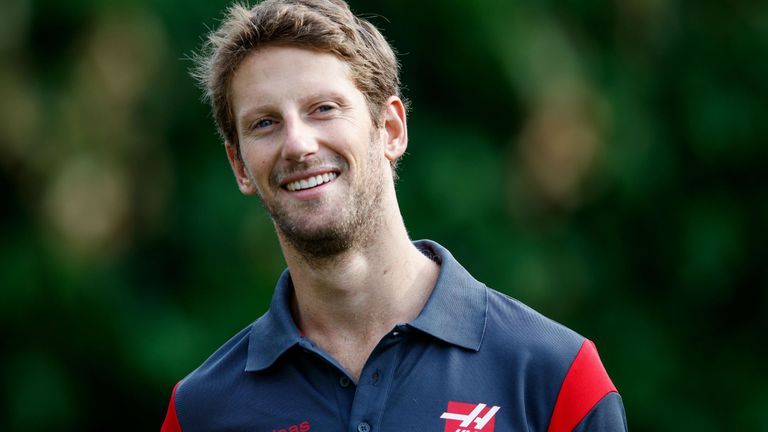 Had it not been for an unexpectedly high retirement rate at F1's sharp end, Haas probably wouldn't have scored points in Singapore after struggling in the lower-midfield in qualifying. So two points for ninth was a welcome result for both Romain Grosjean and his team.
The Frenchman described his decision to start on intermediates in the "horrendous" early rain as "ballsy" but it's a gamble he had little to lose by taking and ultimately served to turn his weekend around.
Rating out of ten: 7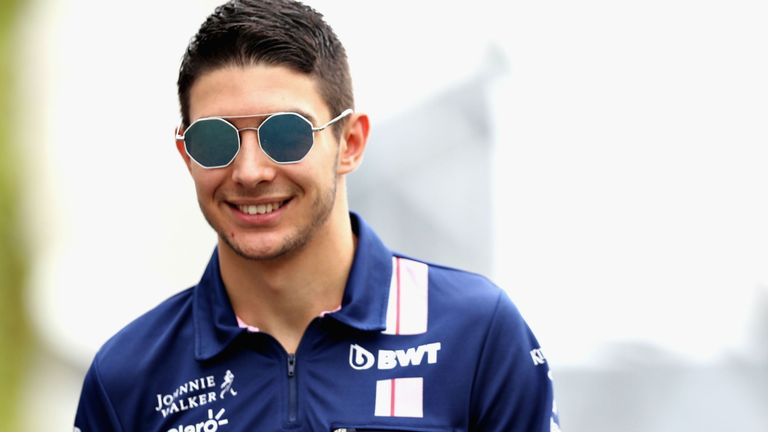 An eighth consecutive points finish for Esteban Ocon and he is now two race finishes away from matching Max Chilton's record for consecutive finishes at the start of an F1 career (25).
But it was a difficult Sunday for the Frenchman as he struggled for pace in the wet conditions at the start and found himself in a ding-dong battle with Kevin Magnussen. He improved once the track dried out but the lack of overtaking opportunities saw him stuck in the midfield train.
Retirements ahead of him eventually handed him 10th but it was not the 21st birthday weekend he was hoping for.
Rating out of ten: 6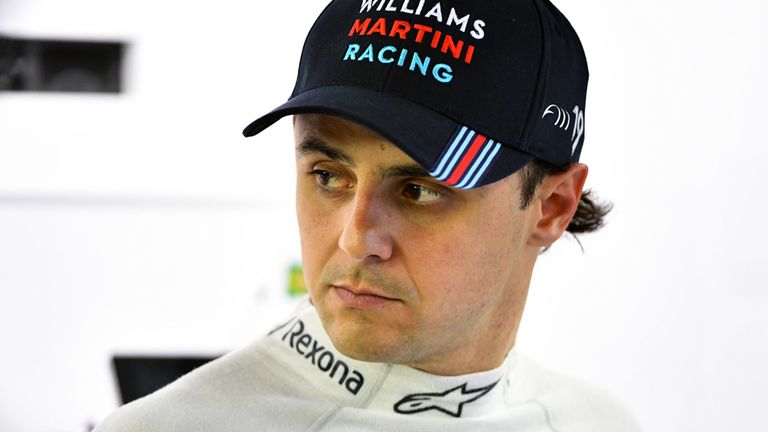 An exhausting race for Felipe Massa as despite constant overtakes of a Sauber and three pitstops he never ran in the points.
Massa's disastrous error was picking extreme wet tyres at the start. That cost him vital seconds with an extra pitstop onto intermediates, dropping to the back of the field. The Brazilian was the second man onto slicks, but that couldn't help him pass Ocon's Force India in time.
"I started on the wrong tyres which was my decision," Massa admitted. "It could have been worse, looking at where we started the race, so not bad for the team but a disaster for me."
It would be a great shame if Massa headed into F1 retirement, which looks likely at the end of 2017, with a whimper.
Rating out of ten: 5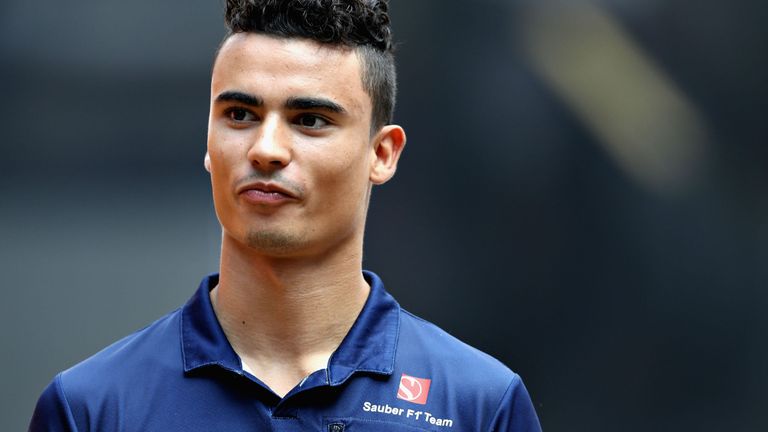 Another lonely race at the back of the field for Pascal Wehrlein, who was lapped twice by the leaders. But Sauber's tentative approach was bizarre considering their deficit to the rest of the field. A lap before Magnussen was put on the ultrasoft tyre, Wehrlein came into the pits - only to swap from wets to intermediates.
Six more races to go in 2017, and they may be the final six of the German's F1 career.
Rating out of ten: 5
Did not finish
Will this prove to be the moment Sebastian Vettel threw away a fifth world championship? Had they finished as they started, Vettel would have held a 12-point lead over Hamilton with six grands prix remaining. Instead, after triggering the first-lap mayhem which sent himself, Max Verstappen and Kimi Raikkonen out of the race, he now trails by 28.
On Saturday Vettel had produced one of the best laps of his glittering career to claim pole. Within 10 seconds on Sunday, he had rendered that pointless after one of his most reckless starts.
With so much on the line, the German's squeeze on Verstappen and Raikkonen was needless so early on given neither are a threat in the title race. Was it another sign of the pressure clouding his judgement this season?
"It's a championship-defining moment," Sky F1's Martin Brundle said. "Forgetting Kimi's great start, I don't see why Seb would want to squeeze Verstappen that hard. It's too risky to be turned around or get a puncture."
More worryingly for Vettel, of the six tracks that remain, none are likely to give Ferrari the same advantage over Mercedes as they had been enjoying here. Malaysia is the only one where the Scuderia have won this decade.
"There will be more opportunities," Vettel told Sky F1 of his title chances as he put on a brave face. He has overhauled a greater deficit with six races remaining previously (31 points in 2010), but he is likely to need a stroke of luck as great as he handed Hamilton if he is to reel in his rival.
Rating out of ten: 5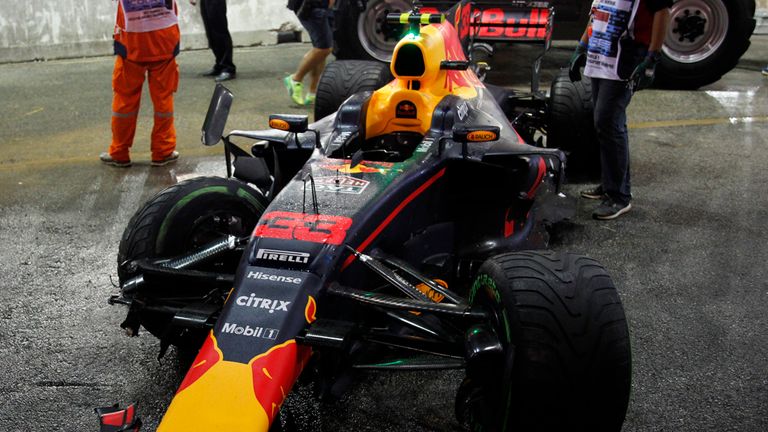 If any further evidence was needed, 2018 can't come soon enough for Max Verstappen.
It was just the Dutchman's luck that even qualifying on the front row for the first time this season couldn't spare that now inevitable race retirement. There were a few who suggested post-race that Verstappen could have pulled the anchor more swiftly heading towards Turn One, as a defensive Vettel started to put the squeeze on him and Raikkonen simultaneously attacked down the inside, but it's hard to see how the Red Bull man could really have done anything differently to avoid being caught in Ferrari's disastrous pincer movement.
"If you are fighting for the world championship you shouldn't take those risks squeezing someone that much," said an unimpressed Verstappen of Vettel afterwards. The majority of the paddock appeared to concur.
Rating out of ten: 8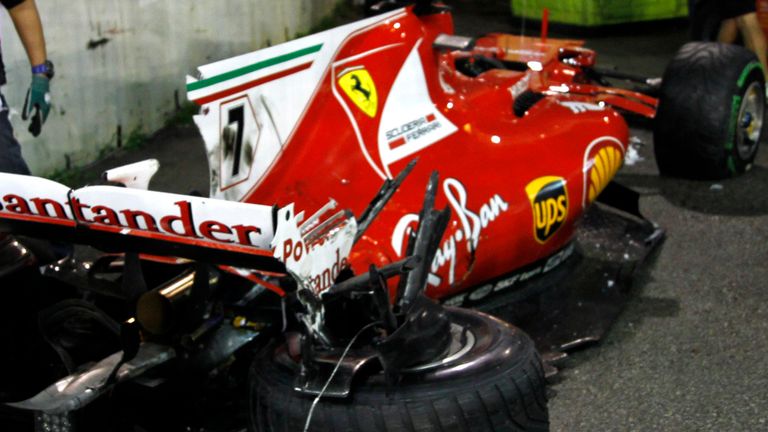 While Ferrari blamed Verstappen and Verstappen blamed Vettel, Kimi Raikkonen was very much the blameless party in the first-corner melee which saw the Finn centre of the long list of early casualties.
Qualifying over half a second down on team-mate Vettel wasn't clever though and the season-long scoreline of 4-10 makes for sobering reflection.
Rating out of ten: 6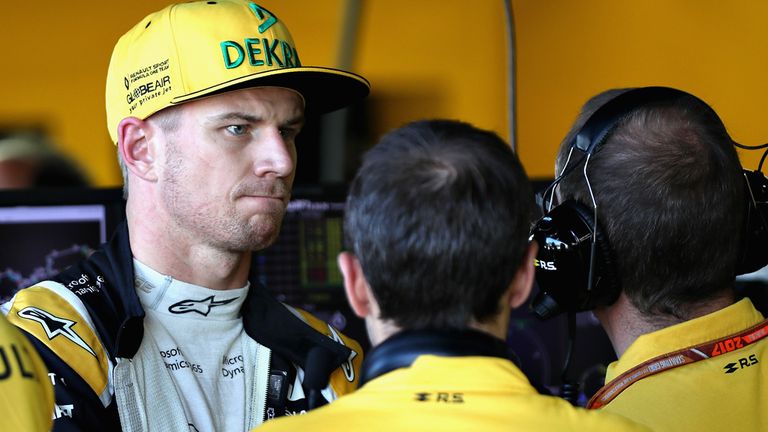 Oh what might have been for Nico Hulkenberg. The German now holds the unwanted record of most grands prix starts (129) without a podium but for a time it looked like he might be about to break his duck.
After the opening-lap chaos, Hulkenberg found himself in third place but Renault's delay in deciding when to switch him from extreme wets to intermediates during the second Safety Car period saw him slip down the field.
He would eventually get back to fourth but his chances of a late charge were ended by an oil leak which would eventually lead to retirement. Renault's improving car will surely mean that elusive podium will eventually arrive but for now the 30-year-old's wait goes on.
Rating out of ten: 9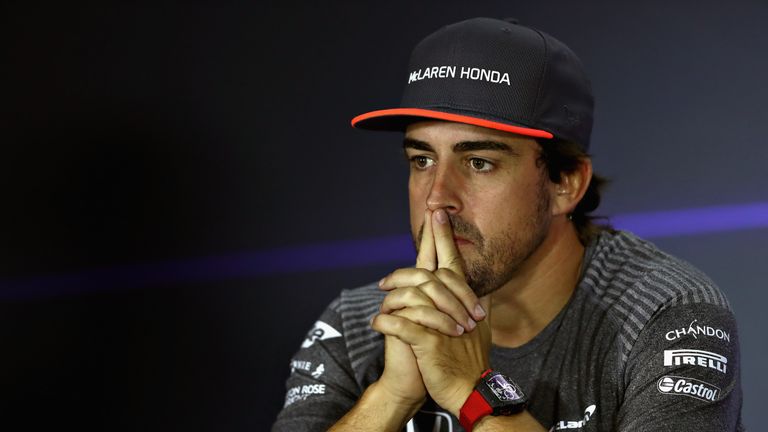 The 'other' driver caught up in the start-line crash, Fernando Alonso's race was effectively ended seconds after a stunning getaway from eighth.
His claims that a podium, and even a race victory, would have been possible without running into Verstappen's Red Bull are probably wide of the mark - Alonso was just behind Hamilton into Turn One - but the Spaniard would certainly have fancied himself for a fourth-place finish on Sunday.
It's no wonder Alonso seemed more frustrated after this race than he has done after any Honda-related retirement in 2017; this was his big chance with the right tools to prove he is still one of Formula 1's best.
It does at least look like Alonso is moving towards confirming his McLaren stay, but he may not get any better opportunities to run at the front like he had here. Desperately unlucky.
Rating out of ten: 9
If Verstappen is F1 2017's most unlucky driver then Kevin Magnussen must be in the running for second most. The Dane drove a strong race in Singapore and provided the most entertainment following the first-lap mayhem with great battles with Esteban Ocon and Felipe Massa.
First, he left his braking to the last possible moment to dive down the inside of Ocon at Turn Eight, which earned praise from Sky F1's Martin Brundle on commentary.
Then the Haas driver held his nerve to squeeze past Massa on the straight despite being just inches away from the wall and brushing wheels with the Williams. And he was first to make the call to move onto slick tyres.
But Magnussen would be denied a points finish when a late MGU-H problem forced him to retire. He deserved better.
Rating out of ten: 7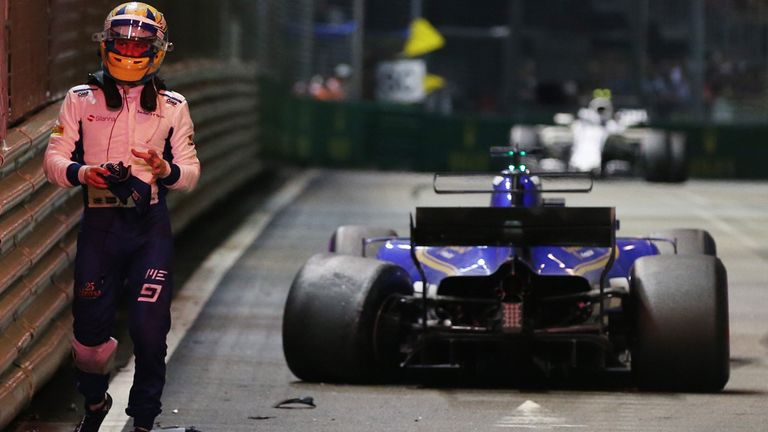 Another of those tough weekends for Marcus Ericsson and Sauber when they were only really noticed for all the wrong reasons - but for Ericsson's crash with 20 laps remaining, triggering a Safety Car and an irate response from a nervy Hamilton, the Swede's presence would have slipped entirely under the radar.
Off the track, a few rumours passed along the paddock that Ericsson could be a contender for the anticipated 2017 vacancy at Williams. He will surely need to make more of a mark, and for the right reasons, in the remaining six races if those suggestions are to be realised.
Rating out of ten: 4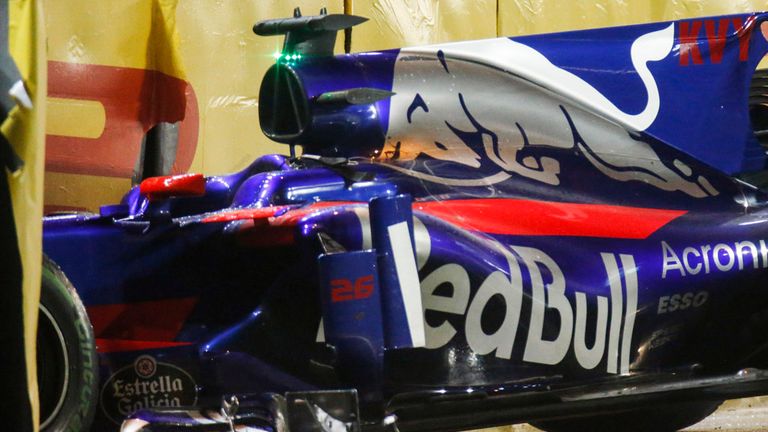 A fifth retirement of the season for Daniil Kvyat as he dumped his Toro Rosso in the wall when a first points finish since May was in the offering.
The Russian has yet to hear if he will be retained for 2018 and while Sainz's move to Renault may boost his chances if Toro Rosso want continuity, he is hardly pressing his case. He now sits second-bottom of the regular drivers in the world championship.
Rating out of ten: 4
Don't miss the F1 Report: Singapore Review as Mark Gallagher and Kevin Eason join Natalie Pinkham to look back at the frenetic rain-affected night race as well as discussing the fallout to the 2018 engine announcements. Watch on Sky Sports F1 on Wednesday at 8.30pm.
Comment below to get involved in the debate, but please adhere to our House Rules. If you wish to report any comment, simply click on the down arrow next to the offending comment and click 'Report'.