2014 Singapore GP Qualifying: Lewis Hamilton just beats Nico Rosberg to pole
Mercedes pair separated by only seven-thousandths of a second; Red Bulls to line up third and fourth; Kimi Raikkonen forced out of Q3 due to engine failure; Jenson Button fails to make top ten
By Pete Gill
Last Updated: 20/09/14 4:35pm
Blink and you could have missed it: Lewis Hamilton has claimed pole position for the Singapore GP by less than a tenth of a second from Mercedes team-mate and title rival Nico Rosberg.
Less than a tenth of a second separated the two Mercs as they crossed the line at the close of a riveting top-ten shootout, amounting to barely a turn of a wheel from the unstoppable W05s but a potentially critical advantage for Hamilton at the notoriously-tight Marina Bay Circuit. 
"Damn it!" swore Rosberg over his car-to-pit radio upon being told that he had been beaten to the final punch by the second Mercedes. "Seven thousandths...it's nothing! But Lewis did a good job so fair play."
From Mercedes themselves, however, there were only sighs of relief as they reflected on the closest qualifying battle of the season as Williams, Red Bull and Ferrari finally gave the Silver Arrows a genuine fight for supremacy. After the first runs in the top ten shoot-out, Rosberg and Hamilton were a mere sixth and seventh respectively, but it was the Englishman who had the last laugh as he defied a lock-up into the first corner to claim his sixth pole of the season. They say in F1 that every second counts; here was conclusive proof that every millisecond matters too.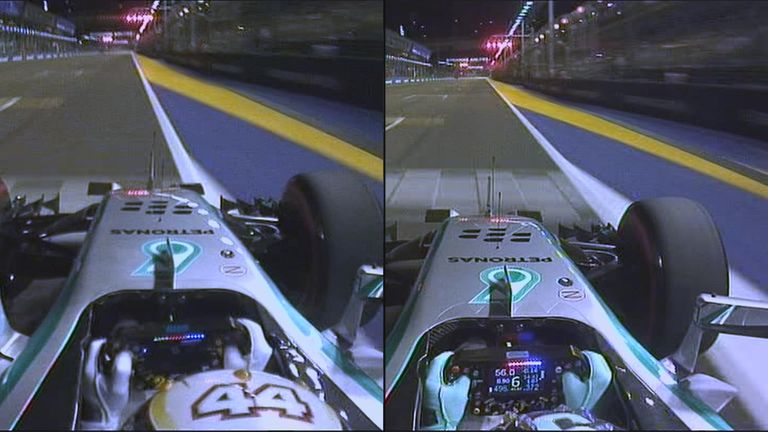 "That was one of the most exciting qualifying sessions I can remember," exclaimed a jubiliant Hamilton afterwards. "I hadn't locked up in Turn One all weekend so far and then it was just that little catch into Turn One and I thought that was it because I was down by over two tenths.
"Normally when that happens already by Turn Two you're not going to improve. But I just kept going and it started to get better. Often you start to overdrive then to regain that two tenths but I somehow didn't and put it back together, so I'm really, really excited about that."
Daniel Ricciardo will line up third for Red Bull, the Aussie capatilising on a last-lap mistake from Sebastian Vettel, dogged by unreliability all weekend, to beat the World Champion for only the third time in the last eight events. Fernando Alonso once again claimed the Saturday honours at Ferrari, later hailing the session as his "best qualy performance so far this year".
But the shame in an otherwise breathtaking Qualifying hour was a power failure for Kimi Raikkonen which forced the Finn to park up just when it seemed as if he was about to seriously show up for the first time this year. Kimi's field-beating effort in Q1 marked the first occasion in 2014 when he had topped a session.
"It's racing, it happens," reflected Raikkonen on his relegation to seventh place on the grid. "It was an electronics issue, it cut out when I went for the power, and hopefully it isn't a very big problem."
At McLaren, there were mixed emotions with encouragement for Kevin Magnussen after the young Dane snuck into the top ten but misery for Jenson Button as he wound up just 11th. Not the result the Englishman needed as speculation about his future continues to swirl around the paddock.
But few were thinking of transfer gossip during Saturday's riveting qualy session as the field became locked into a titanic fight in which a mere three-tenths of a second generally covered the first half-dozen contenders. After Q1, with Raikkonen joined at the front by Alonso and the two Mercedes seemingly struggling on the supersofts, an upset appeared to be on the cards. Instead the only upset that followed was a remarkable tantrum from Romain Grosjean as the Frenchman raged against the inadequacies of his Lotus after failing to set a timed lap in Q2.
"I cannot believe it, bloody engine, bloody engine," the Frenchman shrieked in a radio message that his team presumably wished had been banned under the FIA's new directive. "I don't care, it's too much."
At the other end of the grid, it was all too little for Rosberg as Hamilton claimed the high ground into the first corner and, perhaps more importantly, the clean side of the grid. After securing pole in Monza two weeks ago, Hamilton remarked he had taken "a very small step in a huge staircase" as he reflected on his title deficit to Rosberg.
While two more baby steps have been climbed since, a two-hour marathon awaits on Sunday in one of the most gruelling events of the season. The hard work has only just begun for Hamilton if he is to end the year as a two-times World Champion but it finally appears as if he is heading in the right direction again.
The 2014 Singapore GP is live only on Sky Sports F1 this weekend. Our race-day coverage begins at 11.30am on Sunday with lights out at Marina Bay at 1pm.