Conclusions from the Singapore GP
Mercedes mystery gives Lewis Hamilton a problem, McLaren and Red Bull to prove each other wrong, and Vettel proves himself the real deal
By Pete Gill
Last Updated: 12/10/15 2:20pm
Mercedes mystery gives Hamilton a problem
With a 41-point cushion still in hand, if Lewis Hamilton has a problem then it's a very nice problem for any F1 driver to have. But the world champion will travel to Japan this week with a troubling question on his mind: was Mercedes' Singapore slump a mere blip or something more serious?
We'll find out soon enough. Suzuka is already fast approaching, but perhaps too quickly for Mercedes' liking given the team have less than a week to fathom what went wrong in Singapore.
As Toto Wolff was still referring to their sudden and unexpected loss of performance this weekend as "unexplainable" on Sunday night, three days after it became apparent that they had effectively lost three seconds to Red Bull and Ferrari, it's highly likely Mercedes will send out their cars on Friday morning none the wiser about their own mystery. And 'hoping for the best' doesn't come naturally to an F1 team.
What could have gone wrong for them? Singapore may simply have been Mercedes' 'bogey ground'. "This is a very specific circuit and the tyres operate differently to any other circuit - at least for us," mused Wolff. But three seconds is an awful lot of time to lose in the space of two weeks.
Mercedes won't be comfortable until they know exactly why they slumped in Singapore or until Suzuka provides reassuring evidence that normal business has been resumed. But what's that you say? There's a bad weather forecast for the Japanese GP? Hamilton and Mercedes may still have one more storm to ride out this week.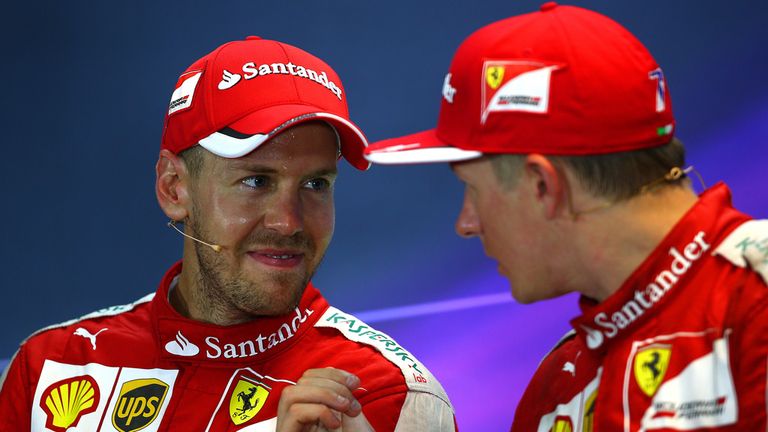 Raikkonen left behind as Vettel makes amends for 2014
Pity Kimi Raikkonen. In the second half of his F1 career, all the Finn seems to have become is a measuring stick for the improved reputations of other drivers.
First there was Romain Grosjean at Lotus, establishing that he belonged at this level; then there was the relentless superiority of Fernando Alonso to categorically endorse tributes he remained F1's pre-eminent performer; and now there's Sebastian Vettel reducing Raikkonen to a mere prop in a trenchant demonstration that it wasn't just the car for all those years of domination at Red Bull. Can't a former world champion get a bit of respect these days?
Alas not, and not even on a weekend when he finally returned to the podium. Raikkonen remains a shadow of his former self and more's the pity if it becomes forgotten just how phenomenally fast he was at McLaren a decade ago. He was the Lewis Hamilton of his day, just minus the showbiz and social media.
For his part, Vettel seems intent on giving good cause to gloss over a year, his brilliance this season instant redemption for whatever it was which went wrong in his final 12 months at Red Bull. 2014 will always be a permanent stain on his reputation but its memory is fading as fast as the Raikkonen of yore.
Vettel was peerless in Singapore, wheel-perfect from start to finish and absolutely astounding in qualifying when he beat Raikkonen by seven tenths and Hamilton by twice that margin. He has rarely looked better. Even 2014 is beginning to work out well for him due to its inclusion of his exit from world champions Red Bull for Ferrari. It was a gamble which now looks as inspired as Hamilton's decision to abandon McLaren for then also-rans Mercedes in 2013.
Somewhere in the ranking of great drivers must be recognition of their career choices and a sixth sense for sniffing out the best car. Fangio did it, Schumacher did it, and Hamilton and Vettel keep doing it. Alonso, unfortunately, doesn't seem to have done it in almost a decade. As for Raikkonen, one wonders if part two was really such a good career move after all.
Red Bull cut off McLaren's wings
Beyond the shared similarity of being F1 teams, could it be possible for Red Bull and McLaren to be any more different? While the former remains brash, loud, wholly unashamed of their impatience to return to the front, McLaren remain the dignified old lady of F1, patient and impassive, more a self-contained institution than a marketing vehicle.
And from their different stations, the two teams have set out on entirely different paths back to the F1 summit, their divergent routes plotted by two extreme philosophies to make sense what it takes to win in the current era.
Consider it: while McLaren are still standing resolutely by their partners despite the overwhelming disappointment of Honda's return, Red Bull's disdain for Renault's produce has been as public as it has been excoriating. And while McLaren still talk of patience and process, of steady steps and "mountains to climb", Red Bull refuse to wait.
"We can't afford another season like this," Christian Horner explained on Sunday morning. Indeed, perhaps one of this weekend's most remarkable disclosures was the revelation that Red Bull made an official request to Mercedes for an engine supply as long ago as the British GP. Their patience - and ties to their existing partners - snapped months ago.

McLaren, conversely, plod on, shaking a rueful head in the direction of head of their rivals as Red Bull sprint for the summit. The contrast in attitudes reached its end point this weekend when team boss Eric Boullier first refused to let the press harangue his Honda counterpart at McLaren's Saturday night meet-and-greet and then felt moved to criticise Red Bull's decision to abandon Renault.
Two teams, two different attitudes, and most saliently of all, two absolutely divergent interpretations of what's required to prosper in F1's new turbo age. For while McLaren's reunion with Honda is underpinned by the absolute conviction that only a 'works' team can now prosper in F1 - "no grand prix team is going to win a World Championship in the future unless it is the dominant recipient of an engine manufacturer's efforts," declared Ron Dennis when McLaren divorced Mercedes a year ago - Red Bull are adamant that it can be done. All that's required is a Ferrari or Mercedes engine.
"There are two dominant power units in Formula 1 at the minute and unless you have one of those units, you are not going to be competing," said Horner. It's as simple as that. An OEM [original equipment manufacturer] for McLaren, ABR [anything but Renault] for Red Bull.
As neither team currently holds the high ground, let alone have reached the summit, it's still unclear which of them is right. But one thing is for certain: they both can't be. Sooner or later, McLaren or Red Bull are going to prove the other all kinds of wrong.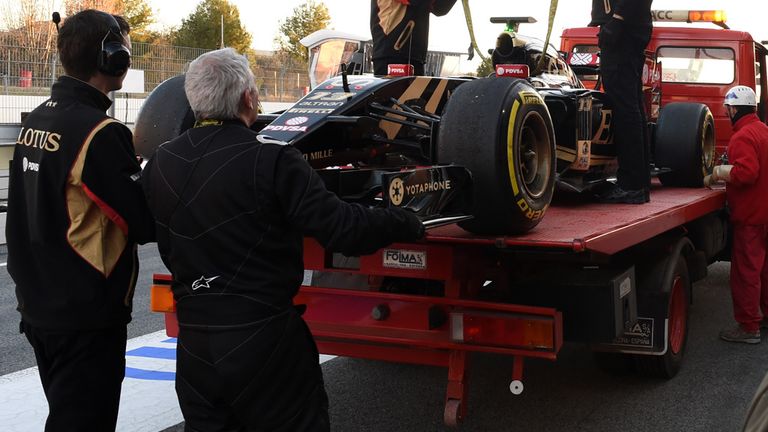 Maldonado stays as money talks
So Pastor Maldonado will be staying on in F1 for another year. It was an announcement easily missed: four hours after Sunday's race, and long after most of the assembled press corps had departed the Marina Bay circuit either for downtown Singapore or a flight to Suzuka, a simple but terse press release confirmed the Venezuelan at Lotus for 2016. The team, too, had already long since departed the scene.
For an official driver line-up announcement made on what was technically still a race weekend, this was as low key as it could possibly get. Lotus evidently didn't want to talk about it. Understandable, perhaps, because at first glance what else did the announcement say other than that money talks in F1 and Romain Grosjean - conspicuous by his absence in the release - is preparing to walk?
But look again because in announcing that Maldonado will be staying on for 2016, Lotus themselves effectively announced that they too will be staying on in F1. That really is good news just three days after they staved off a winding-up petition in the High Court - although presumably there is a direct correlation between Sunday's re-injection of Maldonado's sponsorship money and Friday's depressing revelation about the size of Lotus' debts. The Renault buyout can't be completed soon enough.
Don't miss the F1 Midweek Report on Wednesday night at 8.30pm when John Watson and Maurice Hamilton join Anna Woolhouse to discuss the Singapore GP