Max Chilton to race in Belgian GP after all as Marussia U-turn on Alex Rossi decision
Rossi took part in P1 at Spa but Chilton to drive for remainder of weekend; Briton was briefly sidelined by 'contract issues'
By James Galloway
Last Updated: 22/08/14 6:04pm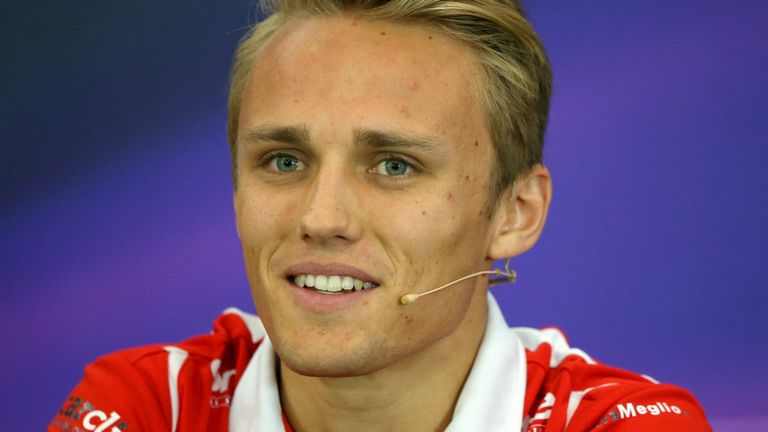 Max Chilton will race in the Belgian GP for Marussia after all following the apparent resolving of the 'contractual dispute' which had briefly seen the Briton dropped for the race weekend in favour of Alexander Rossi.
American test driver Rossi, who only joined the team from rivals Caterham last month, was announced as Marussia's race driver alongside Jules Bianchi for this weekend's Spa event in an unexpected move on Thursday afternoon.
While Marussia cited 'contractual issues' for the temporary driver change, Chilton's management team claimed their driver had 'volunteered' to stand aside for the weekend so the Banbury outfit could 'attract much needed funds by selling his seat'. 
However, following apparent overnight talks between the Banbury team and Chilton's backers to resolve the apparent financial dispute, it was confirmed during the course of Rossi's time in the car during Practice One that Chilton would be back in the MR03 from Friday's second practice session onwards after all.
Chilton was seen sitting on the team's pitwall during P1 and resumed his place alongside team-mate Bianchi in the later afternoon session as Marussia look to preserve their lucractive ninth place in the Constructors' Championship this weekend.
Speaking to Sky Sports News HQ, Chilton acknowledged the "confusing" nature of the situation, but expressed the belief that he and his management team had handled the situation well.
"I understand it's confusing. I believe on my side we made the right decision. I'm always here to help the team as much as we can. That was then changed late on last night and I got told I was being put back in the car this morning. I can understand why it's confusing, but we'll just move on," Chilton said.
"I've always been here for the team over the last two years and I continue trying to do the best I can for them for the foreseeable future."
However, the 23-year-old added further mystery to the episode when discussing the reasons as to why the problems came to light.
Asked if he expected any further problems over the remainder of the season, Chilton replied: "I'd like to think there won't be any issues. I know that there's stuff been going on – I wont really say it's been contractual issues, it's different from that – and we'll just have to move on from it and try to do the best job we can for the rest of the season.
Marussia's Chilton U-turn represents the latest surprise decision delivered by an F1 team this week following Toro Rosso's decision to hire 16-year-old Max Verstappen for 2015 and Andre Lotterer's short-term inclusion at Caterham at the expense of Kamui Kobayashi.
Rossi had been due to make his full grand prix debut and become the first American to take part in an F1 race since Scott Speed at the 2007 European GP.