Manor Marussia will pay unsecured creditors 1.262p in the pound
By returning to F1, creditors will receive more than if team had been auctioned off; Ferrari owed £16m and McLaren £7m
By William Esler
Last Updated: 18/03/15 1:51pm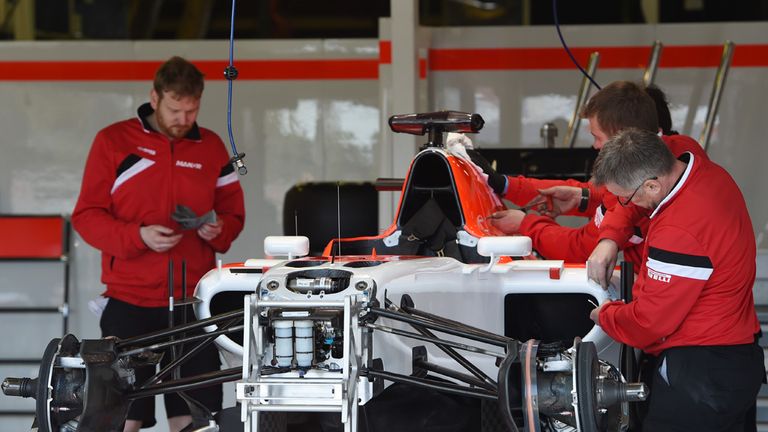 Sky Sports has learnt Manor Marussia will pay unsecured creditors, including Ferrari and McLaren, 1.262p for every pound they were owed when the team entered administration.
The team exited administration via a Company Voluntary Arrangement (CVA) in February and returned to the F1 paddock in Melbourne, albeit without taking part in a session, having missed the final three races of 2014.
According to documents obtained by Sky Sports, unsecured creditors would have been paid 1.110p in the pound had the team's assets been auctioned off.
The company's liabilities when Marussia exited administration to unsecured creditors totalled over £35 million.
At the time of the team's collapse in November Ferrari and McLaren were owed £16m and £7m respectively from engine and technical partnership deals. Both teams were consulted before Marussia's revival and voted in favour of the team exiting administration last month.
The CVA required a contribution from a third party of to enable 'a sum of £500k to be available for distribution to unsecured creditors'.
The contribution was also 'required to permit for preferential creditors (estimated at £116k) to be paid in full'.
The preferential claims include staff who 'are restricted to £800 for arrears of salary'.
The team have changed their name to Manor Marussia for 2015 and their new investor was formally revealed as Stephen Fitzpatrick, founder of energy company OVO, in early March. Former Sainsbury's CEO Justin King was named the team's interim chairman.
Despite travelling to Australia, neither car left the garage throughout the grand prix weekend and while a stewards enquiry ruled the team had used 'all reasonable endeavours' to take part, Bernie Ecclestone has said they must pay their own transport costs to and from Melbourne.
The chassis and team wear was also noticeably devoid of sponsors leading to speculation as to the extent of the investment the team have found.