Will Stevens will drive for Caterham on the opening day of the Silverstone test
Briton got his first F1 experience with the team at 2013 test
By William Esler
Last Updated: 05/07/14 5:07pm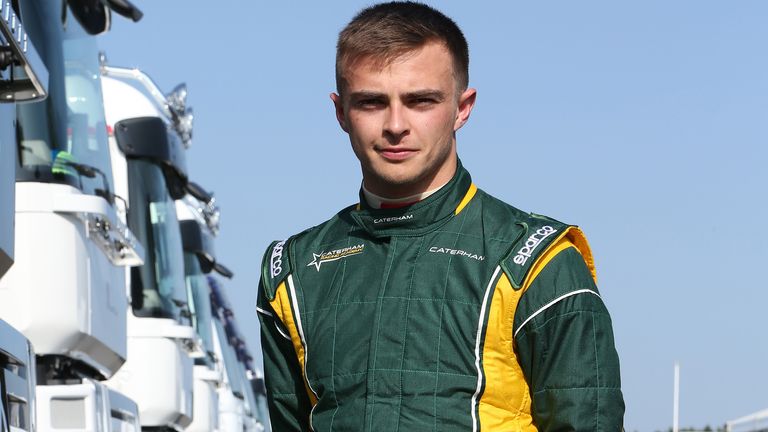 Will Stevens will drive for Caterham on the opening day of this year's two-day Silverstone test following the British Grand Prix.
The 22-year-old got his first taste of an F1 car at the 2013 Young Driver Test with the Leafield based team and has since gone on to play a key role in the development of their driver-in-the-loop simulator.
Stevens is currently competing in the Formula Renault 3.5 Championship and currently sits fourth in the standings having won the opening round at Monza and taken two further podium finishes.
"It'll be great to be back in an F1 car for the first time since the 2013 Silverstone test and with the amount of time I've already spent in the virtual car in the simulator, I can't wait to see how it compares to the real thing," the Briton said.
"I'm sure we'll have a busy runplan set for the day and my focus will be on doing the best job I can for the team, building on the work I've been doing all year in the sim at Leafield."
Caterham GP2 driver Rio Haryanto will then take over the car for the second day of the test. The Indonesian has previosuly tested for Marussia in 2012.
"I can't wait to be back in an F1 car and I'm delighted it's with Caterham F1 Team, the senior team to EQ8 Caterham Racing. The last time I drove an F1 car was at the young driver test at Silverstone in 2012 and with the new engine regulations this year I'm sure it'll be a very different experience. The goal for me is to use this day as another learning experience, another chance to build on the F1 laps I've already done, and while my focus before the test is obviously to do the best job I can in GP2, I will be 100% ready to work to the plan the team set and help them develop as best I can."
"I would like to take this chance to thank Pertamina for their continued support during my GP2 season with EQ8 Caterham Racing, which has provided me with the opportunity to test the Caterham F1 Team car."
Carlin GP2 driver Julian Leal will also drive at the test for Caterham. It will be the first time the Colombian has driven an F1 car.
"I am very excited about my first Formula 1 test and I would like to thank Caterham F1 Team and everyone who has helped make this opportunity possible," he said.
"I'm having a good weekend at Silverstone already and am now fifth in the GP2 Championship after a strong race on Saturday.  As I'm racing on the same circuit this weekend as I'll test on next week that's obviously a benefit but there is clearly a big step up to F1 from GP2, particularly in terms of the infrastructure I will be working with on track. With that in mind my main goal is to learn as much as I possibly can and help the team work through the program they set – I know I will be given all the help and advice I need, now I just want to get started!"