Tony Fernandes sells Caterham F1 team to Swiss and Middle Eastern consortium
Former driver Christijan Albers takes over day-to day running
By Mike Wise
Last Updated: 02/07/14 5:48pm
Caterham ended speculation about Tony Fernandes' ownership of the team on Wednesday when they confirmed that he has sold it to a consortium of Swiss and Middle Eastern investors.
The departure of the Malaysian airline entrepreneur, who founded the outfit in 2009, also signalled a shake-up in its management structure.
Although the team will still be known as Caterham and remain based in Leafield 'for the foreseeable future', Team Principal Cyril Abiteboul has also departed. The team said he will 'pursue new challenges' although it is thought that the Frenchman will return to Renault - for whom he worked prior to taking the job in 2012 - to oversee its misfiring engine department.
In his place comes Colin Kolles, the former Jordan/Midland/Spyker/Force India and HRT Team Principal acting as an advisor to the new owners, while the team's day-to-day running will be overseen by former driver Christijan Albers.
Albers, 35, raced for Midland and Spyker when Kolles headed the Silverstone-based team, and also drove for Minardi in 2005. In a statement, the Dutchman said that Caterham are targeting tenth place in this season's Constructors' Championship.
"We are aware of the huge challenge ahead of us given the fight at the bottom end of the Championship and our target now is to aim for tenth place in the 2014 Championship," Albers said. "We are very committed to the future of the team and we will ensure that the team has the necessary resources to develop and grow and achieve everything it is capable of."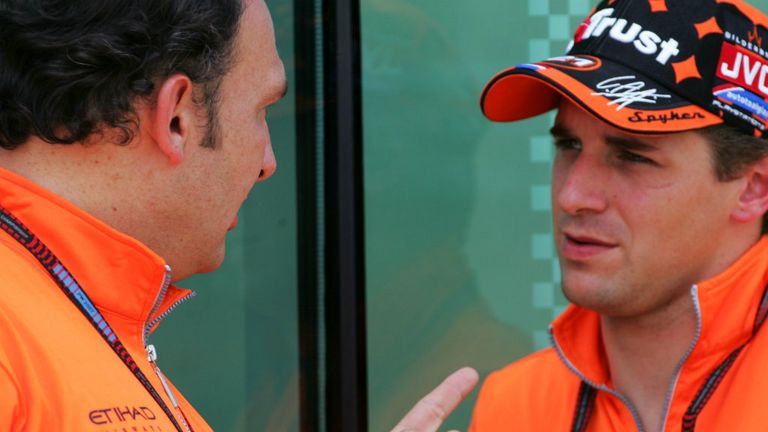 Albers, Kolles and company will need all the commitment they can muster if they're to haul Caterham up by their bootstraps. Although it was a task that Fernandes initially relished, he became increasingly frustrated - not only by the team's lack of progress but also the sport's financial model, which he felt denied them the chance to make progress.
Accepted on to the grid alongside Marussia and HRT five seasons ago, Fernandes - like all the new team owners - was initially under the impression they would race under a strict budget cap imposed by the FIA.
However, the governing body's plan wilted under opposition from bigger teams, leaving Caterham on a hiding to nothing against outfits with vastly superior resources.
Back then, they were known as Team Lotus and if Fernandes was already starting to take a dim view of the sport, those feelings would have intensified when he became embroiled in a court battle for the right to use the Lotus name.  
Rather farcically, two teams bore the Norfolk marque's name in 2011 after Fernandes' plans to buy Lotus outright were thwarted when owners Proton instead appointed Dany Bahar, formerly a marketing boss at Red Bull and Ferrari, to take charge.
Bahar instead took Lotus's backing to the then Renault team, with Fernandes deciding instead to take over Caterham Cars and diversify the brand with various engineering concerns, a stake in French sportscar marque Alpine and a GP2 team.
Yet despite an engine deal with Renault and gearbox supplied by Red Bull - meaning that the rear of Caterham's cars have essentially been the same as the World Champion's - success has not been forthcoming.
The team's performances have fallen behind those of rivals Marussia and with Caterham still without a World Championship point, Fernandes delivered an ultimatum at the start of the year.
 "There comes a point," he acknowledged to Sky Sports News back in January. "I'm the most optimistic man in the world but you don't want to be coming last all the time. This is a very pivotal year."
Speaking to Reuters, the Queens Park Rangers owner added: "If we are at the back, I don't think we're going to carry on. After five years and to get no points, there's a limit to everyone's patience, money etc.
"If we are not competing then we have got to seriously examine ourselves as to whether this makes sense," added Fernandes, who pre-empted his F1 departure last week by also leaving Twitter with the sign-off: "F1 hasn't worked but love Caterham Cars."
Watch the 2014 British GP live on Sky Sports F1. Extensive coverage of the Silverstone race weekend begins with Friday Practice from 9.45am on July 4.