Andre Lotterer replaces Kamui Kobayashi at Caterham for this weekend's Belgian GP
Team insist 'Japanese driver still remains part of the team'; Caterham cite Lotterer's experience in 'mixed conditions' for call-up; German to partner Marcus Ericsson
By William Esler and Pete Gill
Last Updated: 20/08/14 5:48pm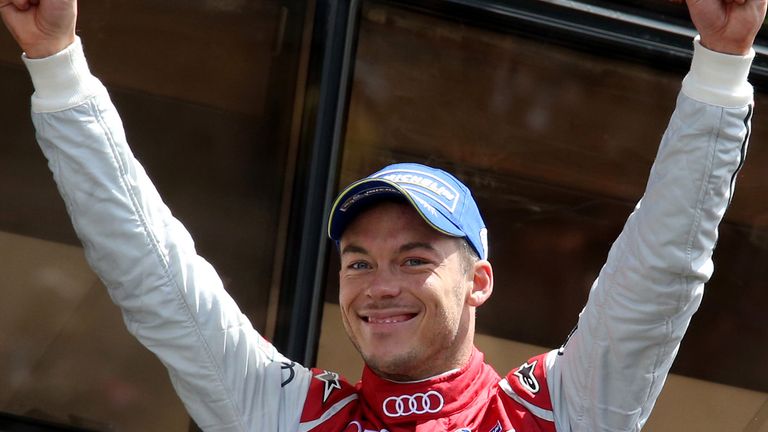 Triple Le Mans winner Andre Lotterer has replaced Kamui Kobayashi at Caterham for the Belgian GP - although the Japanese driver 'remains part of the team'.
Explaining their thinking behind Lotterer's unexpected call-up, Caterham cited the fickle conditions in Spa, declaring: 'The weather plays a big role at Spa-Francorchamps and Lotterer is one of the most experienced drivers racing under mixed conditions.'
It remains to be seen if and when Kobayashi will return to driving duties with the team. The announcement may well have come as a surprise to the Japanese driver given that only two days ago he tweeted: 'Absolutely ready for Belgium GP this weekend'.
Responding to Wednesday's announcement, Kobayashi told his followers: 'I will not drive this week Belgium GP. It's shame not to drive Spa. And feel sorry for all my supporter but this is Motorsports! I hope not!'
The 32-year-old Lotterer won the prestigious 24 hour race with Audi in 2011, 2012 and 2014 and also clinched the inaugural World Endurance Championship in 2012.
Lotterer was a race winner in British F3 and served as Jaguar's test driver during the 2002 F1 season before continuing his single-seater career in Japan in Formula Nippon winning the title in 2011.
The series is now known as Super Formula and the German is currently second in the Drivers' Championship, just 3.5 points behind Kazuki Nakajima.
"I am delighted to be given the opportunity to take part in a Formula One race weekend – I want to thank Caterham F1 Team for this chance," Lotterer said.
"I'm ready for this challenge and I cannot wait to jump in the car and make the most out of the weekend ahead. I will need to get settled and used to the car quickly, as the team has worked on a number of updates and we will need to have as much time as possible out on track to optimise the car's performance. I really enjoy racing at the legendary circuit of Spa-Francorchamps, it's one of my favourite tracks and it's very close to where I grew up, so this makes the weekend even more special and one to remember."
Kobayashi gave up a GT career with Ferrari to return to F1 this season and has comprehensively outperformed teammate Marcus Ericsson in the opening 11 races of the season leading the qualifying battle 9-2 and the race head-to-head 8-3. However, as Ericsson finished 11th in Monaco, the Japanese driver currently finds himself bottom of the Drivers' Championship.