Back to the future: What happened when Kimi Raikkonen left Ferrari in 2009?
Four years after leaving, Ferrari's last World Champion will return to Maranello in 2014. So just why did Kimi depart in the first place?
By James Galloway
Last Updated: 13/09/13 7:36am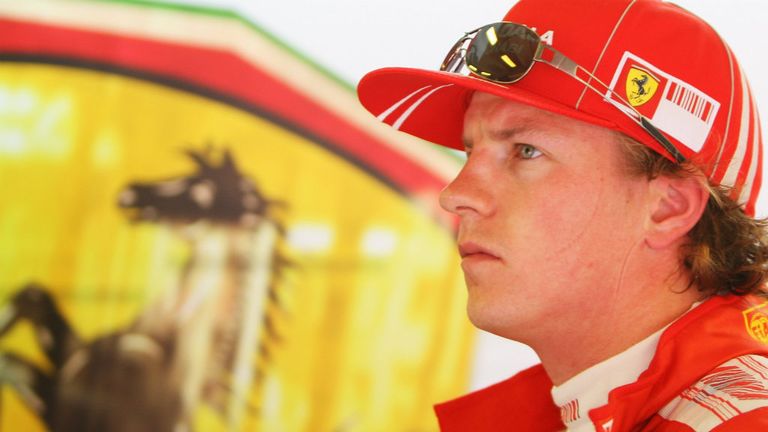 It is of course just four years since Ferrari dispensed with the enigmatic Finn's services in order to facilitate the arrival of Alonso, which in itself came just two years after Raikkonen had delivered what remains Ferrari's last Drivers' Championship.
So what happened that led to the Ferrari/Raikkonen partnership breaking up in the first place? We take a look back at the story of 2009...
Where did it all start?
In a saga similar to the one that has developed over the future plans of Raikkonen himself over recent months, speculation that Ferrari planned to hire Fernando Alonso, at the expense of the then incumbent Finn, was a running theme throughout the 2009 season.
The first serious suggestions that Alonso - then at Renault - had agreed to join Ferrari for 2011 had first emerged in the Italian media as early as 2008. Crucially, however, that agreement was also said to include the possibility for Alonso's arrival to be brought forward a year if certain conditions were met.
The problem for Ferrari was that they already had both of their existing drivers under contract until the end of 2010 - Felipe Massa having extended his deal to that point in 2007 and Raikkonen in turn a year later.
So what happened?
Speculation that Ferrari were planning to bring Alonso's arrival forward by 12 months - i.e. for 2010 rather than 2011 - at the expense of Raikkonen grew to the point where it became an open secret and the news was finally made official on September 30 2009.
Despite being sidelined from racing at the time owing to the fractured skull he suffered some two months before in a frightening accident at the Hungarian GP, Massa was retained in the other seat with Ferrari confident he would make a full recovery.
As part of the settlement agreement negotiated between his management and Ferrari, Raikkonen - having been on what was believed to be one of the highest retainers in sports history - was paid a reputed £20 million not to see out the final year of his contract in 2010.
What did Kimi say?
In Ferrari's official press release confirming his departure, Raikkonen struck a somewhat sombre tone and made clear he had enjoyed his three seasons at Maranello:
"I am very sad to be leaving a team with which I have spent three fantastic years, during which time I won plenty of races. Together, we have won 50% of the world titles in that period and I managed to take the Drivers' title in 2007, thus achieving the target I had set myself at the start of my career. I have always felt at home with everyone here and I will have many happy memories of my time with the team."
Speaking at his first appearance in front of the press pack ahead of the following race in Japan, however, Raikkonen alluded to commercial considerations, rather than his performances on the track, for Ferrari's decision to replace him:
"There are many reasons. In F1 there is always a lot of money and there can always be different options. That's what happened in the end. It's nothing to do with racing or what I do in the team."
So why did Ferrari let Kimi go?
As is invariably the case in Formula 1, a single reason rarely explains the sport's biggest decisions. Ferrari's one to drop Kimi certainly fell into this category.
Although Raikkonen, as the appointed successor to Michael Schumacher, won the world title in his first year at Maranello in 2007, from the start of the following season to mid-way through 2009 - at which point Massa suffered that frightening Hungaroring crash - it was the less heralded, and substantially less well remunerated, Brazilian who had convincingly proved he was more than a match for his World Champion team-mate.
While there were some logical factors behind Raikkonen's relative underperformance - the 2008 car's tendency to understeer and that year's Bridgestone tyres didn't particularly play to his driving strengths, for instance - however the facts were that in the 28 races from the 2008 Australian GP to 2009 German GP, Massa outqualified the team's supposed 'number one' 16-12 and outscored him by 119 points to 85, the Brazilian coming agonisingly close to a title himself in the process.
Massa's subsequent injury, and initial concerns over his career, would have complicated Ferrari's decision over whether to let Raikkonen go, but once they were assured the Brazilian would return to full health and fitness his form prior to the accident meant there was little, if any, reason to drop him.
Meanwhile, the repeated questions over his motivation for F1 that Raikkonen was ultimately forced to contend with on his return to the sport with Lotus last year were also a legacy of Kimi's sometimes lacklustre form in 2008-2009. Indeed, the now famous footage of him chomping on an ice cream in Ferrari's hospitality unit during the red flag period at the latter year's rain-lashed Malaysian GP while his rivals waited on the grid ultimately became the image that came to define the end of his 'first' F1 career.
While Kimi himself has since disputed the widespread reading of that particular incident - "if the team tells you you're not allowed to race the car because it's broken and it's too dangerous because of the water and the KERS device...", he reflected in an interview on his return to F1 last year - and his performances in the latter half of 2009 - coincidentally or not once Massa was sidelined - in a difficult car were actually more impressive than people gave him credit for, the widespread belief was that after nine seasons Raikkonen had lost his some of his lustre for F1.
In contrast to the famously enigmatic and laid-back Finn, Ferrari were said to want a more dominating character to drive the team forward - something which they knew the steely Alonso would undoubtedly provide.
Then there were the undoubtedly significant commercial considerations that Kimi himself would allude to. Although Ferrari's major link-up with Spanish bank Santander for 2010 was actually confirmed several weeks before Alonso's own deal was announced, the two were undoubtedly directly linked - Santander having already teamed up with McLaren on their countryman's arrival there in 2007. The cash injection smoothed the road for Raikkonen's exit.
What happened next?
Once his departure from Ferrari at season's end was announced, Raikkonen made clear he was only interested in continuing in F1 if he could join a team capable of challenging at the front. A return to McLaren alongside Lewis Hamilton was initially strongly touted, but, after negotiations broke down, the Finn decided to quit F1 altogether and head for the World Rally Championship - something he had actually already dabbled in during his final season at Ferrari through Fiat.
Two years of limited success in the complicated new discipline - and some well-publicised crashes - followed and Lotus eventually managed to entice him back to F1 for the start of the 2012 season. Over the last two years Raikkonen has rebuilt a reputation which had - publicly at least - began to wane at the end of his first Ferrari career with a string of impressive drives and firmly put himself alongside Sebastian Vettel, Lewis Hamilton and Alonso back in the top bracket of F1's top stars.
Ferrari's decision to re-hire him - something they haven't done with any driver since Gerhard Berger in 1993 - firmly underlines that.