2013 Quiz of the Year - The Answers
So how much did you remember about the 2013 season?
By William Esler
Last Updated: 26/11/13 4:15pm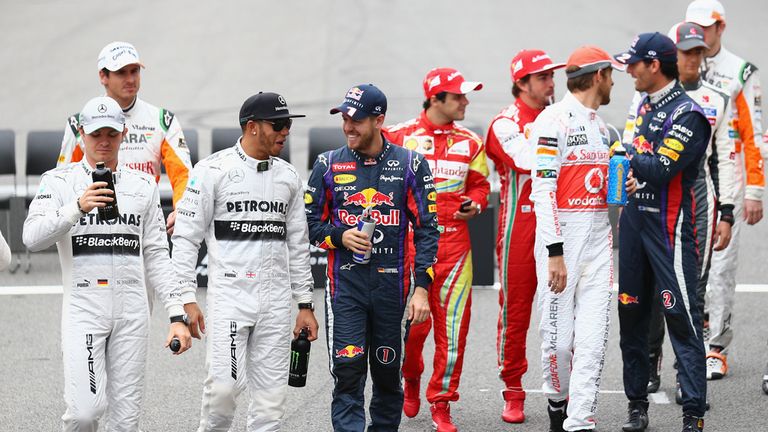 1) In which country did Sebastian Vettel wrap up the title?
India.
2) Who won the first race of the season in Australia?
Kimi Raikkonen.
3) Can you name the five rookies on the 2013 grid?
Valtteri Bottas, Max Chilton, Jules Bianchi, Giedo van der Garde and Esteban Gutierrez.
4) How many of the rookies scored points?
Two - Valtteri Bottas and Esteban Gutierrez.
5) Who replaced Kimi Raikkonen for the final two races?
Heikki Kovalainen.
6) What was the infamous radio call given to Sebastian Vettel in Malaysia?
Multi-21.
7) Which driver was dropped by McLaren after just one season with the team?
Sergio Perez.
8) Which British driver joined Force India as reserve driver in Italy?
James Calado.
9) Which team found themselves in hot water following a Pirelli tyre test at the Circuit de Catalunya?
Mercedes.
10) Numerous tyre blowouts at which grand prix forced Pirelli and the FIA to change the construction of the Pirelli tyres?
The British Grand Prix.
11) Which 2014 driver made their F1 debut in Practice One at the United States GP?
Daniil Kvyat with Toro Rosso.
12) What was McLaren's best result of the season?
Fourth for Jenson Button in Brazil.
13) Who qualified a shock third at the Canadian GP?
Valtteri Bottas for Williams.
14) At what race did Lewis Hamilton take his only win for Mercedes?
The Hungarian Grand Prix.
15) What did Mark Webber do on the slow-down lap in Brazil?
Removed his crash helmet.
16) Who opted against pitting for a new front-wing in Malaysia and subsequently crashed out of the race at the first corner on the second lap?
Fernando Alonso.
17) Who said Sergio Perez needed "punching in the face" after the Monaco GP?
Kimi Raikkonen.
18) Who started the season as Technical Director at Lotus and finished it as Chassis Technical Director at Ferrari?
James Allison.
19) How many races did Sebastian Vettel win in succession at the end of the season?
Nine.
20) What happened to Jules Bianchi's car after he retired from the German GP?
His car ran backwards down the hill and across the track causing a safety car.
21) What pop star did Lewis Hamilton dedicate his United States GP helmet to?
Michael Jackson.
22) Which two drivers were involved in taxi-gate in Singapore?
Mark Webber and Fernando Alonso.
23) What vehicle randomly appeared on the track in Korea?
The fire vehicle.
24) What two problems for Mark Webber in China prompted Christian Horner to angrily deny conspiracy theories?
He was excluded from qualifying after running out of fuel in Q2 and was forced to retire from the race after his wheel fell off.
25) Who crashed into Valtteri Bottas as the Finn tried to unlap himself in Brazil?
Lewis Hamilton.
26) What became Sebastian Vettel's trademark ontrack celebration during the final four races?
Doughnuts.
27) On the morning of what race did stories of Testgate first surface?
Monaco.
28) Contact with which rival at the start of the Japanese GP caused Lewis Hamilton's only DNF of 2013?
Sebastian Vettel.
29) What British F1 record did Jenson Button break at the Brazilian GP?
The most starts for a Brit in F1.
30) Who said "They are on a tour - they go around on a bus"?
Sebastian Vettel about the podium boo-boys in Singapore.
Let us know below your score out of 30.