Conclusions from the 2014 Bahrain GP
F1 silences the critics, Hamilton comes of new age with a new way of winning, Perez gives Hulkenberg a midfield lesson, and Big Ron is back...
By Pete Gill
Last Updated: 08/04/14 10:32am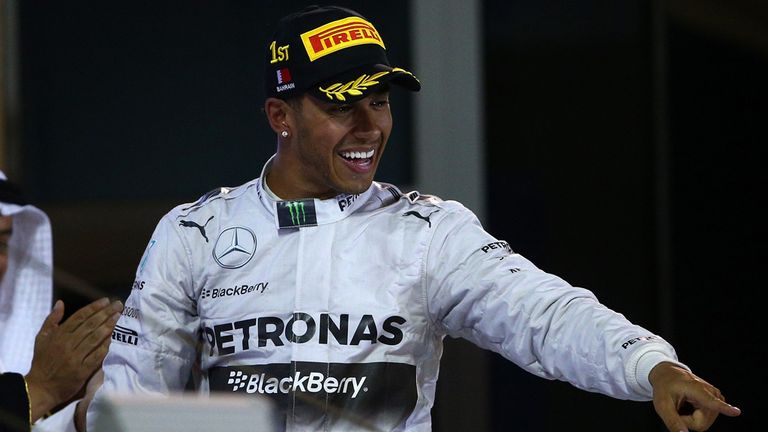 A taxi for the critics
Talk about bad timing. The heavyweight critics, amassed in force, probably thought they were on to a sure winner when they selected Bahrain as their venue of choice to voice dissent against F1's new turbo era.
After a succession of tepid and occasionally soporific races in the desert, and with a meagre crowd guaranteed and then appropriately under-delivered, this weekend must have seemed a sensible selection as a staging post for sour scepticism. But then F1 has never shown much respect for sensible choices. Just think of Pastor Maldonado's 'best ever move' from a rejuvenated Williams to a rock-bottoming Lotus. Or the wisdom of Adrian Sutil leaving upwardly-mobile Force India for a flatlining Sauber. Or, as the headline act of them all, Lewis Hamilton's logic-defying gamble to depart serial-winners McLaren for underachievers Mercedes. And look at him now.
That's the thing about F1: it does a nice line in tales of the unexpected when you least expect it. And that's the great thing about Sunday's Bahrain GP, it was a brilliant, nail-biting epic which nobody saw coming just when the sport was crying out for a thriller. There have probably been better races but few quite so well timed.
A genuine, bona fide no-holds-barred duel for victory between two drivers willing to go wheel-to-wheel was certainly overdue. F1 has had far too many runaway, lonely victories of late - 22 at a rough count.
Yet the ultimate thrill of Sunday's grand prix was that it delivered both quality and quantity. For the casual viewer, there was the instant gratification of two drivers in direct combat, freed up from strategic concerns, driven only by the clear-minded pursuit of victory. For the purist, and appreciators of fine sport, there was the sheer outstanding elegance of pure racing excellence as Hamilton and Rosberg explored the outer limits of the racing edge but never transgressed an inch further. It was ascloseasthat but never beyond.
Forget the politics, forget the technology, here was the reminder that, however it is dressed up, packaged or promoted, F1 is ultimately a matter of racing. Rosberg and Hamilton was the jewel duel of the century because it was F1 as it should be in its final reckoning whatever the method of measurement: the pinnacle of motor sport.
Lewis coming of age in F1's new era
For Lewis Hamilton, the long years of stagnation are over. In the aftermath of victory, every aspect of performance looks better, but there's a clear impression Hamilton has finally grown-up both on and off the track.
Whereas victories of the past were almost always built on pace, he found a new way of winning this Sunday when stuck on the backfoot in defence and shorn of leading pace after the Safety Car wiped out his advantage. While Hamilton later acquiesced with Rosberg's claim that he was the quickest driver on show, it's a questionable assertion. After all, the fastest driver on show is always the driver who crosses the line first. That's why we have a finishing line.
Less controversial is the wisdom of Hamilton's instant agreement with Rosberg's gripe and his own refusal to talk up his victory as he sat alongside his Mercedes team-mate in the post-race press conference. Very sensibly, and belatedly maturely, he has learnt not to antagonise a rival into an enemy.
In the lonely defence of Pastor Maldonado
So Pastor Maldonado made a clear and obvious mistake. That much is indisputable. But go careful with those demands for an instant race ban.
It's argument which, once the subjectivism of antipathy towards a driver with a big temper and an even bigger wallet, and the very natural reaction that Something Must Be Done after Esteban Gutierrez was spent spiralling airborne has been removed, doesn't stand up to scrutiny.
First and foremost, mistakes happen, even bad and unnecessary ones, and if Maldonado's misjudgement was worthy of an instant suspension then so, too, for instance, would Rosberg's thoughtless swerve into the path of Sergio Perez in Practice One. And once F1 starts to dish out race suspensions - the F1 equivalent of a red card - with regularity then it's inevitable races will soon be littered with the yellow card equivalent of drive-throughs. We want less interference from officialdom and the stewards, not far more.
Nor can a race suspension for Maldonado be justifiably advocated on the basis that Daniel Ricciardo suffered a ten-place grid penalty for an infringement already twice punished, or that the Lotus driver's mistake put the Sauber rear over front; for the former, them the rules and, for the latter, that's the urgent concern the governing body ought to be investigating this week. Maldonado can't be punished just because his infringement revealed an apparent safety flaw in the new car designs.
No, the only justifiable reason for banning Maldonado is that he has form - and plenty of it. But that's precisely why the totting-up process was introduced at the start of the year. If Maldonado continues to be a serial offender - and he almost certainly will - then he'll get his just desserts in due time. Whilst we may not instinctively like it, let F1's justice take its fair, if slow, course.
Big Ron is back
If you've not seen Ron Dennis' withering denouncement of F1's ridiculous 'Ratnering' - as it must be called after Pat Symonds' equally-eloquent denouncement of the sport's current self-loathing - then don't prolong the mistake a moment longer. It's a tour de force in reasoned, trenchant argument. There is, of course, absolutely no reason to link the quality of a team's off-track public pronouncements with an expectation of better times ahead on the tarmac, but, even still, you can't help but feel that McLaren will, like their boss, be back in power again soon.
The contrasting middle management of Hulkenberg and Perez
Too frequently anonymous but occasionally sensationally brilliant, Sergio Perez will never be a seven-out-of-ten driver. When driving for a top team, as we saw last year, the bouts of anonymity are anathema to retention. But for a midfield outfit, as Sauber and now Force India can testify, frequent anonymity is a small burden to accept in return for the occasional race-long flash of brilliance. Especially when the results are priceless: Sunday's breakthrough was Force India's first podium score since 2009 while Perez's hat-trick in 2012 still accounts for three of Sauber's four top-three finishes since the days of BMW.
It's that capacity to suddenly deliver invaluable goods which makes Perez the perfect midfield-team driver. The problem for the Mexican, of course, is that whereas at Force India or Sauber a couple of good races can add up to a great season, the axe can fall at a team like McLaren entirely because of a couple of bad races.
Which brings us on to the Nico Hulkenberg quandary. He's first-rate, no question, but will consistently delivering seven-out-of-ten performances ever be enough to persuade a big team to come a calling? It hasn't yet and the thought is beginning to prosper that until Nico stops driving with the razor-sharp precision of a top-team driver and risks all in a couple of races - note his surprise and irritation at the irrationality of Perez's opportunistic move past him on lap 27 - then the call might never come. It's ironic, and a symptomatic of the strange world of F1, but Hulkenberg's best bet of breaking out of the midfield mould might be to start driving like a midfield driver.
Let the pole-sitter decide where he wants to sit
There was a triple giveaway, surely, that the pole sitter started on the wrong side of the grid on Sunday. First, Nico Rosberg lined-up at the start pointing to the opposite corner of the track. Second, he was beaten to the apex of the first corner despite actually holding the lead all the way to Turn One (watch the replay again and note that Rosberg's car is fractionally ahead of Hamilton's all the way to the pit-exit before swinging back to the left-hand side of the track to keep a car's width of tarmac for his opponent). Third, a driver invariably preferred to hold the inside line whenever he was wheel-to-wheel with another into the first corner for the rest of the race.
The semi-official reason for putting the pole-sitter on the left-hand side of the track is that it's considered, with unanimity, to be the clean side and therefore advantageous. Yet has anyone thought about asking the pole-sitter on which side he'd prefer? Or, to put the question a different way, wouldn't it be a fun addition to the weekend's jamboree if the pole-sitter was permitted to choose where he'd like to start after qualifying?
Ferrari are nowhere on and off the track
While Ferrari's insistence that their criticism of the new regulations is borne of benevolence towards the sport itself and entirely detached from self-interest, it's inevitable that the symmetry between their on-track struggles and the scale of their off-track opposition will not be considered a simple coincidence. It reeks and the sooner they realise as much the better.
PG