Reflecting on Shanghai and the contrasting moods of Lewis Hamilton & Sebastian Vettel
Sky F1's Martin Brundle looks back on the Chinese GP and what it told us about some of the sport's leading men...
Last Updated: 07/04/15 1:54pm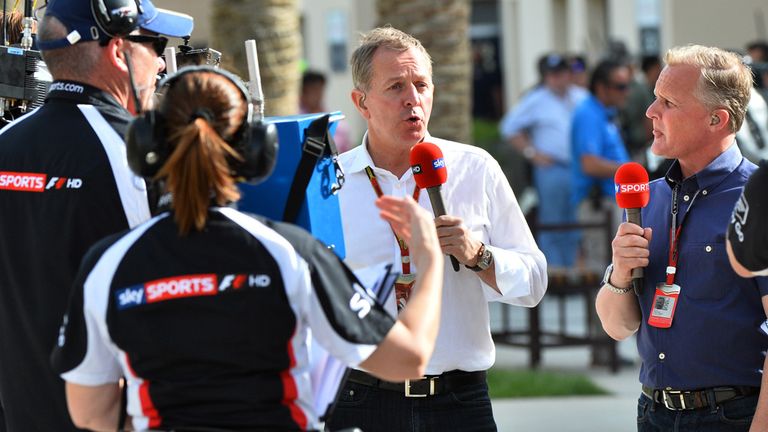 Thank goodness we had that great race in Bahrain otherwise F1 would have been kicked within an inch of its life this week by plenty of people from within and elsewhere.
All of the ingredients which made the desert race so compelling where missing in China. The smoggy greyness of Shanghai was no match for the glittering bejewelled cars under the Bahrain lights. The perfectly judged mixture of tyre compounds in terms of grip and degradation two weeks ago became tyres which fell apart too quickly and covered the track in a carpet of rubber marbles, thereby preventing some overtaking opportunities.
Those same tyres meant that following in close formation in key corners was very difficult and therefore even the DRS low drag rear wings couldn't bring the cars into close combat.
On top of that, due to Nico Rosberg's relatively lowly 4th place on the grid and subsequent poor start and first corner contact, even the Mercedes boys could offer us little entertainment or controversy.
There were still some highlights and very impressive performances, once again especially from relative newcomers. Daniel Ricciardo continues to outperform the increasingly grumpy Seb Vettel both in qualifying and race mode. I had to chuckle at the Red Bull press release which managed to convert his 'tough luck' radio call to reject letting Ricciardo past again into something along the lines that he was just checking the tyre and strategy position before pulling into a lay by and enthusiastically waving him through.
I'm not convinced he let him through at all, it looked more as if when shown the nose of his team mate into the mightily quick turn one entry, then he ran a little wide. His tyres were full of discarded rubbish as he frustratedly spun the rear tyres up in the turn three traction zone. Difficult days for the reigning champ as his driving style and technique grates against the 2014 cars.
I remain a huge fan of Sebastian, both personally and professionally, but he needs to change his mindset and approach because so much negativity is affecting his results. This is not 2010 through to 2013, he needs to start over and embrace the new challenges because they're here to stay. Seb is surrounded by several very influential people who have decided that the 2014 cars in general and the Renault power pack in particular are rubbish. Meanwhile, it's easy to sense that Ricciardo, grateful for the new opportunity, cracks one of his beamy flip-top smiles, and thinks 'let's just give it our best shot and see what happens'.
Motorsport is a smaller percentage in your right foot and a larger percentage in your head - which I know is why I underperformed my potential in F1. I've always said that a happy Lewis Hamilton is a virtually unbeatable driver and he's in the sweet spot right now. Devoid of any kind of apparent trackside entourage, clearly happy with his life and work, he's chin up, smiling, approachable, and delivering.
More than that, he's learned patience, waiting for the car and tyres to reward his talent rather than demanding instant satisfaction. He drives to the capacity of the car at all times rather than his own. Sounds easy but carrying great speed whilst doing this is an art form. It's all very Alain Prost and Niki Lauda, win at the slowest possible speed, and they have seven championships between them.
Valtteri Bottas and Daniel Kvyat continue to impress with mature and solid performances, their heads and confidences are just fine it seems and they're showing all the hallmarks of hanging around for a while.
Kimi Raikkonen had a woeful race, nearly a minute behind the ever impressive Fernando Alonso who bullied and caressed in in equal parts his Ferrari onto the podium ahead of the Red Bulls. Back in Malaysia Kimi appeared to have mastered his new steed, but at all other times he has looked as if he has little idea what the car is going to do next, especially in the braking zones. Like all of the other established and highly paid drivers he'll come under the microscope by team bosses who see just how well the much cheaper and media friendly new brigade are performing.
McLaren were leading the Constructors' Championship after the first race in Australia but the Chinese GP was a dismal day for them in a car which is reluctant to heat its tyres and so generates even more surface graining. The car looks remarkably well balanced on track, something the drivers confirm, but it's simply lacking speed despite having the best motor. There's clearly still a disconnect somewhere at McLaren between design, wind tunnel, CFD, simulator and stop watch. They have been pointless for the last two races.
Conversely the impressive Force India team again had both cars in the points, we can only hope they have the budget and resource to keep developing the car.
Eight is the lucky number in that part of the world but this race was all about threes. A hat trick of victories for Lewis, his third in China, and a third consecutive 1-2 for Mercedes.
It's Hamilton v Rosberg for the championship, and Alonso v the grid for best of the rest. The Barcelona race and subsequent test will tell us if anyone is likely to get remotely close to let alone overtake the Mercs.
MB