Sebastian Vettel finally impresses in 2014 but Red Bull still adrift of Mercedes
Sky F1's Mark Hughes studies the performance of the seemingly-improved Red Bull in Spain and finds all wasn't as it first appeared
Last Updated: 28/04/15 12:14pm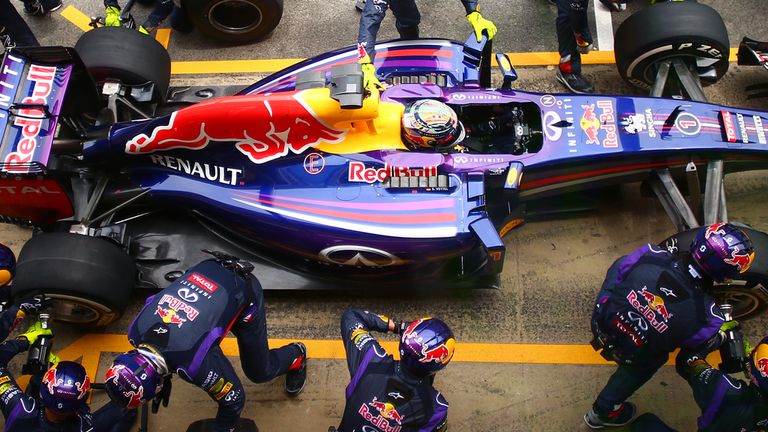 Sebastian Vettel had a great Spanish Grand Prix from his penalised 15th place grid slot, using a three-stop strategy to come through the field to finish fourth, setting the race's fastest lap along the way.
That fastest lap statistic has led some to believe that had his qualifying not been disrupted and he'd been able to start somewhere near the front, he could have perhaps challenged the Mercs of Lewis Hamilton and Nico Rosberg. But the fastest lap doesn't tell the full story - because of Vettel's three-stop strategy the lap was set with a very favourable combination of light fuel load and new option tyres and if we do the compensating adjustments for that, we find that Vettel was actually still around one second per lap adrift of the Mercedes pace, the exact same deficit Daniel Ricciardo had shown the car to have in qualifying.
For the sake of the championship contest, this was a big disappointment, for it realistically confirms that only Hamilton and Rosberg are likely to fight out this title.
Coming into the Barcelona weekend there was the prospect that the RB10 - with improved software from Renault that made its energy recovery system '95% as good as it's going to be' and a new fuel from Total reckoned to be worth 0.15s per lap - might just be able to apply some pressure to the works Mercedes W05s. It arrived fully loaded and yet still was a full second off the pace of the silver cars.
Vettel himself admitted that his chassis change since China was simply a 'sanity check' - in other words a placebo to wipe out the nagging thought in his mind that there could have been something wrong with his particular car. But that chassis swap backfired as it was responsible for him missing almost all of Friday practice when the wiring loom chafed on the side of the chassis and shorted-out. But the gearbox failure in Q3 that left him starting 15th would almost certainly have happened regardless of the chassis change.
Ricciardo meanwhile confirmed that his Q3 lap - which put him third on the grid behind the two Mercs - 'felt good'. This was disturbing for the team because it confirmed that they were still around one second adrift despite all the latest improvements. Red Bull had narrowed the gap perhaps, but Mercedes had improved too.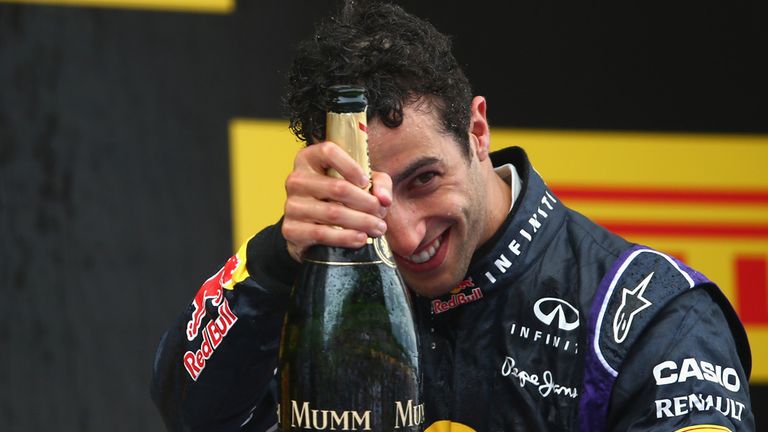 Neither Red Bull got a clean race. Vettel was never going to from 15th, but Ricciardo was out-accelerated off the line by Valtteri Bottas' Williams and the RB10's lack of straightline speed meant he was stuck behind it for all his first stint. The team had to devise an early-stopping strategy to get him past the Williams and both his initial delay behind the slower car and the compromised strategy will have added to his total race time. But probably only by ten seconds or so.
He finished 48 seconds behind the Mercedes of winner Lewis Hamilton. That suggests his average race pace could have been just 0.5 seconds slower than the Merc rather than the one second deficit of qualifying, suggesting the RB10 is probably easier on its tyres. But one of the reasons for that is probably that it has so much less horsepower...
Vettel set the race's fastest lap of 1:28.918 on lap 55 on three-lap old option tyres and with a fuel load of around 17kg. Rosberg's Mercedes set the second fastest lap of 1:29.236 on lap 51 with six-lap-old option tyres and around 23kg of fuel on board.
The 6kg weight advantage of the lesser fuel load equates to around 0.2 seconds. Subtract the total 1.3 seconds from Rosberg's time to get the approximate lap he would've done had he been on the same tyres and fuel load as Vettel and it equates to 1:27.8 - exactly one second faster than Vettel, that deficit conforming to what we saw from Ricciardo in qualifying.
So yes, Red Bull improved its performance in Spain and is now more comfortably the second-fastest car. But it's still a long way from Mercedes.
MH