Montreal storm catches up with Mercedes as Daniel Ricciardo takes his chance
Sky Sports F1's Martin Brundle reviews the riveting Canadian GP, a race short on calm but high on drama and incident
Last Updated: 09/06/14 6:05pm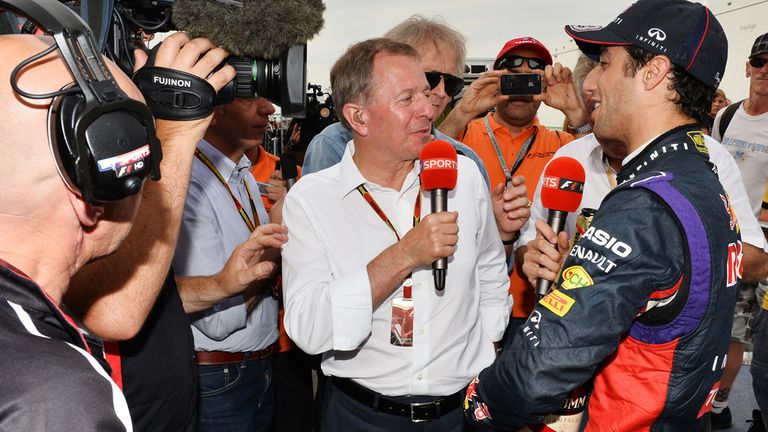 That consumption issue would be dramatically reduced when Max Chilton slid wide in turn three and spectacularly dismantled his team mate Jules Bianchi's car at the same time as ending his own run of 25 consecutive race finishes since his arrival on the F1 scene. There would be much carnage and many failures to follow, indeed only 11 cars were actually running at the flag.
That first safety car period lasted seven laps which played into the hands of the one-stopping Force Indias, and also for the sixth time in F1 history the race would finish under a safety car, but we had some thrilling sport in the intervening 62 laps. It was action all the way as, despite a tardy start, Nico Rosberg was able to lead into the second corner having ensured his team mate Lewis Hamilton ran out of space and options in turn one. In fact the back-on-form Sebatsian Vettel would pounce on the Mercedes battle and steal second place for himself for a while.
On the initial super soft compound tyres it seemed that Rosberg had the slight edge, but once Hamilton was past Vettel and they were both on soft compound tyres after lap 19 then Hamilton started to really fly, but crucially often in the turbulent and hot air discarded from Rosberg's car. That is until both Mercedes cars began to lose speed on lap 36 and, instead of leaving the rest of the field to have their own very entertaining and close race, suddenly the Mercs were being caught at two seconds per lap.
Rosberg's good luck continued as somehow he kept it out of the wall after a mistake in turn four on his outlap from a pit stop, and he also got away without penalty for straight-lining the last chicane and simply flooring the throttle to complete what was at that time comfortably the fastest lap of the race to stay ahead of Hamilton. Rosberg claims that slowing in the first two corners of the next lap neutralised that but he still had track position. He's definitely getting crafty in this battle and his brain is fully engaged.
But while Lewis succumbed to secondary brake overheating issues to go with his MGU-K power loss, Nico somehow tweaked and tuned his car and driving style to minimise his pain and keep his car going. Indeed it was a brilliant Schumacher-esque performance of driving around a problem while carrying great speed.
While Mercedes had offered an open goal for other teams to win a race for the first time this year, the main contenders were tucked up behind Sergio Perez's one-stopping Force India. A little further back Nico Hulkenberg was doing a similar thing in the other Force India while the likes of the extremely rapid Felipe Massa was having pit stop issues within a lumpy strategy plan which subsequently cost him track position. On lap 46 though he did become the first non-works Mercedes to lead a lap this season, and he would end up with fastest lap of the race.
Once released it looked as if Massa had the pace to potentially win the race even from his then 5th place, but his race tactics were a little rusty when he came up behind Vettel's Red Bull. Half moves into the hairpin and seemingly forgetting to deploy his DRS on one critical occasion stopped him breezing past Vettel at the first chance. Williams and Force India had a chance to win this race and they both let it slip away.
Daniel Ricciardo successfully took a half chance to pass the well driven but ultimately slow Perez as he surged down the unfavoured outside approach to turn one. Ricciardo admitted to us on Sky F1 that there was a moment when he thought he would have to take to the run-off zone which would have cost him dearly and probably thrown away his first victory. But he made it with a little help from the grass and the kerbs of turn two.
Finally we now had a car/driver combo which could live with Rosberg's impressive pace through the first two sectors and then punish the heavily down-on-power Mercedes on the main straight. The lead and victory would fall to the ever impressive and likeable Ricciardo as he became the fourth Aussie winner of a GP after Sir Jack Brabham, Alan Jones and Mark Webber, all by a driver who had never managed to score a point at this classic and 'old school' track
Williams went from staring victory in the face to a destroyed car as Massa clipped the back of Perez on the final lap. They both impacted the tyre barrier at a vast rate of knots and stopped alarmingly quickly, which is always a worry not least for Massa after his past trials and tribulations with concussion.
Thankfully they were both ok. Perez appeared to jink left and we already knew from radio transmissions that he was struggling on the brakes. It seems to me that Massa may have at the same time moved fractionally right too in the sweeping right hand approach to the left hander of T1. The Stewards have decided, with all the information available to them, that it was the fault of Perez and he will take a five place grid drop in Austria. Both teams and drivers are unhappy with each other. Williams say Force India should have retired the car, which doesn't seem correct given the pace they had, the resets they had effected, and the fact that their issues were probably less severe than the leading Rosberg. Massa says Perez was dangerous in moving left, Perez questions why Massa was so close when he had more space. I called it live as 'six of one and half a dozen of the other', an unfortunate 50/50 racing contact and I'll stick with that from what I've seen.
When push came to shove it was Red Bull who seized the opportunity with two drivers on the podium. Vettel did a miraculous job to recognise and steer out of the path of the high speed sled of the damaged Williams of Massa to get the final podium spot after Rosberg's remarkable performance with no KERS power. Those Mercs were showing a clean pair of heels to the whole pack at greater than a second and a half per lap when Hamilton and Rosberg were in maximum attack mode before the problems began. They are massively fast but also clearly a little fragile.
Ferrari moved the record tally on to 74 consecutive points finishes but this will be of no consolation. Despite upgrades and impressive early practice pace they were never in with a chance of stealing the crumbs from the Mercedes table, and Kimi Raikkonen had another one of his weird low speed throttle-on spins.
Jenson Button was putting in yet another one of his late Montreal charges and passed both Alonso and Bottas in the closing stages before gaining two places with the Perez/Massa shunt. It was a fine drive.
Once again Hamilton finds himself with a significant points deficit to haul back against Rosberg in brilliant form in the same car. He might just become one of the few fans of the double points extravaganza in Abu Dhabi at the end of the season.
Meanwhile, we can be happy that Monteal has extended for a further 10 years. Hopefully they will upgrade the desperately out of date facilities but not spend a dollar on the challenging and unrelenting race track.
MB