Conclusions from the 2014 German GP
Nico disappears from view, Saturdays make Sundays hard work for Lewis, Fernando calculates his point, and Valtteri proves Sir Frank right
By Pete Gill
Last Updated: 22/07/14 10:05am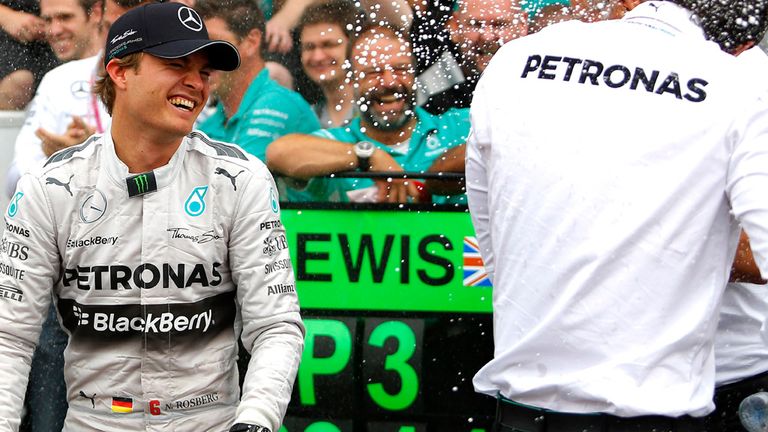 Rosberg enjoys the quiet life
After a week in which his country won the World Cup, he tied the knot and then tied his immediate future to Mercedes in return for a reputed €50m, it just had to be Nico Rosberg's day at the end of it too. Truly, few could have ever had it so good.
Then again, few victories in F1 could have been achieved with such anonymity. The notion that Rosberg was in a race of his own was made literal by the Hockenheim TV race director, with the German out of sight from first to last and his presence rendered a distant, almost mundane, afterthought. And so there were two 2014 German GPs; the first, a predictable procession in which Rosberg cruised to victory and the second, like a magician's trick, upgraded into riveting spectacle by the stubborn refusal pay any attention to its lead player.
Rosberg certainly won't have known about his disappearing act and it's almost as certain that he won't care a jot either. "I generally don't read the media, so most of the time I don't know what's going on," he wrong-footed reporters in Thursday's press conference. It was a passing remark but a revealing one nonetheless. The Mercedes driver is entirely focused on winning the World Championship. It's all he's interested in - and why, after a living in a world without the media, a race without television must have been a walk in the park.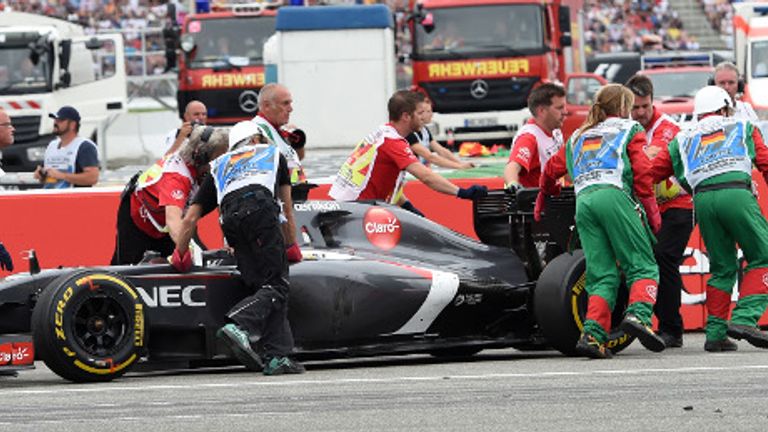 F1 forgets its safety-first approach
Beyond the inevitable conspiracy theories, fuelled by the glaring absence of official reasoning, two explanations have been put forward for why the Safety Car wasn't deployed with twenty laps remaining of Sunday's race. The first is that Race Control spied a convenient gap in the pitwall through which Adrian Sutil's stricken Sauber could be deposited into the safe embrace of the pitlane. But there are at least two salient flaws with this argument: first and foremost, that the marshals ran out from the other side of the track, thus putting themselves in acute danger; the second that the situation was so haphazard that a fourth marshal was apparently intent on running out on track before having second thoughts (look for yourselves after forty-four seconds of this video), an about-turn which underlined just how risky and dangerous the situation was.
The second suggestion, voiced by Mercedes boss Toto Wolff, is that the non-deployment was powered by FIA's recent disposition towards non-interference. But that directive ought to have nothing to do with matters of safety and everything to do with leniency towards minor incidents on track. Moreover, it was just a week ago that the British GP was closed down for an hour while a barrier was repaired. And what was likely, the Silverstone barrier being struck again at speed in the race or a marshal being injured as he ran through a gravel trap and then across a busy track to slowly push away a broken-down car? Forget the conspiracies, it's the lack of consistency in an envrionment that ought to be governed by absolute consistency that should have the alarm bells ringing.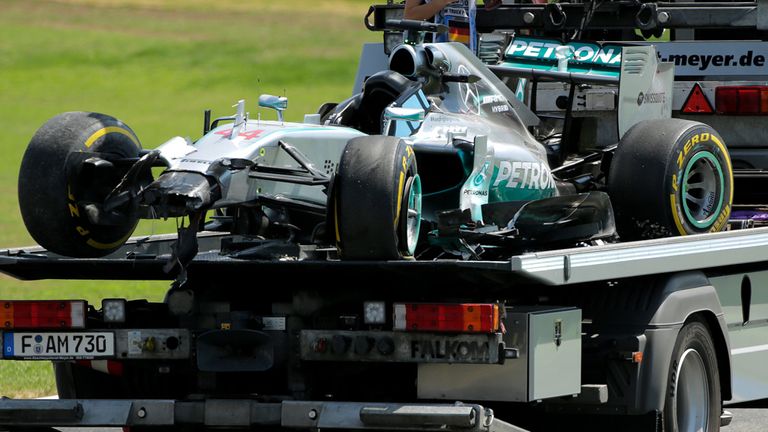 Saturdays have become Hamilton's nemesis
For the past two months, every race has been hard work for Lewis Hamilton. Starting second – and thus nowhere – in Monaco, second and flat-footed in Canada, ninth and adrift in Austria, sixth and self-recriminating at Silverstone, Hamilton was at least well versed in damage limitation procedures long before this weekend's latest qualifying disaster.
And if he drove with a sense of desperation on Sunday as he battled through the field from twentieth to third, it was an understandable desperation - part frustration, part urgency to limit the damage to his World Championship bid. As the race was lost to Nico Rosberg from the moment his brake disc failed at the conclusion of Q1, Hamilton had nothing to lose on Sunday either. It was the podium or nowhere.
He didn't make any friends along the way, but then again he never does. Adrian Sutil's erratic veer into the side of Mercedes couldn't have impressed anybody, least of all his former favourite friend in the paddock, but it was Lewis' former team-mate, Jenson Button, who sounded particularly disgruntled with Hamilton's approach before withdrawing his criticism late on Sunday night. Button himself has his unfair share of critics but how many other drivers would have had the grace to have issued an apology in similar circumstances? Even if the critics are right and he's not a first-class driver, Button is a class act in every other respect.
Still, there was a double irony to Jenson's critique in any case: firstly, that he alone spoke out against Lewis' driving when the one driver who truly had caused for grievance, Kimi Raikkonen, kept shtum; secondly, that the sight of Hamilton using the Ferrari as a buffer to make the corner, along with the clout from Sutil and the absolute refusal of Daniel Ricciardo to yield made a lie of any suggestion that Lewis had been given an easy passage through the field.
Indeed, if there was a third irony to Jenson's remarks it's that the only driver who could have been accused of yielding too easily during the race was Lewis himself and if only he had attempted to hold up Valtteri Bottas a little longer before his first pit-stop then he might have wound up in second.
Not that Hamilton had any reason to bemoan finishing in third given that Sunday saw more damage done to his car than to his title hopes. But the table does not lie, even if it does occasionally fail to tell the whole story. True enough, Hamilton needs his luck to turn, but if he really wants to turn his Sundays around, the comeback needs to start the day before.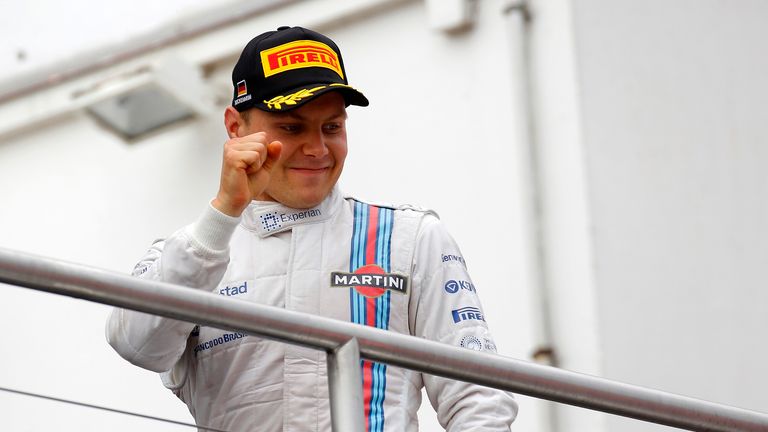 Bottas goes big
He's fast, doesn't make many mistakes, and seems to reserve his best driving for when he's driving out front. If Rosberg fails to make the grade this year, put your money on Valtteri Bottas to be the next new World Champion in F1. Just as Sir Frank promised, he's the real deal.
No matter that he looked more of a dud than the real deal last year. No matter because that may actually be a good thing. What Valtteri seems to have is that special capacity to raise his performance to a new level when he's in the rarefied surrounds of the front. Had he been squabbling for tenth with Lewis, it's surely doubtful whether he would have held on. But in the battle for a career-best second, he was perfect in thought and deed. "For me it was just really, really important to always get a good exit for the DRS straights, so out of Turn One and out of Turns Two-Three, to get as good an exit as possible and brake always as late as possible for the hairpin at the end," he said afterwards.
It sounds simple and straightforward now, but it's that ability to think clearly and quickly under pressure that is frequently the difference between the good and the great. There's a long, long way to go before Valtteri can be hailed as the latter – although he's surely now overtaken Kimi as the fastest Finn in F1 – but right now, he's ticking all the boxes.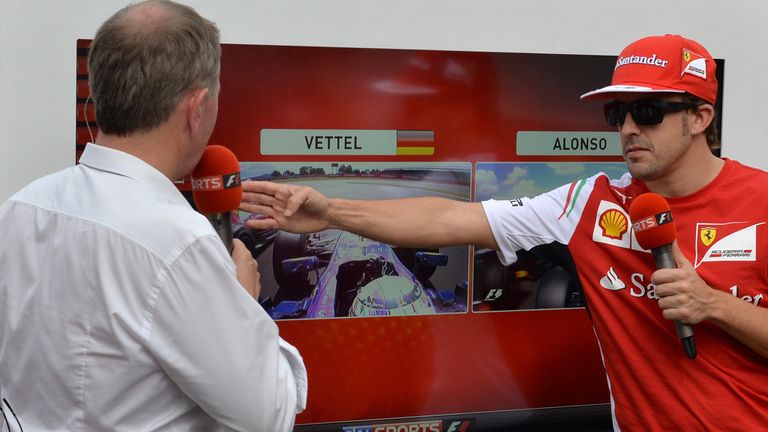 Alonso makes his point count
With Fernando, the devil is always lurking in the detail. So it was with his accolade for Daniel Ricciardo's performance in Germany, delivered with effusive praise for the Red Bull driver but also a wonderfully subtle put-down for Sebastian Vettel.
"Daniel is a surprise from Australia," Alonso said. "I think he's doing unbelievable; I think he's seven-three [in qualifying] in the first ten races with Sebastian, so it's something we probably didn't suspect."
He never misses an opportunity.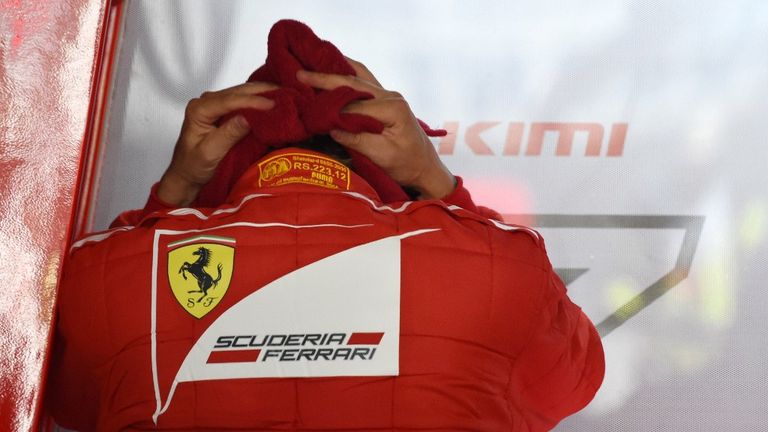 The Iceman thaws as the end looms
The refusal of Kimi Raikkonen to confirm when his Ferrari deal expires – and, by acknowledged extension, when his F1 career will end – can only mean that his two-year deal, announced by the team at the time of his re-signing, contains a results-related break-clause after the first twelve months. If not, why not confirm he'll be driving until the end of 2015?
It would be a terrible pity for Kimi to bow out of F1 in such ignominious circumstances, but the greater pity would be to continue like this. Perhaps Kimi thinks as much as well. Who knows, but it may even have been Kimi who insisted on a  break clause. The Ferrari, a car completely unsuited to his driving style and soft hands, has failed him as much as he has failed to deliver alongside Fernando – maybe more so. The standings declare him to be half the driver Alonso is. As remarked before, the table never lies. But sometimes it tells a complete whopper.
PG