Exclusive Marco Mattiacci Q&A: Sky F1's Martin Brundle meets Ferrari's new boss
Mattiacci on his three-year plan to take Ferrari back to the top of F1; why he doesn't need to keep Fernando Alonso 'happy'; and why the underperforming Italian marque remains the "main actor of the script"
By Sky Sports Online
Last Updated: 01/09/14 1:29pm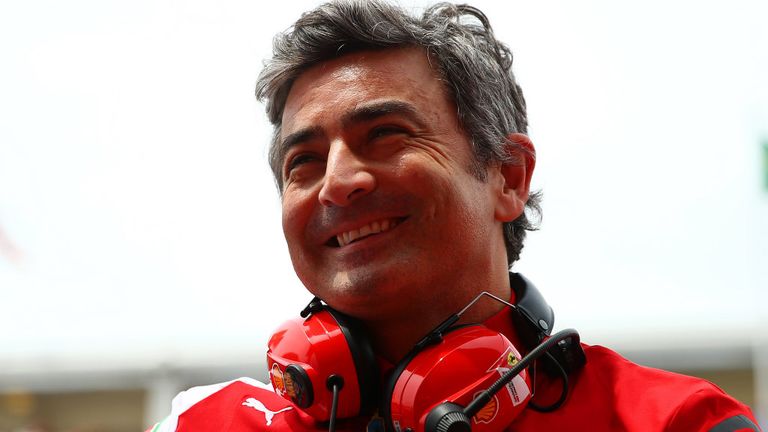 Having taken on what is arguably the most high-pressured job in F1 - Team Principal of Ferrari - in April, it's fair to say that an already little-known Marco Mattiacci served to create more intrigue around him when he turned up for his first day of work in a dank China paddock wearing sunglasses.
However, four months on, and having had time to both assess the situation at Maranello and devise and begin to implement a recovery plan to turn Ferrari's fortunes around, Mattiacci spoke exclusively – and at length – to Sky Sports F1's Martin Brundle at the Belgian GP to outline his master plan. Here's the full transcript of their fascinating chat...
Martin Brundle: Marco, you parachuted into our lives late April at the Chinese GP from apparently nowhere, what are your first impressions of the inside of Formula 1?
Marco Mattiacci: "I've been following Formula 1 since I was a kid and working for Ferrari since 15 years; you wake up and think about Formula 1, all our cars are inspired by Formula 1. But having said that, there was nothing that really surprised me that much. Definitely factors like the intensity of working and that you become a public figure, and from a business point of view you need to as well deal with the media, new media. But overall I have found a place with impressive, talented people with great IQ. I'm a curious person by nature, so it's fantastic."
MB: But it can be quite a dysfunctional place, there's some extreme characters. Has anybody surprised you?
MM: "No, exactly what I was expecting that I used to watch on TV. Now I'm part of the script, but yes, very interesting characters."
MB: What are your skillsets? Why were you chosen to be the man to take Ferrari to the next level?
MM: "I think first of all because I'm quintessentially a Ferrari man. I grew up in this company and I've been in Ferrari since 15 years. But I think I have a strong sense of strategy and am someone that gives people the opportunity to express at their best their talent. But at the same time I fight until the end for my ideas, I don't settle.
"In all the businesses that I've run, whatever is between me and the success - if you want to call it success, but I would call it the result - I don't stop."
MB: And what have you achieved so far?
MM: "Well, in life you first need to understand where you are, so I think I understand better and better the people of the team because every business is first about people. I try to go back in time to learn how we arrived here and to see the assets and the good things that this team has because I think Ferrari still would be the authority in motorsport. We have it in our DNA – our core business is about racing cars.
"Now we are basically setting up a strategy that is going to be for the next three years and that is probably for sure going to see Ferrari go back to the top in Formula 1 and succeed. But eventually a way to organise the team operation-wise that is quite different from what it is today.
"I think Ferrari is one of the most impressive, iconic franchises in the world - that is, so many opportunities that lie ahead of us that I think we are going to create impressive value. But first is to go back to winning the World Championship."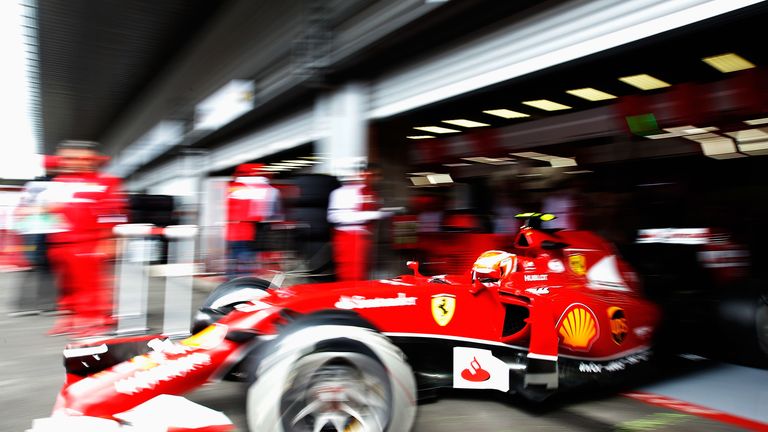 MB: So that, over the next three years, is the target: win races and then win the World Championship?
MM: "You are extremely competent in Formula 1 so you have seen how long it took for Mercedes to arrive here. You have seen how long it took Red Bull to achieve what it achieved. I guess we are starting from quite a strong baseline – we have, as I said at the beginning, important assets, we have a tradition.  Having said that, we need to improve some kind of strategy, some kind of bias to the way we work. Some kind of short-term approach to the racing activities, to the technical activities.
"So, as I said, it is going to take a while. This is not soccer: you don't change the coach and buy two players and you are going to win next year's championship."
MB: You have been one per cent slower than Mercedes this year on average in absolute pace terms. It doesn't sound much and it's a moving goalpost as well; it's quite touch isn't it to close that gap?
MM: "You could have seen qualifying [in Belgium], it seems to me that the gap between us and them is huge, and this requires months and months of work. Outworking the others because we are behind, working in a quality way and in an efficient and strategic way. So it's an extremely interesting but huge task to achieve."
MB: Is it a big reset you're looking to do or a lot of fine tuning?
MM: "Culturally I want to turn the page. We need to have a different culture because we need to modernise the way we work, we need to make sure that we create a positive pressure that is going to make us make the kind of leap forward every race. A culture where people work together where communication is open to everybody, information is open to everybody.
"In all the organisations that I ran before it's not that much important the hierarchy, but it's important the ideas and it's important that everybody knows what the other is doing because you can always give a better suggestion and you need to know what your colleague is doing in the other area. So communication is key."
MB:  You have been really open that you really don't like it if the engine department criticise the chassis or visa-versa and that's something you want to get rid of at Ferrari…
MM: "I like it when I ask someone about how his work is doing or how his project is progressing, he talks to me about his project. Then we can eventually talk about the others if this has any part with what he is doing. I don't like blaming culture, I don't like to point the finger to my colleagues and I don't want them to do the same. Definitely we need to learn from mistakes, but in a positive and prospective way."
MB: But where are you going to find these new people? There's a pool of talent in the UK – seven of the 11 teams are based in quite a small radius – is it harder that you're based in Italy alone to get the quality and quantity of people you need?
MM: "No, I think that to work at Ferrari is still an extremely prestigious and important point of arrival for a lot of people involved in racing. It's an aspiration. Indeed, for me at the moment it's a matter of timing, you'd like to have these people join you now. As you can imagine, it's not that easy because they don't want to come or there are a certain kind of issues that we cannot overcome.
"But I'm not someone looking for star names. I always believe that top talent and someone that is less a team player or not such a big name, I prefer to have someone that is a team player. You can see who today are the star people in the market, or big names; if you go back to two years ago you didn't know these people. As a manager you need to have a combination: definitely to go to the market to pick up the best, but at the same time you need to find out people that are probably the second in line who have the potential."
MB: But you would have taken Adrian Newey if you could have done?
MM: "I've not been involved in that, so…"
MB: The last glory days really for Ferrari were a combination of Todt, Brawn, Schumacher, Rory Byrne. Are you wanting to recreate that situation or a whole new direction?
MM: "You know, I listen a lot, I read a lot and I look at a lot of people that failed and people that succeed and for me to look at that period of Ferrari is fundamental because it's been one of the most successful. But I don't want to replicate, I want if it's possible to take the best out of it and to do our way with the people that I have today.
"Sometimes you have temptation to do exactly what who has been successful has done, but I think Formula 1 has changed so much in the last five, six years I don't know even if the same formula would work or if the same approach to the business would work today."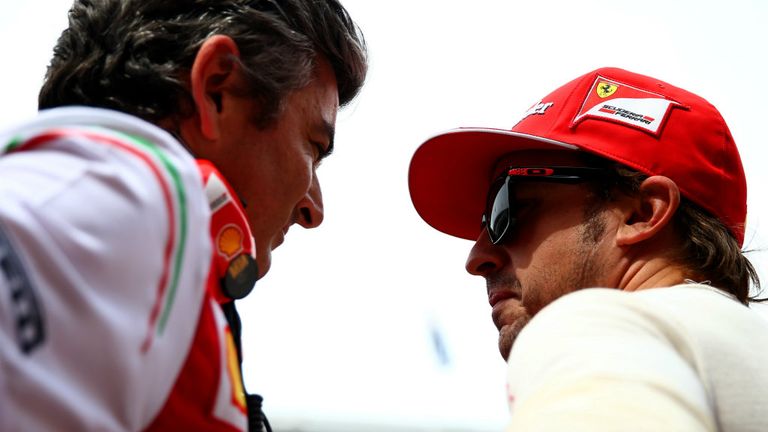 MB: How can you keep Fernando Alonso happy and in contract?
MM: "I don't have to keep Fernando Alonso happy. We are not here to look for happiness; we are here to look for the fastest cars."
MB: And then that'll make him happy, but that's a decision he'll make…
MM: "I'm here to make him competitive, not happy."
MB: But he's pivotal is he not to your grand plan, your three-year target? He's perceived to be by many people in this paddock the best driver…
MM: "Fernando is already under contract with us, so it's not an issue that I have on the table…"
MB: Long-term?
MM: "He has a contract until 2016, so…"
MB: To the end of '16?
MM: "Yeah."
MB: So it's not an issue then? He's an employee, he's got to keep you happy?
MM: "He's not an employee, he's a talent. Nobody in my team is an employee, we are all talent and first of all human beings with a great passion. I don't believe in classifying people like Fernando, anybody in the team, as an employee."
MB: Do you think there's been in recent years a culture of having scapegoats or sacrificial lambs where good people have been dismissed out of Ferrari because somebody had to take the blame?
MM: "No. As I said, I worked in Ferrari since 15 years, I've been watching and following Formula 1 and I didn't see any scapegoating, honestly. I would say there's been great continuity and probably we didn't change enough. But not scapegoating, it's a different style."
MB: Kimi Raikkonen, last time he was at Ferrari, he was basically paid to go rallying. Then he came back and did a great job at Lotus. He's had a difficult season back here at Ferrari, how do you view his performances?
MM: "I see this like when you hire a great striker in football and for the first six, seven matches they are not striking and you are waiting and then suddenly they will do an amazing season. I think Kimi, we have seen in Hungary, we have seen even in the last 48 hours [during practice and qualifying at Spa, where he went on to finish fourth, his best result of the season so far] we have seen he is an extremely talented driver.
"I don't think we did an excellent job in putting him in condition to express the best of him. For sure, he has been suffering a little bit the car that we have for his driving style that he has, but I think it's a combination of factors that didn't bring him in the top five, six drivers. But I strongly believe in Kimi."
MB: Will you have the same driver line-up next year?
MM: "Yeah."
MB: Unquestioned?
MM: "Yes."
MB: And maybe 2016 too?
MM: "Listen, I need to think about what is going to be the race tomorrow [in Belgium]. As I said, we have two great drivers. My focus at the moment is to lay down a great strategy to make sure that all the team share the same vision and the will to succeed in an environment that puts them in a condition to be back to the top and getting everybody motivated in a moment that definitely is not the easiest one for Ferrari."
MB: Under the regulations this winter the window opens to change the engine, the power pack. Is there a huge focus on that for you?
MM: "Yes. It's clear that it's one of the areas where we are not at the top, so it's one of the main areas of focus. But it's the entire package. It's not aero, it's not only the engine, it's not the chassis, it's all the package – including the people in the team."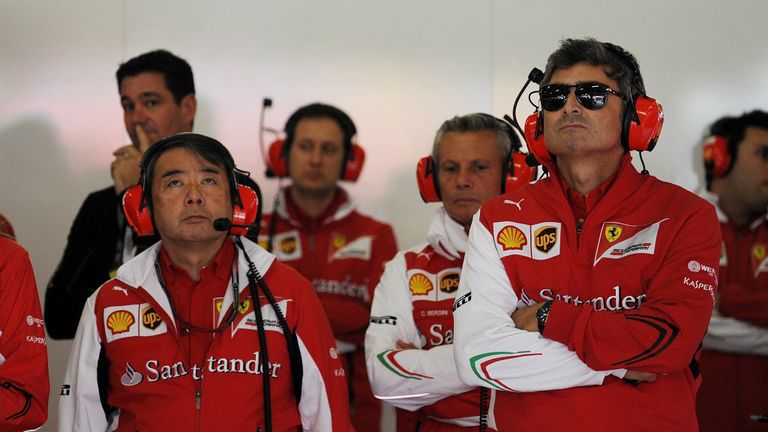 MB: Rumour has it that Mr Di Montezemolo is going to AIitalia, leaving Ferrari. Could that happen? Would that give you more oxygen, more space then to do what you need to do?
MM: "I don't consider this. I talk to him twice a day, he's a great support."
MB: What does Ferrari mean to you? What are the first words that come into your head when you think of Ferrari?
MM: "Last night before sleeping I was watching an interview with Enzo Ferrari and I use it to just recall every time the value of what this man did. It's an impressive, unique company that is a worldwide patronage, something that everybody aspires to have, to aspire to work for.
"At the same time, for me it's extremely inspirational because what a man like Enzo Ferrari achieved – never give up, entrepreneurship, toughness first with himself and then with all the other people working with him, and a seriousness and fairness in doing the business. When I think about Ferrari I think about something to excel, passion, impressive engineering and something to be extremely proud of."
MB: Is Ferrari the most important team in Formula 1?
MM: "Yes."
MB: Why?
MM: "I think Ferrari is the most important team in racing overall. When you think about racing, the second step is Ferrari."
MB: For the fans? For the marketing? Why?
MM: "Everything. The history, the heritage, the tradition, the victories, the drivers, the emotion that this brand, the amazing cars, the dreams of this company… I've been exposed in the last 15 years travelling all over the world to know the best companies in the world, the best entrepreneurs, but there is nothing like Ferrari. There is nothing that moves emotions, there is nothing that lets people dream, and particularly there is nothing that lets you fight for as Ferrari."
MB: So over the last years and decades probably negotiations have given Ferrari a lion's share of the income, a veto on regulations, and you think that's right, you're happy with that? That's fair because of the history and heritage of Ferrari?
MM: "Yes, indeed. We have been racing since 60 years. You can see when you go to the stand how many Ferrari flags there are. It's the main actor of the script. It's fundamental. In some way Formula 1 is entertainment, so we are part of it."