2014 Italian GP analysis: Delving into the detail and strategies from the race
Why Mercedes did tell Rosberg to miss the chicane; Did Red Bull pit Sebastian Vettel too early? How quick was Daniil Kyvat? What made the difference between Nico and Lewis?
By William Esler and Mike Wise
Last Updated: 09/09/14 4:08pm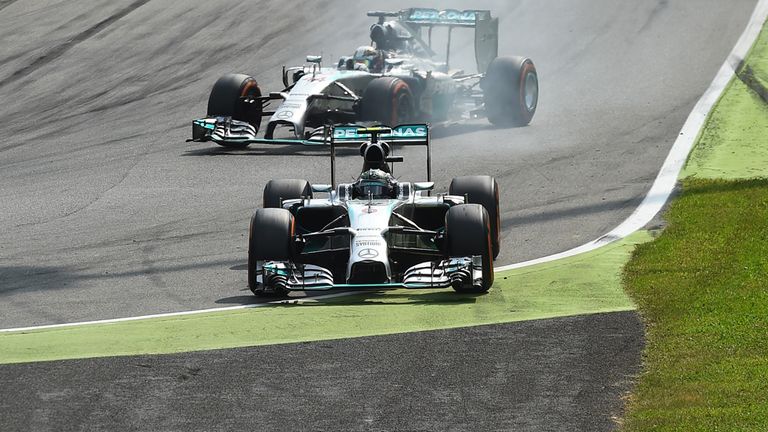 Mercedes DID tell Nico Rosberg to do it!
Okay that headline got your attention. Or maybe you're just fed up with the whole thing by now? That certainly wasn't the case on Sunday afternoon: not only did Rosberg's mistake on lap 29 open the door for Lewis Hamilton, it also let in droves of enthusiastic truth-seekers convinced the whole thing was a sham – that it was pre-ordained payback for his Spa faux-pas (though, as has already been pointed out more than once, Nico remains in debt if he is to pay back all the 18 points he pocketed in Belgium).
By the sounds of it, though, it was pre-ordained. But not because Mercedes were intent on extending Rosberg's punishment whilst also trying to pull the wool over our eyes; more the case they'd decided beforehand that diving down the escape road was the lesser of two evils in the event of a lock-up at the Rettifilo chicane.
The alternative outcome was flat-spotted tyres, which would have cost more time to replace. Yet the emphasis was still on the driver not to make a mistake. Hamilton locked up in the closing laps but by then Rosberg (who also took to the escape road on lap nine) had paid the price for his earlier error.
"I could have made the corner each time, no problem, but as soon as I locked the front, I decided 'Okay', release the braking and go straight because the risk is very, very high that if I do make the corner, the front-locking will make my tyre a square rather than a circle," he explained to Sky Sports F1 afterwards.
"Then the vibration will be so big – I had it in free practice – that I'll have to come to the pits and that'll cost me a lot of race time. So it was really just playing it safe, to go straight on."
Rosberg lost a couple of seconds threading his way through the barriers before rejoining the fray, but before the race a two-stop strategy was calculated as being 12 seconds slower.
"One of the main messages to the drivers was 'Don't flat-spot the tyres'," Mercedes team boss Toto Wolff said. "Because if you flat-spot the tyres, we will need to pit you, and with a two-stop strategy you are lost.
"Maybe this is why he didn't really try hard into that corner but this is just my interpretation - he didn't really try to make it hard in the corner because it's better to take the exit and not flat-spot them."
It sounds plausible. But then again, maybe Mercedes did ask him to hand the place to Hamilton in (tyre) smoke-and-mirrors fashion, much as they deliberately engineered Hamilton's brake failure in Germany and engine fire in Hungary. And maybe Rosberg did deliberately aim his front wing at Hamilton's rear tyre in Belgium in the full knowledge that he'd end up finishing second while his title rival would have to retire.
It's Singapore next and heaven only knows what dastardly deed Mercedes will inflict upon their drivers there. Asking one or other of them to crash on purpose, probably.

Hang on a minute...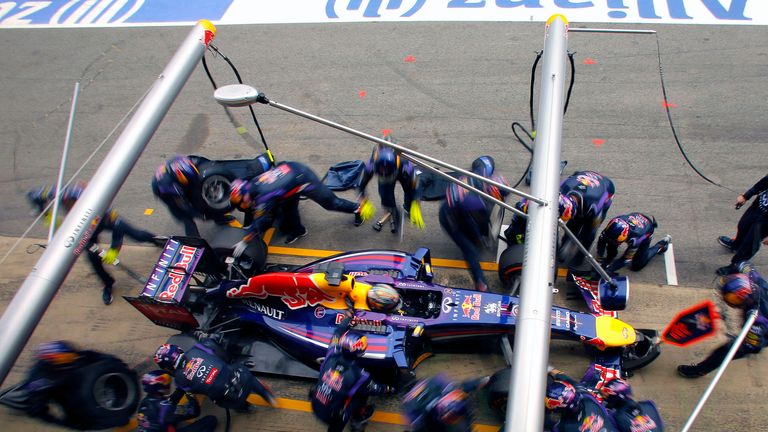 What difference did stopping later than Sebastian Vettel make for Daniel Ricciardo and did Red Bull pit the World Champion too early?
Having only qualified ninth and dropped to 12th at the start, the Italian Grand Prix looked set to be a nightmare for Daniel Ricciardo, but a long first stint transformed his race.
Only Jules Bianchi ran longer than the Australian on the medium compound tyres, but the Frenchman had the benefit of a new set whereas Ricciardo had used his in Q2.
Vettel made his sole stop on lap 18 with Ricciardo pitting eight laps later and the difference that made to performance in the final third of the race was clear. The World Champion recorded his fastest lap of the race on lap 34, a 1:29.141, by which stage his team-mate was already in the 1:28s.
When Ricciardo passed Vettel on lap 47 he was lapping two seconds faster and easily pulled away from his team-mate, even setting his fastest lap of the race on the final lap.
Vettel was running a second behind Kevin Magnussen when he was called into the pits by Red Bull and whilst he was able to use the undercut to get past the Dane who pitted three laps later, Ricciardo's late race pace suggests Red Bull jumped too early.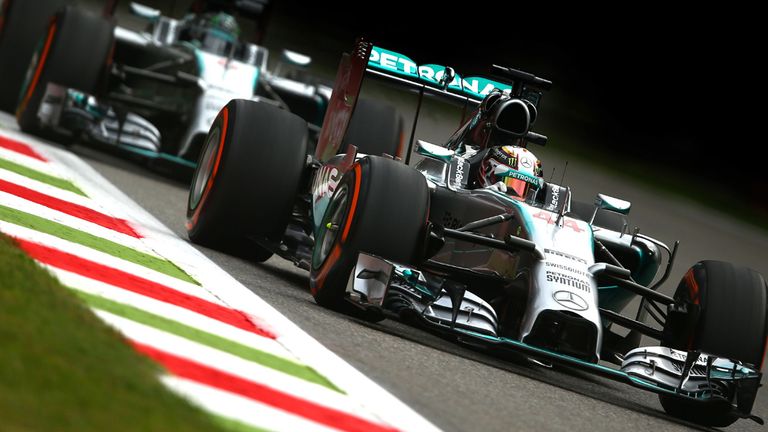 The difference between the two Silver Arrows
Hamilton needed to make ground on Rosberg this weekend, of course, and although both drivers lost out on valuable practice time – Lewis was forced to miss an hour of P2 while Nico didn't set a lap time in the final session – whenever both cars were out on track, Hamilton was quicker – particularly in Monza's second sector, where the difference was consistently about 0.2s.
"The real difference was in the two Lesmos. The minimum speed in the apex of the two Lesmos was very high, very high," said Wolff, referring to Hamilton's efforts through the two right-handers located at the top of the 'temple of speed'. He was timed at 28.562s through sector two in qualifying, with Rosberg's Silver Arrow setting a best of 28.727s.
What's more, Hamilton – as has frequently been the case this season – was able to go faster whilst using less fuel. Aided by a slightly higher downforce setting than Rosberg he might have been but his habit of carrying more momentum through corners helped, as did a rearward brake setting. That might have placed a bit more stress on the tyres under braking but Hamilton was happy enough with the looseness it created whilst also using his car's brake-by-wire system to harvest more energy.
Rosberg, by contrast, wasn't quite so happy with his rear tyre wear, hence the decision to move the brake bias forwards – which ultimately led to the lock-ups which cost him the race.
How fast was Daniil Kvyat?
Daniil Kvyat was in fine form for Toro Rosso at their home event in Italy as he flew through the field – both with and without brakes!
The 20-year-old had started from the very back of the grid courtesy of a penalty for going over the limit of five engines, but despite being stuck in the dirty air of slower cars, the Russian's pace was impressive compared to team-mate Jean-Eric Vergne who started from the relatively lofty 12th as he regularly lapped quicker – sometimes by as much as a second – in the opening stages. When Kvyat slotted back into the pack having stopped on lap 30, his gains were such that he was running directly behind Vergne who had had quicker tyres for his opening stint.
Later in the race, the Russian closed a gap of six seconds to Kimi Raikkonen to under a second in just five laps for the final points paying position. Had his brakes not failed with two laps remaining, his pace at the time, 1:28.486, suggested that even sixth place Sebastian Vettel, 1:30.495, may not have been out of reach.
The Russian was also the only non-Mercedes powered car in the top five fastest laps of the race – no mean feat given the STR9 is far from the most competitive package on the grid.