2014 United States GP analysis: Delving into the detail and strategies from the race
What was the key to Hamilton's decisive overtake? What's the score at Mercedes in direct fights? What difference did Vettel's late stop make? How does Hamilton's win rate compare to other British greats?
By Mike Wise and William Esler
Last Updated: 04/11/14 3:29pm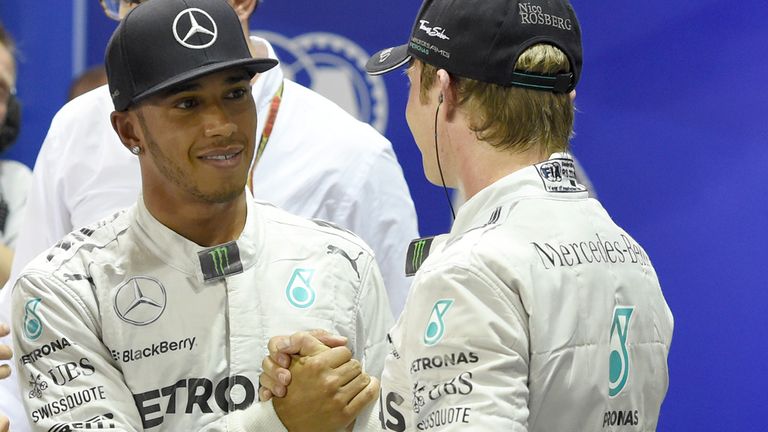 How Lewis' first pit-stop gave him wings
The rest might have put on quite a show fighting for the scraps on Sunday, but for the best the U.S. GP was relatively drama-free with the race's decisive move coming on lap 24 when Lewis Hamilton passed leader Nico Rosberg into Turn 12.
Rosberg had appeared comfortable early on but not 0.4 seconds per lap comfortable – the margin between the pair in qualifying – as Hamilton hovered around DRS range more-or-less throughout the opening stint. With hindsight it's easy to say he was biding his time but in fact Hamilton suffered oversteer.
A flatter front-wing setting during his opening stop on lap 16 made the difference and when Hamilton rejoined, he was 2.4 seconds behind Rosberg, who pitted the lap before. The gap immediately started to come down, with Hamilton now lapping as much as 0.7 seconds quicker (on lap 19) as he moved within DRS range.
By lap 23 he was sizing up his quarry on the backstraight before passing in the same place the following lap. Hamilton had struggled with his brakes during qualifying but left it as late as possible 24 hours later – his confidence helped by a change in wind direction that created a strong headwind at Turn 12. "You have to decide how much risk you're willing to take," he told Sky Sports F1 afterwards. "I was just waiting for the moment and to be close enough to turn up the inside."
Both cars had switched from soft to medium tyres for the second stint, and Rosberg admitted he found the going tougher. "I just didn't drive well enough," he admitted. "It took me too long to reach my rhythm. By the time that Lewis got past, five or six laps later I started to nail it but by then it was too late. I overdrove the front tyres and a lot of the understeer I created myself."
What didn't help either was that, in attempting to defend the lead on the backstraight, Rosberg had hit the wrong switch for a power boost. "I made a mistake because I used the wrong things to give me KERS," he said. "I thought I was doing the right thing, but there's a delay in that one, and if I do it with a button it's immediate, and with a switch there's a delay. So I never got the extra KERS, and that's why in the last metres he got a good jump on me."
His lack of pace early on was also reflected in how the pair pulled clear of the third-place car. That was Felipe Massa in the first two stints, with the Williams driver only five seconds behind Rosberg when he made his second stop on lap 31. When Daniel Ricciardo took over in the third stint, the gap eventually moved out to 21 seconds. Rosberg had found his rhythm by then, but with Hamilton was always at least two seconds up the road, it was already too late.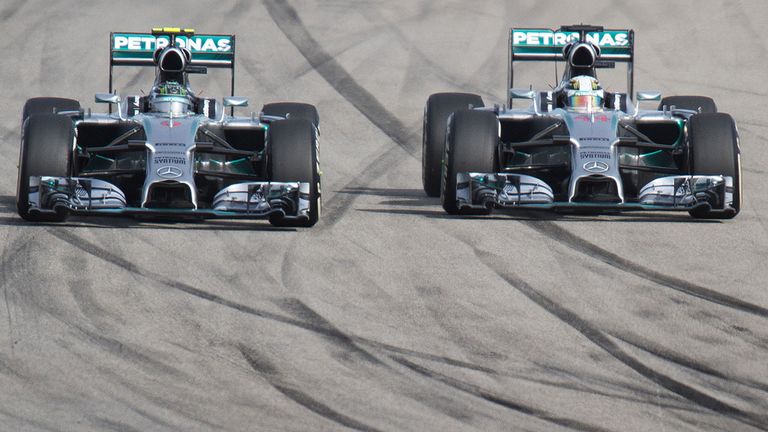 What's the score between Hamilton and Rosberg in wheel-to-wheel combat?
Despite the clear supremacy of the Mercedes W05 this term, the two title protagonists have only rarely duelled on track. Hamilton prevailed in Sunday's duel at Austin, but what's been the overall score during 2014 as a whole?
The pair first locked horns this year on track in a riveting race-long fight in Bahrain. Hamilton overtook pole-sitter Rosberg into Turn One and then fended him off around the outside of Turn Three. The German struck back at the same corner on lap 19, but Hamilton got back ahead almost immediately at Turn Four. They came together again on lap 52, but Hamilton was able to fend off his team-mate. Just.
Two races later in Spain, Rosberg opted for a different tyre strategy to pole-sitter Hamilton for the middle stint of the race, giving him the faster medium tyre at the end of the race. He quickly closed a gap of four seconds to the leader, but Hamilton again held on to win by 0.6 seconds. The only other occasion when Rosberg has challenged Hamilton for position on track this year was at Hungary when their divergent strategies on the final lap and the German was just about kept at bay.
Mistakes from Rosberg robbed us of further bona fide wheel-to-wheel fights in Canada and, more controversially, Belgium, while his mistake under pressure in Italy can be legitimately regarded as a Hamilton 'win'. The Englishman's 'victory' was even more emphatic in Japan, when he swept through the spray to round his team-mate into Turn One for the lead of the race.
With America hosting the latest addition to his tally, Hamilton can rightly be regarded as holding sway by a 4-0 scoreline over his team-mate this year.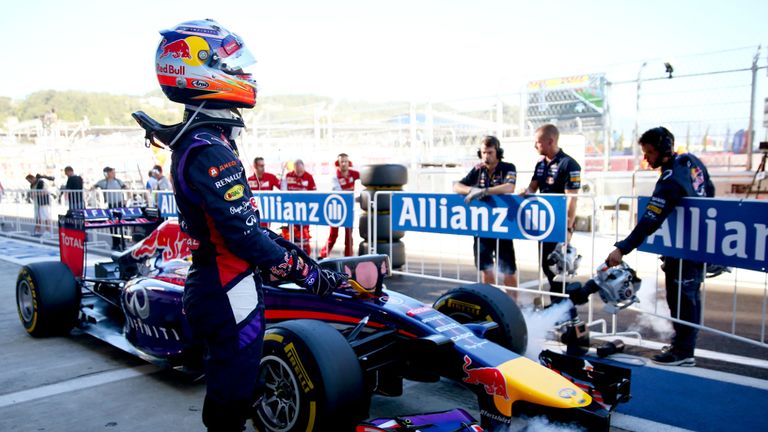 Ricciardo stars again
Was Daniel Ricciardo ever in the title hunt? It never really felt that way. Sunday's result finally dropped him out of contention but the Aussie arguably put in the best performance of all, giving it plenty as – not for the first time this season - he hauled himself right back up the field after a poor start.
Starting fifth, the Red Bull driver fell to tenth at the lights. "The start wasn't very good, I have to put my hand up to that one," admitted Ricciardo, whose response to adversity came promptly by dispatching Kimi Raikkonen's Ferrari and then both McLarens before the Safety Car went out at the end of lap one.
The re-start three laps later ended with Fernando Alonso's Ferrari also back behind. The Spaniard spoke admiringly of Ricciardo's fight when they duked it out at Hockenheim earlier this season and there was more evidence of it when he speared up the inside into Turn 1. In fact, the move was almost too good, in that he almost hit the back of Valtteri Bottas' Williams. But fortune favours the brave and Ricciardo fended off Alonso as he tried to re-take the place heading back down the hill.
Back to where he started by lap five, Ricciardo edged within DRS range of Bottas in the first stint but Williams v Red Bull isn't really a fair fight in terms of straightline speed. As such, a different plan of action was required: making his first stop on lap 14, Daniel's out lap was sufficiently fast for him to pass Bottas at Turn 1 – around the outside this time – when the Finn stopped a lap later.
Stage two started falling into place on lap 30, when Williams tried and failed to respond in kind. Bottas was over four seconds behind by then and it seemed a long-shot; just how unlikely became apparent when Ricciardo was, in fact, able to 'undercut' Massa ahead.
The gap there had been around 2.4 seconds but Ricciardo's ability to once again up his pace when it was called for, coupled with a slow pit stop for Massa (over a second slower than Red Bull's) made the difference.
Mercedes were long gone, of course. But although Massa was able to close up to Ricciardo towards the end of the final stint, he never came close to taking the place back.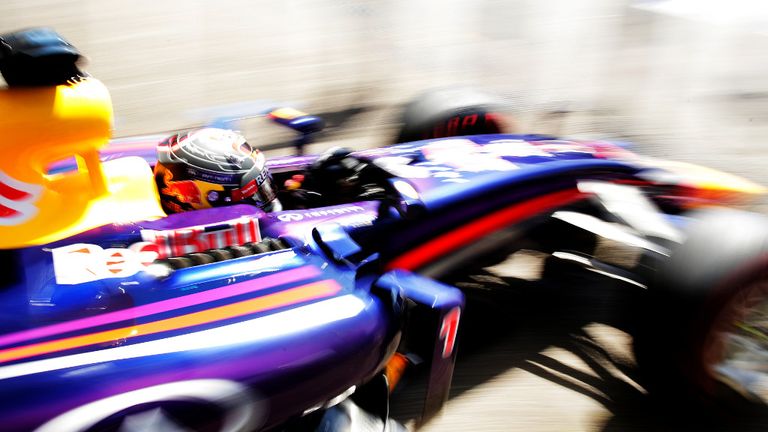 What difference did Vettel's late pitstop make to his finishing position?
Sebastian Vettel made his fourth stop of the race on lap 48 leaving him to complete the final eight laps on a brand new set of soft tyres. Normally four stops would see a driver running out of new tyres, but having only taken part in Q1 due to his pitlane start the German was able to utilise the fresh rubber in the closing stages.
"It was a race of two halves for Seb," said Team Principal Christian Horner. "The first half was very uncompetitive and he was even struggling to match the times of the Saubers and the Force Indias, but thereafter it came alive for him.
"We stopped as we didn't intend to use the soft tyre again and were effectively going to do the race in two halves so we cycled the soft as he didn't give any ground away behind the Safety Car. But the degradation on the harder was high and it was a risk to get to the end so that is why with eight laps to go we decided to put a set of tyres on. He got back to where he had been, but it was a safer way of getting to the end."
Vettel was running seventh when he stopped. He had been matching the pace of those cars around him – in fact, he was lapping around half second quicker than the eighth-placed Kevin Magnussen - and his lap times were almost identical throughout his 22-lap stint with no apparent sign of drop off.
The stop dropped Vettel to 14th, but he immediately found three seconds over his pre-stop pace as re-joined in clean air on the new tyres and he even set the fastest lap of the race on lap 50.
That surge allowed him to carve back through the field and retake seventh spot from Magnussen. The McLaren driver had pitted on lap 27 to Vettel's lap 26 for his medium tyres and his lap times had only slightly increased from the times he had been setting when the German stopped for softs. This suggests Vettel could have stayed ahead of the Dane and finished seventh as the tyres proved durable with the lighter fuel load. It should be pointed out, though, that Vettel was running with lower rear downforce to aid overtaking which could have increased rear degradation, justifying Red Bull's decision to make the additional stop and rely on Vettel's overtaking abilities.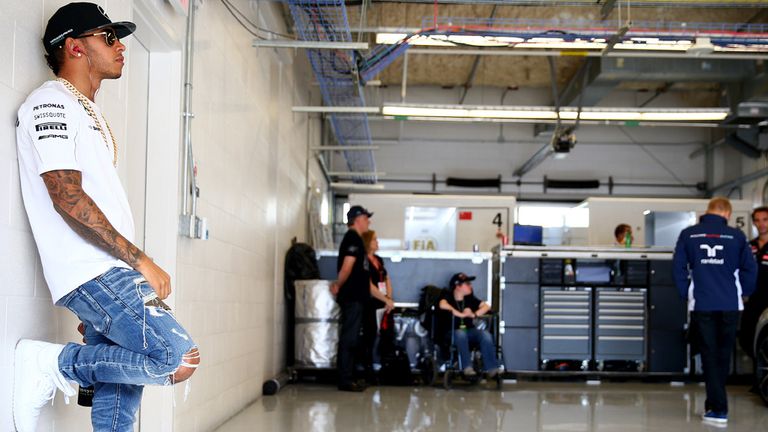 Where does Hamilton stack up in the rankings?
Lewis Hamilton's 32nd F1 victory makes him the most successful British driver of all time and leaves him joint fifth on the list of most wins. Having entered 146 races, Hamilton has a win rate of 21.92%. This compares favourably to the man he surpassed on Sunday, Nigel Mansell, who won 31 of the 191 races he entered – a rate of 16.23%. However, he does trail fellow Briton's Jim Clark who entered 73 races and won 25 - 34.25% - and Jackie Stewart who entered 100 races and won 27 – 27%.
Looking at the overall picture Hamilton is also a long way behind the driver with the best conversion rate in F1 history, Juan Manuel Fangio. The five-time World Champion entered 52 races and won 24 giving him a win rate of 46.15%.
Of the current drivers Hamilton also trails Sebastian Vettel who has won 39 of his 137 races, a rate of 28.47%.
The 2014 Brazilian GP is live only on Sky Sports F1 this weekend. Extensive coverage of Race Day from Interlagos begins at 2:30pm on Sunday with lights out at 4pm.