The good, the bad and the ugly: Fernando Alonso's season at McLaren in 2007
Recalling the Spaniard's previous stint at McLaren in 2007 - and explaining why it all went wrong for both parties...
By Mike Wise
Last Updated: 11/12/14 11:18am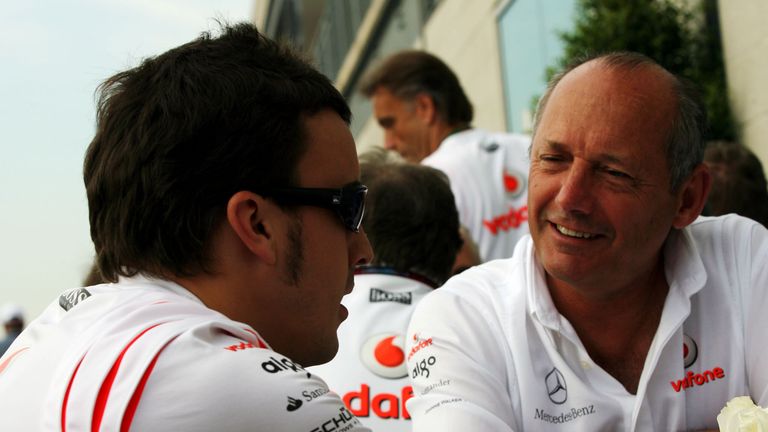 Henry Ford said history is bunk and, as another visionary in the same line of business, you may think McLaren boss Ron Dennis is of the same opinion.
But since the events of 2007, culminating in Fernando Alonso's sudden departure after less than a year at Woking, represent perhaps the most controversial slice of F1 history in recent years, they're impossible to ignore. They've been there lurking throughout the protracted negotiations that finally concluded with Thursday's announcement that Alonso will return to the team for 2015.
It's those memories that have left people pondering the obvious question: could it actually work this time?
In a sense, it did then. Alonso might argue as much; even though focus was inevitably trained on Lewis Hamilton's remarkable rookie season, in the final reckoning he didn't beat the Spaniard. But the fact both were beaten by Kimi Raikkonen gave Alonso vindication when he left. That was his worry all along.
In reality, it didn't work. In fact, it turned out a right mess: intense personal ambition colliding with a rigid desire for sporting equality, played out against a backdrop of industrial espionage. Alonso left in early November, just one year into a three-year contract. But it had all seemed so promising 11 months earlier...
January: Alonso arrived as double world champion. And if his new Action Man crewcut was anything to go by, he was keen to impress his new boss who, as we all know, likes things to be just so. He'd signed in November 2005 - right after he'd won his first title in Brazil, in fact, when Dennis made overtures on the podium. Juan Pablo Montoya won that race from Raikkonen but both had left McLaren by the end of the following year.
When Dennis lured Alonso away from Renault, meanwhile, Hamilton had just won the F3 Euroseries; a McLaren protégé he might have been, but he didn't figure then. However, a victorious GP2 campaign the following year, coupled with the departure of both their superstars (Montoya ahead of schedule) had suddenly placed him on the fast-track.
March: Alonso qualified second for the Australian GP, with Hamilton fourth. Both finished on the podium, well beaten by Raikkonen (now at Ferrari) but the rookie's statement of intent – passing his team-mate at the start of the race – was duly noted. Meanwhile, Britain woke up to a new sporting hero.
May: Hamilton's consistency (he eventually racked up nine podium finishes in his first nine races) gave him the championship lead by the Spanish GP. By then, Alonso knew his team-mate was the real deal. "After one or two races, we saw him become a championship contender and we still see him as one now," he said in Barcelona after finishing third behind Hamilton and the race winner, Ferrari's Felipe Massa. Yet he still seemed confident he would eventually prevail, adding: "But he is the one who worries me least because he is my team-mate and we are here to help each other." 
So far, so 'on message'. But Lewis had yet to win and after following Alonso home at Monaco, he was emboldened to say he felt he could have - but the team told him not to risk overtaking. Because of the team orders ban, the FIA announced an investigation but cleared McLaren of any wrongdoing.
June: Hamilton got the winning habit with back-to-back victories in Canada and Indianapolis. And Alonso was clearly getting frustrated: he chased Hamilton throughout the US GP but when his only real attempt to get past failed, he veered over to the McLaren pitwall next time around and gesticulated frantically. No estaba destinado a ser así!
World Championship standings after United States Grand Prix:
1 Hamilton - 58 points
2 Alonso - 48
3 Massa - 39
4 Raikkonen - 32
A storm was brewing in deepest Surrey, meanwhile, after McLaren's chief designer Mike Coughlan was caught red-handed (after his wife had visited a photocopying shop) with 780-pages' worth of Ferrari design documentation, sent by their disgruntled former chief mechanic Nigel Stepney. While both men were sacked by their teams, an FIA investigation could find no evidence the information had been seen by anyone else.
August: Qualifying at the Hungarian GP brings a reminder of those pointless 'fuel-burning' laps cars did on Saturday back then. Alonso and Hamilton took to the track and cruised around for a while before getting down to the nitty gritty. Except Hamilton had passed Alonso when he wasn't supposed to and Alonso retaliated by spending too long in the pits - complete with more theatrical hand gestures - which meant Hamilton didn't have enough time to get a final lap in.
Alonso took pole but was later docked five places on the grid after stewards decided he'd "unnecessarily impeded another driver". The fuse was lit, then, and it duly detonated on race morning when, during an argument with Dennis, Alonso reputedly told him he had emails relating to the Ferrari leak. Regardless of the perception of what transpired – an alleged attempt at blackmail in order to secure No 1 status – he soon apologised, but not before Dennis informed FIA president Max Mosley of what was said.
September: After re-opening its investigation into what is now known as 'Spygate', the FIA decided that McLaren did after all disseminate Ferrari's technical data and fined them $100m. They were also thrown out of the Constructors' Championship and later had to prove (successfully) that their 2008 car was legal. Mosley (no friend of Dennis's) rubbed it in somewhat by saying they'd "polluted the championship".
By now Dennis and Alonso were no longer talking. "The relationship between Fernando and myself is extremely cold," said the former during the FIA's hearing. "That is an understatement." Meanwhile, the latter's hirsute-ness (much longer hair now while the razor was getting left at home) told its own story. Maybe.
October: Hamilton had led the title race all summer and appeared increasingly destined to become world champion after winning in the murk of a rainsodden Fuji. However, the following weekend in China found his car dribbling into the gravel at the pit-lane entry – his first retirement of the season. Alonso crashed out of the Japanese GP but finished second in China behind Raikkonen, whose own title push was, all of a sudden, gathering momentum.
There was even a whiff of paranoia in the air at Interlagos after an FIA steward was dispatched to McLaren's pit to ensure equal treatment; having demanded to be No 1 for so long, Alonso now seemed concerned he'd been passed over completely.
Come the race, though, it was Hamilton out in the cold; dropping to eighth place from second on the grid on lap one (he got a little too close at Turn 4 trying to re-pass Alonso, who responded by braking a little too hard and sending him out on to the run-off) a gearbox problem then sent him plummeting to 18th. He recovered to finish seventh but Raikkonen won and took the title, overhauling a 17-point gap in the last two races.
Alonso finished third to tie Hamilton in the standings, just one point behind Raikkonen, but was gone the following month. "For some reason the combination of McLaren-Mercedes and Fernando has not really worked out," Dennis said at the time, although he now claims he's "moved on". Likewise, Alonso says he's older now (although still capable of making his feelings plainly felt, let's say, if rumours about his last months at Ferrari are anything to go by).
A whole lot depends on the car, of course. McLaren's 2007 MP4-22 was arguably the last great F1 car Alonso drove. He has challenged for the title in a Ferrari a couple of times since, but the best seat has always lain elsewhere – emphatically so in 2012, when only his own brilliance took him to within four points of another title. In terms of personal performance, that season could well stand as the high watermark of his career.
So history might not bode too well but who's to say they can't make it work this time? Warm personal relations actually mean very little if the protagonists are seeking a common goal. A telling quote from Dennis last time around was: "My job is to win the world championship; my job isn't for people to love and hug me. If I have difficult relationships with people I have difficult relationships with them." The Blair/Brown relationship was subsequently revealed as not just cold but toxic; yet no one can say the New Labour project wasn't a success.
After broken promises and tantrums, Gordon finally got the keys to Number 10 in June 2007 - around the same time 'Spygate' blew up, coincidentally, the hefty nudge that tipped Alonso/Dennis over the edge. Two distinct problems overlapped and created a perfect storm that caused an awful lot of damage.
But circumstances change and so, to an extent, do people. Let's see what happens this time.