Ferrari's year of turmoil: A month-by-month review of the Scuderia's 2014 of woe
Three team bosses, two presidents, the departure of their star driver, and their first winless season in 21 years. It's the tale of a year of unprecedented upheaval at F1's most famous team
By Pete Gill and James Galloway
Last Updated: 17/12/14 3:55pm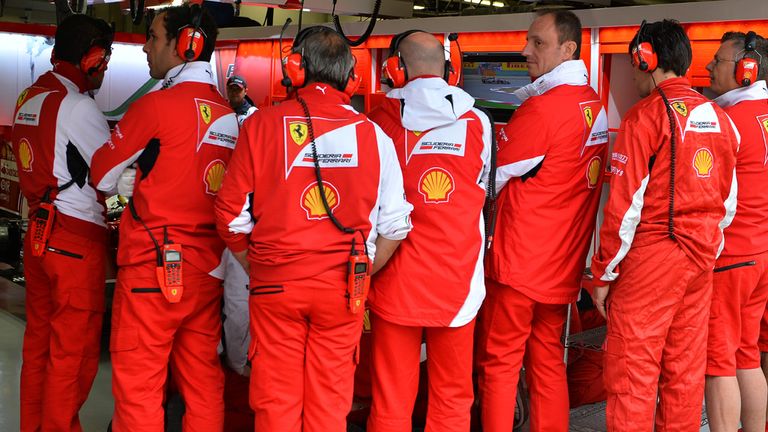 The onset of F1's new turbo era was supposed to present the chance for Ferrari, the sport's most famous and successful marque, to reassert themselves on the front row of Formula 1.
However, such a reality never materialised as the Prancing Horse instead became engulfed in on and off-track turmoil during an extraordinary 12 months at Maranello…
January
Ferrari in January
President: Luca di Montezemolo.
Team Principal: Stefano Domenicali.
Technical Director: James Allison.
Engine chief: Luca Marmorini.
Engineering Director: Pat Fry.
Chief designer: Nikolas Tombazis.
Drivers: Fernando Alonso & Kimi Raikkonen.
With newly-appointed technical director James Allison on board, and Kimi Raikkonen hired as a replacement for Felipe Massa, Ferrari launch the F14 T amid a blaze of optimism that the team can return to world championship-winning ways. "I'm confident because we have a strong team and I think we have all the ingredients to be successful," declares president Luca di Montezemolo.
February
Ferrari perform modestly in pre-winter testing. Although only Nico Rosberg completes more miles than Alonso, the F14 T appears to be acutely short of pace – over eight days of testing at Bahrain, Alonso best's lap time is a second off the benchmark with Raikkonen a further second adrift. "There's a lot of torque in the car," notes the Finn ominously after crashing out at Sakhir.
March
Ferrari's problems are laid abundantly and starkly clear at the season-opening Australian GP. Raikkonen crashes out in qualifying and fails to make the top-10 shoot-out while Alonso finishes the race over 30 seconds behind the victorious Rosberg. "We are behind," Domenicali flatly admits, but pressure is mounting…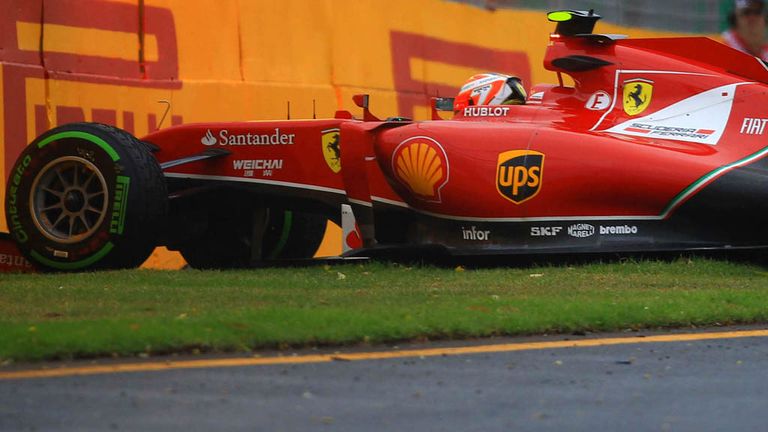 April
After seven years in charge, Domenicali falls on his sword and resigns as team boss to be replaced by hitherto-unknown Marco Mattiacci, the president and CEO of Ferrari North America. Matters improve on the track as Alonso finishes third in the Chinese GP but with Mattiacci not boasting any previous experience of F1, widespread scepticism greets his appointment.
May
The rumour-mill is abuzz when Ross Brawn is spotted at Maranello, but the team insist nothing should be read into their former boss's visit. "He was on holiday and he still has a house nearby," a Ferrari spokesman tells Sky Sports Online. At the Spanish GP, Mercedes beat the team by over a minute, although Alonso salvages a vestige of respectability by claiming fourth at Monaco.
June
Domenicali breaks his silence to warn that Mercedes will "keep this advantage for a long time". But Ferrari's on-track problems aren't only consigned to Mercedes. Beaten by Red Bull and first-time victor Daniel Ricciardo in Canada, Alonso is reduced to fifth in Austria by both Mercedes' and, more alarmingly, both Williams'. The secret is out: Ferrari are struggling just to finish third in the Constructors' Championship.
July
More blood-letting as long-time engine boss Luca Marmorini departs. A terse announcement confirms that Mattia Binotto has been appointed chief operating officer while Allison will be supported by chief designer Nikolas Tombazis and Lorenzo Sassi as the head of engine design. But what of the team's drivers? Despite being bound to a three-year deal with two seasons still to run, the first whispers are heard in the paddock that Alonso could be seeking an exit.
August
Ferrari deny that Pat Fry, the head of engineering, has been sacked, although Sky sources remain adamant that time has run out for the Englishman. Meanwhile, an angry Marmorini lets rip and claims he was told to sacrifice engine performance for potential aerodynamic gains – if true, a gross misreading of the new balance of power in F1's power-centric new era.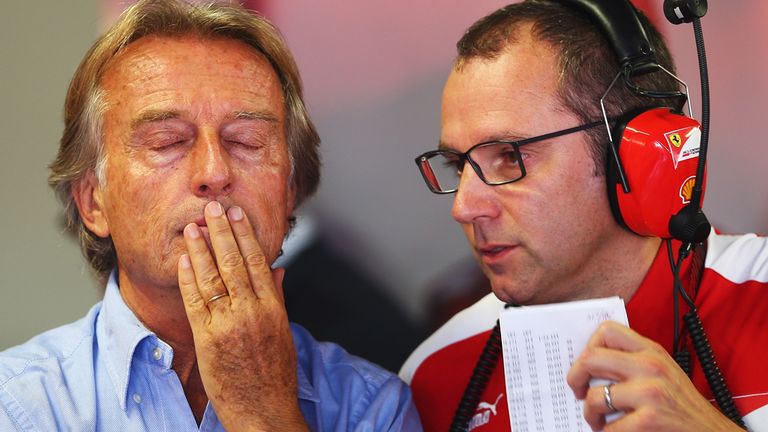 September
After two decades as Ferrari president, Luca di Montezemolo announces after the Italian GP he is standing down. The timing is bizarre: Di Montezemolo had denied he was departing just a week previously, but his position had subsequently become untenable following outspoken criticism of Ferrari's form by Sergio Marchionne, the head of parent company Fiat. "I don't want to see our drivers in seventh and 12th place", thunders an irate Marchionne. "The important thing for Ferrari is not just the financial results, but also it is winning, and we have been struggling for six years."
Alonso's future, meanwhile, has become the subject of fevered debate in the paddock. In his column for Sky Sports Online, Mark Hughes reveals that it's 'decision time' for the Spaniard and a divorce from Ferrari could be imminent.
October
The paddock is reduced to bedlam as Red Bull shatter the calm before qualifying for the Japanese GP by announcing Vettel has exercised an opt-out clause in his contract to join Ferrari for 2015. The Scuderia, seemingly caught unawares by Red Bull's bombshell, refuse to comment. Nor does Alonso – but it's an open secret in the paddock that the Spaniard has agreed to cancel his contract. Remarkably, the Spaniard is apparently so keen to depart the team that he agrees to rip up his £20m-a-year deal despite not yet finalising an alternative.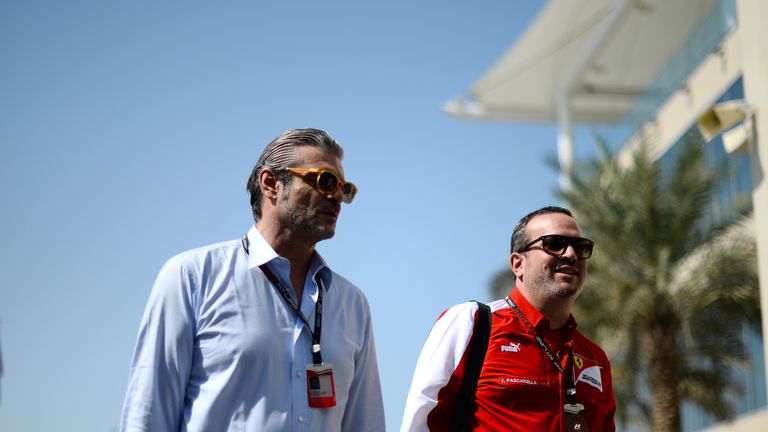 November
Six weeks after Red Bull's unofficial announcement, Ferrari belatedly confirm Vettel is joining the team as Alonso's replacement. After stumbling through the final few races to finish a lacklustre fourth in the Constructors' Championship, the team are plunged into further upheaval by the appointment of Maurizio Arrivabene as their new team principal. Mattiacci isn't merely sacked, he's jettisoned from the Ferrari family altogether. After having the same team boss for the previous seven years, Arrivabene is Ferrari's third team principal in seven months. The state of flux is headspinning.
Ferrari in December
President: Sergio Marchionne.
Team Principal: Maurizio Arrivabene.
Technical Director: James Allison.
Engine chief: Mattia Binotto.
Chief designer: Simone Resta.
Drivers: Sebastian Vettel & Kimi Raikkonen.
December
And it's not over yet. Fry and Nikolas Tombazis are confirmed as the latest casualties of Ferrari's wretched season, with both the head of engineering and chief designer summarily dismissed within two weeks of Arrivabene's arrival. Simone Resta is appointed chief designer while Allison's remit as technical director is further extended. Even the head of the team's press office, Renato Bisignani, is moved on, joining the newly-created commercial department which Arrivabene himself will manage. In another surprise, Esteban Gutierrez is appointed reserve driver despite two underwhelming years at Sauber.
With two weeks of the year still to run, Ferrari's upheaval has already reached unprecedented levels with the departure of two team bosses, the team's president, the heads of engineering, design and engine, along with their star driver.
Just what has Vettel let himself in for? 
* NB: Since this feature was first published, Ferrari have announced that 'Hirohide Hamashima, currently responsible for tyre performance analysis, will leave the Scuderia at the end of the year.'