Martin Brundle on how F1 and Lewis Hamilton came out on top in America
Sky F1's Martin Brundle on F1 finally shining in the rain of Austin, Lewis Hamilton claiming his third title, and Nico Rosberg needing to be more like Oddjob...
Last Updated: 29/10/15 10:41am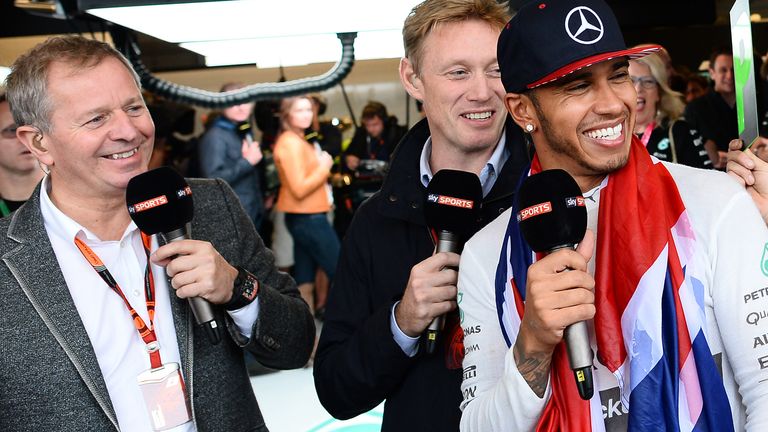 COTA, as they call the Austin track, could easily have been renamed NOAH with such relentless rain every day and night. It was truly grey, miserable and windy. And thrilling.
Good things come to those who wait and every single one of the crowd deserved to be on the podium for tolerating those conditions. We salute you. In fact I was supposed to be on the podium too but was blown out like a candle in the wind at the last moment by a man with two Christian names who's had some great hits.
It was a good effort for those of you in front of the TV or watching online too, especially our four hour Sky F1 qualifying show without a single car on track. Even that was fun in many respects.
Once again we were reminded that less Friday practice adds some spice to the racing by denying the mountains of data and armies of clever people the chance to perfect the race cars and strategy. We can't 'lose' Friday's though because tracks like Silverstone would simply fall over without the revenue. We just have to make them more focussed for the F1 drivers and add more fan value to the day. Something like a Nico and Lewis cap throwing competition to add to the ballroom dancing Red Bull divas. I'd vote for an old geezer Masters' race you wouldn't be surprised to hear.
Qualy, or most of it anyway, and race all in one day makes for plenty of entertainment and hurriedly reorganised schedules. It was manic, and I was only talking about it. Everybody involved in making the race happen did very well.
As if by magic the rain stopped an hour or so before the race and the sun even peeped through momentarily. All the talk went from a waterlogged track and abandoned race to intermediates and even slick tyres.
It was all rather clumsy by the drivers up into turn one in challenging circumstances with vast amounts of contact and damage. Lewis Hamilton was naughty running his team-mate wide, even more so than in Suzuka. He did have the inside line but his amount of steering lock was not very high when they contacted. All's fair in love, war and F1 it seems but had that move been against a rival team they would have been screaming at the FIA.
You can't blame Lewis, he's a tough racer and he's putting the finishing touches on dominating his team-mate in every way, on the track and in the head. The only way to counter that is to give him some of his own medicine.
At the same time I don't blame Nico Rosberg pre-podium for not appreciating having a second position cap slung across the room at him while he's quietly sitting and trying to come to terms with having just thrown away a race victory and handing the world championship over. To his team-mate. Honestly, how would you have reacted?
The event was a corker, one of the best. You need to watch it again, I can't review that in a thousand words, so I'll pick out a few particular aspects.
I loved watching the drivers fight the cars in such difficult conditions, so often side-by-side into the braking zones. They looked the brave gladiators that they are but which is often hidden under a cloak of downforce, grip and electronics. A good reminder that the new 2017 rules should not pile downforce on, a big subject for another column. F1 needs tweaking, not reinventing. Check out Sochi and Austin for research material.
With so much immediate power and especially torque, these hybrid F1 cars can be spun around in a heartbeat, and so I truly appreciated the skills we saw at the weekend. The track was saturated and refused to fully dry which meant that the switch from inters to slicks just didn't work as normal for some time.
Even then residual moisture caught out Kimi Raikkonen and Daniil Kvyat, both of whom are under pressure from their team and team-mates to an extent.
I'm taken with Max Verstappen's arcing late braking moves as he dives for the apex early. It was very effective and thankfully didn't result in anyone turning in on him. He has the deftest touch on the brake pedal with little or no panicky lock-ups. Such a confidence for an 18-year-old, and his fourth place was fully deserved on a day when old heads should rule. He was truly competitive pace-wise too.
As was his team-mate Carlos Sainz. He's incident prone, needing some more control to go with that speed which will come, but it was a sterling drive once more from the back of the grid. Incredibly, Toro Rosso have one of the strongest driver pairings in F1 with two rookies.
It was good to have sight of the Jenson Button and Fernando Alonso we all know and miss getting stuck in to some real racing, although Alonso's willingness to park the car is alarming and telling.
Personally, I would have left Nico Hulkenberg's stranded Force India alone where he had quite sensibly parked it but all the other Virtual and actual Safety Cars were fully warranted. And in many ways they were the catalyst for so many changes of tempo and fortune in a great race.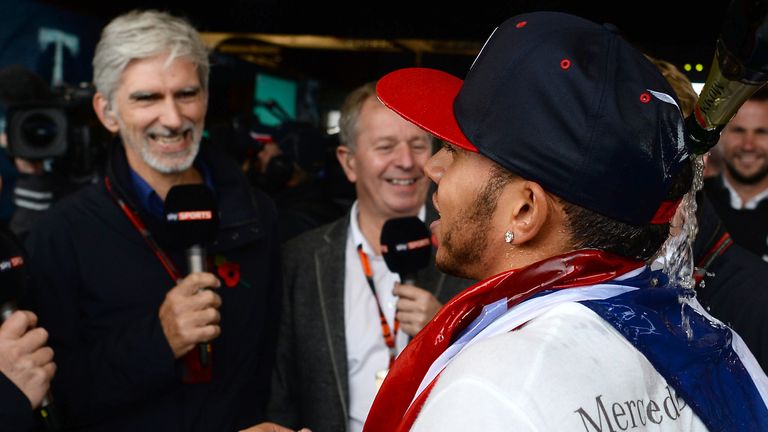 In all the uncertainty and chaos we ended up with a Hamilton-Rosberg-Vettel podium for the fifth time this season. Sebastian was mighty again despite a 10-place grid drop. Please let Ferrari catch the Mercedes next year, we all need that to happen.
It's been an incredible year for Hamilton and very few if anybody in F1 begrudges him this impressive third title. His calm confidence and inner belief will keep growing and he has all the tools and time to win more championships.
Rosberg will surely know about Niki Lauda and Toto Wolf shaking their heads in unison and with a knowing look when he lit up his rear tyres and handed Hamilton the race lead. He needs to somehow ignore all that and show up as Nico Rosberg V2.0 very soon, which probably means handing Lewis the cap back more like Oddjob would have.
Talk to you from Mexico.
MB
Don't miss Wednesday night's F1 Midweek Report for analysis of the US GP and all the latest talking points. Sir Patrick Head and Mark Gallagher join Natalie Pinkham in the studio at 8.30pm on Sky Sports F1.