Martin Brundle on the Belgian GP, the Max Verstappen factor and more track controversy
Sky F1 pundit Martin Brundle considers what F1 could learn from the Max Verstappen factor at Spa - and what lessons the under-fire Red Bull youngster needs to learn on the track too...
Last Updated: 05/09/16 9:13am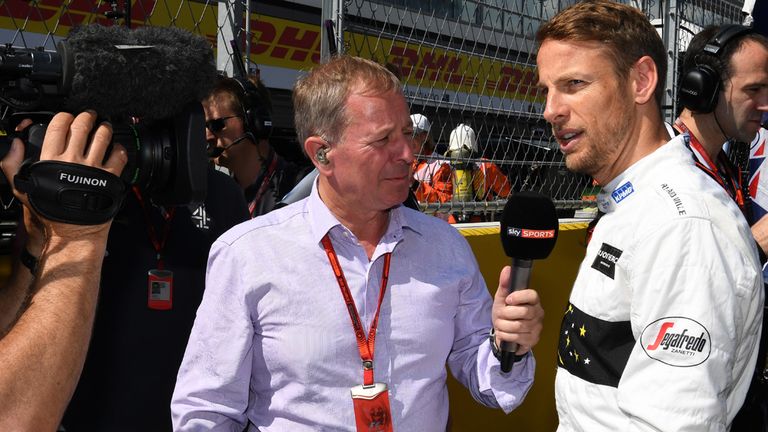 It's all about the drivers - always was and always will be.
That's what motivates the fans as we saw at a packed Spa-Francorchamps at the weekend, a swelling of the normal enthusiastic crowd because a strong-minded teenager with beautiful driving skills has turned up on the scene and ignited F1.
It doesn't always please the teams, manufacturers or administrators, but it's the human element of who's fastest, who's strongest, who's bravest, who's the best?
It's not rocket science. Giving a driver a 55-place grid penalty on a 22-car grid confuses and bores the fans. They want to see high-speed close action, and so we should spend 50 per cent less money on these fat complicated cars and have 26 fully competitive cars on a grid piloted by 26 'Verstappens' who are all there on talent and not financial background.
That's utopia, probably a false dream, but should at least be a primary target. Then the grandstands would be full everywhere, TV sets switched on, sponsors aplenty, and viable profitable tracks fighting to promote races at fair prices to the loyal fans. Rant over.
I said in my post-Hungary column that Max Verstappen would have to moderate some of his tactics, especially the very late move to defend a slipstream, because it will cost him results and could well end in a massive accident. I stand by that; if he wants to win multiple championships, he has to pick his fights a little more carefully.
Meanwhile, just as I witnessed with Ayrton Senna and Michael Schumacher, he is establishing a position in the psyche of all the other key players: 'I will fight you hard at every opportunity, beware.'
Quite how he has the audacity and confidence to then accuse other drivers of wrecking his race and crying foul on Nico Rosberg in Hockenheim is both highly impressive and slightly alarming.
I would put the first corner contact in Spa as 50/50 Vettel/Verstappen. The only thing Raikkonen was guilty of is making a great start and possibly being a little cautious in turn one. But then Kimi has been through there many times at the start of an F1 race and Max hasn't...
I don't buy Seb Vettel's excuse that the mirrors are small and that he didn't know Max was up the inside of Kimi. The apex of turn one on lap one of any race at Spa will almost certainly contain one or more cars taking a lunge, or plain out of control. With Vettel's sweep in, we have to wonder whether the Ferraris would have connected regardless of Verstappen.
Max V had a relatively poor start and decided to put it right straight away by nosing into the danger zone. It was interesting to read Paddy Lowe of Mercedes (and formerly McLaren and Williams) fame saying that their drivers are instructed on historical lines to take, or not, in turn one lap one, and that line is perilous. Broken bodywork or a puncture is highly likely and Max would have been wiser to line up and use exit momentum instead.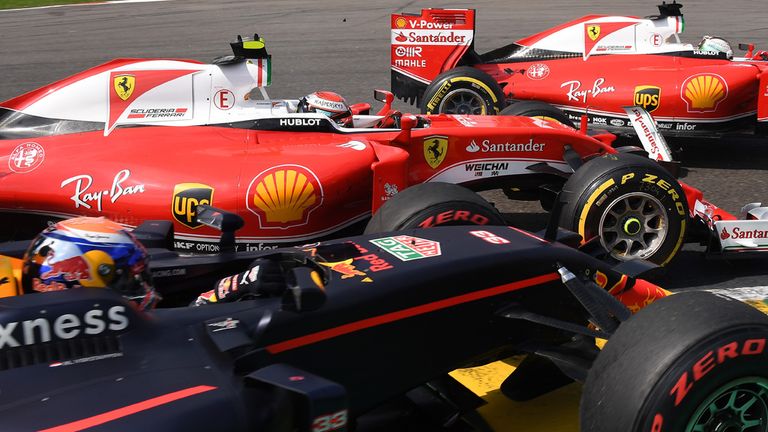 He had two separate pressures bearing down. He was the only car in the top six on supersofts and to make that work, he ideally needed to pass Rosberg for the lead. Also, an hour and a half before, he'd been on a driver track parade where half the massive crowd made it clear who they were supporting. I defy anyone, teenager or not, to feel anything other than a sense of pressure and duty from that.
His high-speed very late slipstream defence has to stop, for the sake of drivers, marshals and spectators. That's an airplane crash waiting to happen.
Otherwise, I thought the stewards, interestingly consisting of two former drivers on this occasion, did well to let some of the wheel to wheel/sidepod contact go unpunished. It's all very subjective and open to interpretation of course, but the fine line between hard racing and dangerous driving needs to be observed carefully. We need a smaller selection of more regular semi-permanent stewards for this to work more consistently.
I did a feature on Sky F1 on raceday stating I felt F1 is generally safe enough these days, which is a bold thing to say, but thankfully Kevin Magnussen's accident at Eau Rouge confirmed this.
Through all of the carnage, Nico Rosberg calmly used his very fine motorcar to win the race from the front, on a hot day which was punishing the tyres even more than normal.
From the back row, Lewis Hamilton made a great job of damage limitation to third place. His job was made relatively easy though as many other cars ran into each other or the barrier, and a resultant safety car played nicely into his hands.
And after a weekend of engine musical chairs, he has now gone from famine to feast on spare motors for the rest of the season. The engine penalty rules were established to prevent rich teams putting in new units every day, and to control overall costs. Initially penalties were carried forward but then a driver suffered the pain of a failure plus penalties for the next two races.
This was madness and was stopped, but now rich teams can just pile up the penalties and get them all out of the way in one weekend. If nothing else, the terminology needs changing to 'back of the grid' to be more understandable and not open to ridicule.
Similarly, Fernando Alonso showed great skill and speed to be running at the sharp end for a good while from last on the grid. He's paying a heavy price for being too much of a rebel within this and former teams; he should be in the Mercedes next year alongside Hamilton.
Daniel Ricciardo observed the show business around his team-mate and then calmly drove a fine race to second. He then had the good sense to get Mark Webber to drink the champagne strained through his underpants into a sweaty race boot or whatever that new Aussie tradition is!
Force India has now moved ahead of Williams for fourth in the Constructors' Championship, which is interesting. Despite apparent woes at the very top, Force India continue to do a fine job on a limited budget, as they always do, and now Williams quite clearly need a renewed racing-orientated focus with further investment
Actually I do have one further rant. I love F1 as much as anybody I know, and I've done my very best to be supportive of these new hybrid power units. They are massively impressive to drive in terms of power and delivery, and they are world-leading pieces of technology. But they are too quiet and changes haven't made anywhere enough difference, and it really showed up for me when I was walking the track for Sky F1 in Practice Two on Friday.
We have to get back to higher-revving engines and stop filling the exhaust with technology, as soon as possible, and way before 2021.