Martin Brundle on Bernie Ecclestone and Jenson Button as off-track dominated 2016's Italian GP
With new eras poised to dawn in F1, Martin Brundle on his respect for Bernie Ecclestone and why Jenson Button's sabbatical is an "elegant" solution for McLaren
Last Updated: 06/09/16 3:22pm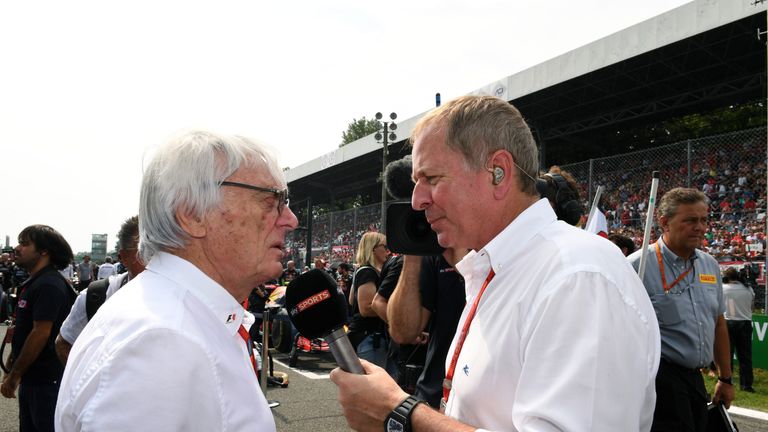 I like and respect Bernie Ecclestone, even though he has made me feel wary on a couple of occasions, and generally made my life difficult when I was chairman of the British Racing Drivers' Club (Silverstone) and the Grand Prix Drivers' Association (GPDA). 
Even many decades as an F1 driver and TV commentator have been challenging occasionally because it's effectively his train set and you have to play by his rules.
I am one of many thousands who have hung onto his shirt tails and done very nicely. Everything I own and do has been facilitated by his endeavours. If you've ever enjoyed F1 in front of a TV or beside the track you owe him a vote of thanks too. 
He is one of the all-time great negotiators, and he turned a bunch of disorganised teams racing on scruffy dangerous old racetracks with uncoordinated media coverage into one of the greatest shows on Earth. 
You have to pay close attention with him because he uses humour in pretty much everything he says and you're never quite sure if he's serious. But often he is and you missed the message. He's also said a few strange things in recent years which I can't explain.
With Bernie it pays to not be, in his words, 'too busy busy'. In other words, don't say too much. 
I've met a myriad of people who think that they are special to him, that he appreciates and respects them more. Forget it, it's a game he plays to lower your guard, he doesn't do real emotion and warmth when it comes to business. You don't earn credits with him. 
He's not always strategic, he has an end goal and by keeping everyone off balance and playing both ends against the middle it works time, after time, after time. As he often says: 'If there are no fires to put out then I'll light some'.
A couple of his typical gems:
'Life's a game and money keeps the score.' 
'But Bernie, you told me I had first refusal?!  BE: 'That's right, I'm refusing you first.' 
When I drove for Brabham in 1989 I did the deal with him in the presence of the new team owner, who would end up some years later in prison for unrelated business fraud and is no longer on this Earth. I sat in the reception next to a quiet kid who turned out to be my new team-mate Stefano Modena.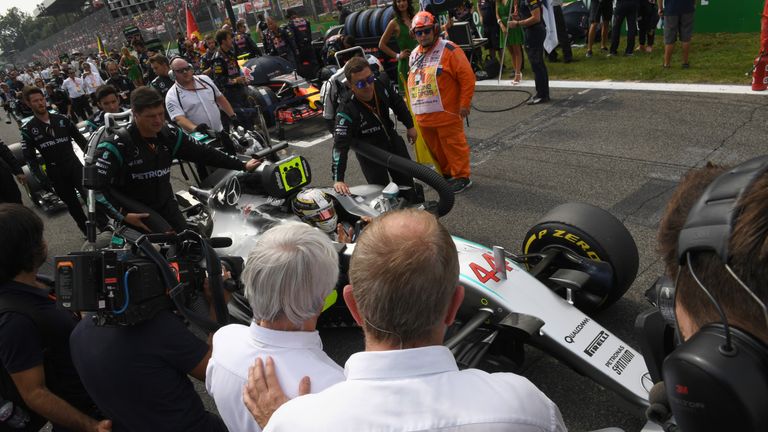 There was a shout of 'Brundle' down the corridor and I was quickly into his office. I remember it being very neat and tidy mostly consisting of a desk, some chairs and a safe. The deal was done, a fair price, but I was remiss, I didn't offer him a commission for brokering it, which he likely wouldn't have taken but I missed a trick.
I travelled with Bernie a few times through that period, which was highly interesting and entertaining to say the least, and I foolishly didn't think to ask him to manage me either. Like most, I was scared of him.
When I was chairman of the GPDA I turned up at the first race of the season and my passes weren't available. They would 'be with Mr E' who was arriving on Friday. Despite being a driver I had to blag my way into the track meanwhile. When I finally got an audience my three passes were nicely arranged in a pyramid in the middle of a small table at which we sat. His opening statement was 'let's talk about this GPDA'.
F1 attracts some extreme personalities and needs ruling with an iron fist. It needed a dictator, it was the only way. A committee would fail, it was essential for someone to say 'we are going in this direction, follow me'.
When he sold the business into the financial world, and also when Max Mosley departed the FIA, it was clear to see that Bernie began to lose some power and control. The rule making process became impossibly convoluted, and European laws tightened. Teams and manufacturers became stronger as F1 grew ever bigger.
He's not getting any younger but there is still no doubting, by anybody, who is the boss. 
In recent years over an occasional winter London lunch, or in TV interviews, I would ask Bernie why he wasn't getting a team around him so that he could move upstairs and be more presidential, to enjoy his success and money. He said he could never work with anybody else, and indeed any executives forced near him were just sport and amusement for him to quickly demonstrate only he could do the job. That might be significant shortly.
Dictators don't tend to have empowered management pyramids, and therein lies the problem, there is no succession, no handing over of the baton. And so when there is a change it will be messy I suspect, and rumour has it that could be quite soon. 
I read the McLaren press release about Jenson Button's sabbatical a few times to try to get my head around it. The deal has RD's (Ron Dennis) hallmark all over it, he does love control and keeping all available assets focused within McLaren. 
It's an elegant solution, JB slides gently and apparently willingly sideways, Stoffel Vandoorne is in the car, the numbers add up, the sponsors will like it, his business partners are presumably happy, and he has a stick to wave at Fernando Alonso. 
It all largely made sense until his new ambassador, and future reserve driver who wants to live by his own calendar, sailed past his new lead driver with a very fine move into the first chicane at Monza, albeit on different tyres. Jenson still has it but we are not going to see his silky skills again after the end of the season. Ever? What a great career he has had to date. 
In my experience Jenson will miss driving most when the cars line up on the grid in Melbourne next year. That is truly a feeling of being left behind. F1 is extremely fast moving too, and it's hard to successfully be a part-timer. 
If he doesn't race again he's missed out on a farewell tour along the lines Felipe Massa will now enjoy for the rest of the season, although I'm sure Jenson's imminent fun quota and bank balance will more than make up for that.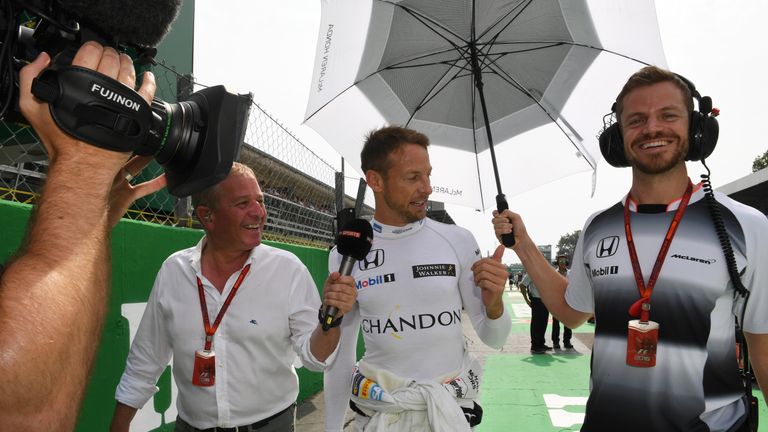 On Sunday there was a race. A silver car hesitated away from the lights as other impatient drivers passed. A blue car launched an audacious overtake from the Milano tangenziale into Turn One with impressive success. Another silver car won. A popular red car was satisfied to be best of the rest. There was some radio hilarity. 
We move on to Singapore in expectation of something far more interesting. 
MB