Martin Brundle on why F1 has a problem at the start and starting to believe in Nico Rosberg
Sky F1 pundit Martin Brundle on a quick two hours in Singapore, why F1 has a problem at the start of races, and whether Nico Rosberg can beat Lewis Hamilton in a straight fight...
Last Updated: 20/09/16 5:54pm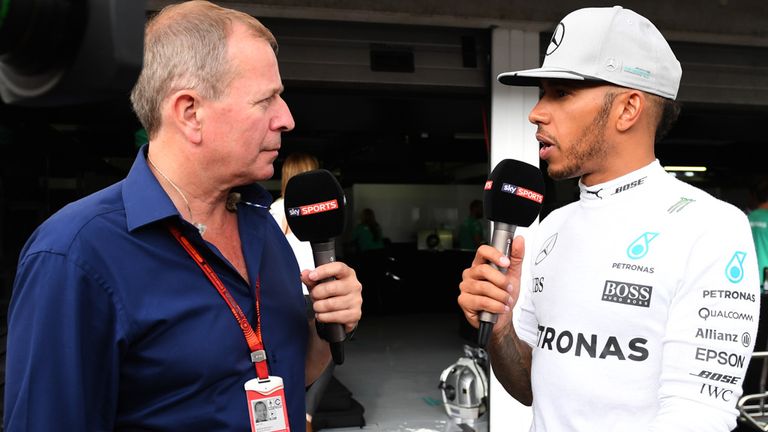 That was almost a great GP, another lap or two would have helped and, for the consistently longest race in F1, that's unusual. For me the 116-minute race slipped by more quickly than normal such was the tension.
We had all the ingredients. A Mercedes/Red Bull stagger at the front of the grid with different tyre strategies, an on-form Kimi Raikkonen's Ferrari keeping guard, and the sister Ferrari of Sebastian Vettel last after a broken rear suspension in qualifying.
A fearfully hot race, habitually demanding a Safety Car at some point, where every driver on the grid fancied outperforming his car's potential in the suffocating humidity on a bumpy track lined with unforgiving walls.
A dramatic startline crash heightened the tension. It was one of those unfortunate situations where a slow-starting Verstappen created a squeeze in the middle of the pack. It's alarming to read that Red Bull feared his start to be troublesome yet again after known clutch issues but weren't allowed to fix it under the rules, presumably without penalty.
Whenever I see start shunts like Nico Hulkenberg's turnaround into the wall I never wonder why it happened, but why it doesn't happen more often. We constantly see very close calls but thanks to cat-like reactions such as Fernando Alonso's in Monza they are usually avoided.
It was surprising to see loose wheels breaking away from the Force India given the usually very effective tethers, but nothing like the surprise it was for a marshal in the middle of the track at turn one on the Safety Car restart. There was a good deal of luck all around in this incident.
I'm beginning to realise that the desire to make the drivers more responsible for getting these complex cars from the startline to the braking zone of turn one is having too much effect on the outcome of races.
Back in the day we had a hydraulic clutch attached to a foot pedal where we could feel the relatively simple clutch bite and the springs go over centre. Similarly a physical throttle cable was a largely linear direct connection to the engine. We moderated the wheel spin by ourselves through experience and those binary controls, although it was still easy enough to bog down or light up the rear tyres.
Now they have a single clutch lever on the steering wheel operating a micro switch which moves the clutch with no mechanical feedback. The fly-by-wire throttle will have some plateau zones in the mapping to help but with such prodigious torque available and game like controls it's easy to get it wrong now.
Variable starts have always been a part of motor racing it's true to say, but we didn't always have bullet-proof reliability, seamless gearboxes that never miss a shift, and cars so good that the drivers didn't make errors over the next two hours. Or, more pertinently, such refined aerodynamics which make overtaking extremely difficult.
My point is that the starts are playing an overly important part in races, we lost Verstappen out of the mix in Singapore along with a smashed up Force India and numerous damaged cars. Starts might just decide who is world champion this year.
And next year the regulations are tightening further which could compound this issue. It doesn't feel right to me for the sake of the racing.
Talking of future changes, I'm tired of reading in post-race team releases that drivers took a knock at some point and the wing/floor/sidepod/barge board was damaged and "I lost downforce and the car felt like a drunken wheelie bin for the rest of the race". Or they got a slow puncture and it ruined further bodywork and the race.
As beautiful as they are the cars have way too many trinkets and addenda, I counted 30 separate elements in the Mercedes front wing plus whatever else is inside. It's spoiling the show both in terms of cars racing nose to tail and overtaking, and healthy competitive cars race long. It needs putting on the to-do list for urgent changes in any prospective new regime.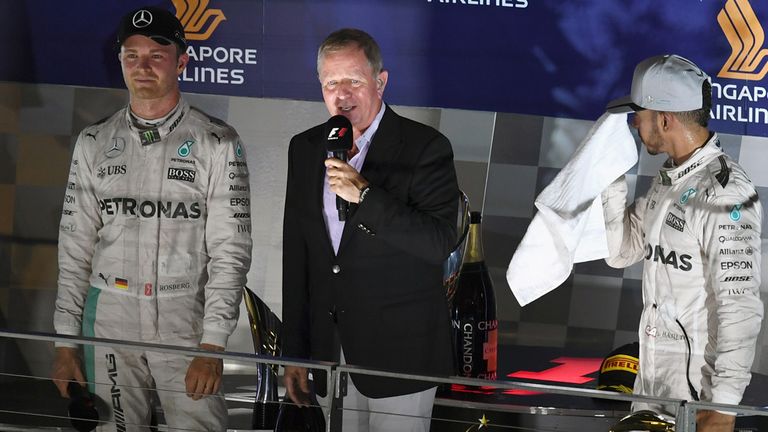 There were some terrific performances in Singapore, the drivers appear to relish the mental and physical challenge. I've done the podium there a couple of times now and it's the only race where gaunt eyes look back at me as rivers of sweat flow and detectable heat radiates from the victorious wheelsmiths. They like the challenge, and so do we.
Special mentions would go to Nico Rosberg, Daniel Ricciardo, Dany Kvyat, Sebastian Vettel, Kevin Magnussen, Fernando Alonso and Sergio Perez to name a few. The skill and commitment all round was admirable.
Ferrari's pitwall played some smart hands for Vettel to go from last to fifth, but they were outsmarted by Mercedes who put Hamilton on the podium in front of fourth place Raikkonen, despite Kimi making a great move stick on Lewis which you don't often see. A crucial three points in the championship battle?
Rosberg has been supreme in the past month taking a full 75 points and he seems to have the confidence to go with his speed. Lewis looked like he had Monza covered with his 'A game' until his poor start, but Rosberg was easily the strongest Merc driver under the Singapore lights.
Ricciardo put in a great chase for victory, and but for a couple of laps in traffic may well have had a last lap lunge which would have had us on the edge of our seats rather than the tease it turned out to be.
Lewis admits he needs to regroup for the final six races. For the first time I feel that Nico has the speed, ingredients and confidence to take this title in a straight fight but it could well go down to the wire.
I just hope it's all about a brutal wheel to wheel battle somewhere and not a clutch bite point which decides it.
Don't miss the F1 Report for all the reaction and analysis from the Singapore GP. F1 technical expert Craig Scarborough joins Natalie Pinkham and Marc Priestley in the studio at 8:30pm on Wednesday on Sky Sports F1.