Lewis Hamilton v Sebastian Vettel becomes F1 2017's definitive battle
Sky F1's Martin Brundle reviews the Chinese GP and a race in which true champions made their class tell...
By
Last Updated: 11/04/17 10:48am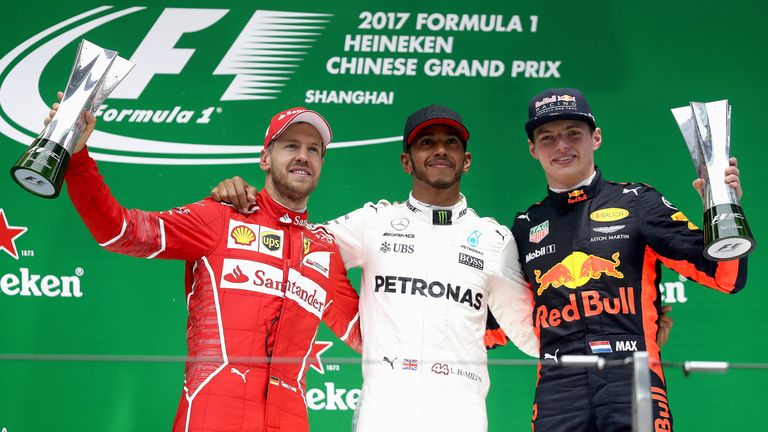 This has become a Lewis Hamilton versus Sebastian Vettel season already.
Mercedes and Ferrari are so closely matched that they now each have to choose one driver to support for the Drivers' Championship. At the same time they have to motivate and enable their 'second' drivers to score as many points as possible, and to pick up victories when the main man has a problem, in order to secure the highly-coveted constructors' title for these two great rivals.
On that front, it appears that Valtteri Bottas will at least for now get a comforting arm around his shoulder from Toto Wolff while his fellow countryman Kimi Raikkonen will get a public 'get your act together, what's the problem?' from Sergio Marchionne.
Kimi will be especially annoyed that his strategists would not follow his experience and demands to pit much earlier. It may well have cost him a podium.
Bottas was crestfallen with his error in spinning behind the Safety Car on an admittedly difficult track. At this level it wasn't exactly impressive but after the race he apologised to the team for his "amateur mistake".
That is humble and warming for any team who hate drivers blaming everything else apart from themselves. But it was an error in my opinion. Others will criticise you soon enough without you doing it yourself and feeding negativity. Heikki Kovalainen, another fast and very likeable Finn, used to do the same when he was Hamilton's team-mate at McLaren and it's damaging. Just suck it up and move on, this is a hero and zero business which, luckily, can quickly switch either way.
True champions stand out on days like Sunday's wet but drying race. Choosing the right tyres to run from the grid. Making the right decision as to when to change to slicks. Dictating the pace at the front without falling off. Not tangling with others. Knowing when to take risks and when to be patient.
Vettel changed tyres during the first Virtual Safety Car when Lance Stroll's Williams was stranded in the gravel. That could have been inspired if there wasn't a full Safety Car soon afterwards when Antonio Giovinazzi spread his Sauber down the pit straight for a second expensive 'yard sale' of the weekend.
We're all learning - drivers, teams, media and fans alike - about how the 2017 cars are shaping up and what it all means. Cars could run reasonably close together in China but DRS was only keeping them in touch and not creating an open goal for overtaking.
It was tense but a little follow-the-leader, and we will have to get used to that. It was about understanding your strengths and weaknesses against cars around you and then pouncing with bold moves. There were 70 fewer overtakes than in last year's Chinese GP but I can remember far more of them.
The overtake count was hampered by a stubborn damp patch on the Turn 14 hairpin but China is one of the better overtaking tracks. I hope that Pirelli will go for softer tyre ranges when the next batch of decisions are made for later in the season, so we can see some degradation and move towards two-stop races as the norm.
Hamilton reigned supreme out front in a masterclass drive. Vettel recovered to second place with great speed and two impressive overtakes on Raikkonen and Ricciardo.
Max Verstappen remains in a class of one when it comes to knowing how much grip there is in braking zones on a slippery track. Once again he made everyone else look like cautious new boys on the opening lap, proceeding to overtake his team-mate Ricciardo with an audacious late braking move into Turn Six. No wonder the public voted him Driver of the Day again as he sped from 16th on the grid to the podium.
As the only driver who started on slicks, and having a double spinning adventure on the first lap, Carlos Sainz recovered his composure with a blistering drive. He must surely be on every team's shortlist for the future.
It was great to see Red Bull initially making it three teams in contention on the changeable track, but once it dried out they fell way again on pace. I imagine their upgrade in a few races' time will be something to behold, and it certainly needs to be.
All square at the top of the points going into Bahrain, we finally have a true Vettel/Hamilton head to head. Can it even become the Senna/Schumacher battle we were largely denied?
The excitement, respect and sense of happiness on the podium was very evident to me which is why I felt the need to mention it. In recent years it's occasionally felt like a dentist's waiting room up there among the lucky but grumpy victors, but not any more.
MB
Bahrain GP TV Times
| | | |
| --- | --- | --- |
| Session | On air build-up | Session start |
| Practice One | 11.45am | 12pm |
| Practice Two | 3.45pm | 4pm |
| Practice Three | 12.45pm | 1pm |
| Qualifying | 3pm | 4pm |
| Race | 2.30pm | 4pm |
Watch the Bahrain GP live on Sky Sports F1 and in incredible Ultra HD! The race begins at 4pm on Sunday. Check out all the ways to watch F1 on Sky Sports for subscribers and non-subscribers - including a NOW TV day pass for £6.99!
Sky customers can now upgrade to Sky Sports and get 12 months for just £18 per month. Upgrade now!