Fernando Alonso's breakdown in Spanish GP practice a 'horror story' for McLaren, says Martin Brundle
Alonso breaks down on his first lap in Practice One; Spaniard leaves circuit during session for game of tennis
Last Updated: 12/05/17 6:53pm
Fernando Alonso's breakdown in Practice One of the Spanish GP is the latest chapter in McLaren-Honda's "horror story" this season, says Sky F1's Martin Brundle.
The Honda engine in Alonso's MCL32 failed on his first lap around the Circuit de Catalunya and the Spaniard returned to his hotel for a game of tennis with his trainer as McLaren changed the power unit during the remainder of the session.
The two-time world champion's woes came after he failed to even start the Russian GP when his engine failed on the formation lap and he has yet to complete a race in 2017.
Brundle says Alonso's departure from the circuit during the session was a means of sending a message to Honda.
"It's a little bit like his deck chair incident in Brazil [in 2015] where he's saying a lot of things without actually saying anything," Brundle told Sky Sports News HQ.
"His actions rather than his words are saying 'I'm out of here, I'm going to chill out somewhere else'. He didn't get to the grid last time out in Russia, he's not really got up and running here. It's a horror story.
"He'll be back for Practice Two. He's contracted to be and it's the Spanish GP with his home fans here. He can't pick the spanners up and help change the engine, there's nothing to debrief on because he didn't do anything so instead of having a thousand questions why not clear off and get rid of some frustration on a tennis ball."
But the Sky F1 pundit believes McLaren need to make a decision quickly on whether they stick with the struggling Japanese manufacturer.
"How long can the great McLaren team keep waiting for Honda to get their act together? They are going to have to make a decision soon. If they're going to change engines for next year, they need to start designing that car by late summer at the absolute latest so it's bookended as to how long they can wait for this to be sorted out."
Alonso has warned he will have no choice but to look at alternative drives if the McLaren-Honda package did not soon start showing race-winning potential for 2018.
Alonso's contract at McLaren expires at the end of the season and there could be openings at Ferrari and Mercedes with none of Sebastian Vettel, Kimi Raikkonen or Valtteri Bottas currently contracted for 2018.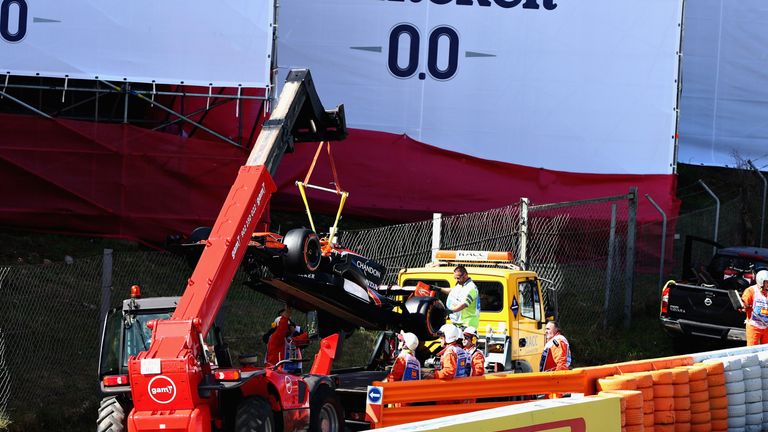 But Brundle thinks the way the 35-year-old left McLaren-Mercedes in 2007 and Ferrari in 2014 means neither team will want him.
"The trouble is Fernando has left various teams on bad terms and made other teams nervous of having him around. I think that's coming back to haunt him," Brundle said.
"Mercedes, I'm not sure they'd want him. We all know how great he is behind the wheel but it's the other stuff he gets up to. Remember when he reported McLaren-Mercedes to the FIA [in the 2007 Spygate scandal] it cost $100m and Mercedes probably paid at least half of that.
"He left Ferrari on quite difficult terms. He's a hot-to-handle character. Despite his speed, do Mercedes or Ferrari need him back in the fold and destabilising Hamilton or Vettel? I don't think they do."
Don't miss the Spanish GP exclusively live on Sky Sports F1 on Sunday - lights out for the race is at 1pm. Check out all the ways to watch F1 on Sky Sports for subscribers and non-subscribers - including a NOW TV day pass for £6.99!
Have your say! Comment below to get involved in the debate, but please adhere to our House Rules. If you wish to report any comment, simply click on the down arrow next to the offending comment and click 'Report'.