Lewis Hamilton, Sebastian Vettel duel it out as F1 delivers a treat
Sky F1's Martin Brundle on a Spanish GP that had it all and whether it was Mercedes or Ferrari who were really quickest
Last Updated: 16/05/17 7:01pm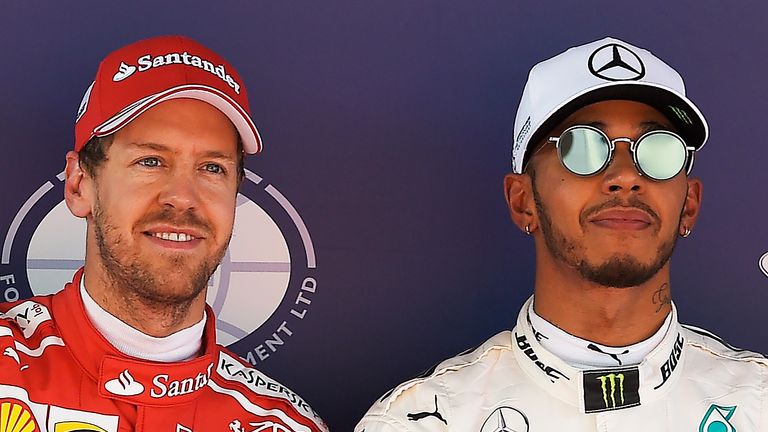 The previous race in Sochi was tense but in the end not so much happened. Barcelona was equally tense but we saw a lead change and for much of the race we had little idea about whether Lewis Hamilton or Sebastian Vettel would win, and with plenty of chaos and contact elsewhere.
The Spanish GP in Barcelona can be tame as the aero guys strut their stuff in a carbon fibre downforce-generating duel around a layout which challenges the chassis even more than the power unit (aka the engine).
But thankfully Sunday was a treat despite losing Kimi Raikkonen, Max Verstappen and Valtteri Bottas from the mix.
The stewards are consciously, and consistently so far, taking the view of 'if in doubt then don't' when it comes to driving standards penalties, although they have to strictly apply the rules such as cutting the 'pit in' bollard and other technical driving infringements otherwise it would be anarchy and teams and drivers would be taking liberties everywhere.
Bottas was as cautious in Barcelona as he was inch perfect and committed in Sochi when it came to the first braking zone and this instinctively encouraged Raikkonen and Verstappen to overlap him when aiming for the first apex. That was a total of six metres in width of sliding F1 car and there simply wasn't enough space as Bottas snared the Prancing Horse of Raikkonen and the Red Bull of last year's winner Verstappen with a single Silver Arrow.
It was a classic first-corner incident from which only Bottas emerged in one piece with four wheels pointing in the same direction, and chaos ensued behind them. It was a great shame to lose these runners and I feared we were faced with a long afternoon.
Thankfully that was wrong.
Post-race I asked several people in the paddock as to who they thought would have won the race between Lewis Hamilton and Sebastian Vettel in a straight fight with no outside influences. Most thought Hamilton but I felt Vettel had marginally the strongest pace. Of course that's irrelevant with regard to the actual race, but telling in terms of the next few races.
What do you think?
Vettel just flew at the beginning but Ferrari were a bit jumpy on strategy on this day in history and pulled him on lap 14 for fresh soft tyres. Mercedes would be more patient and put Hamilton on fresh medium compound tyres on lap 21.
Bottas didn't pit until lap 26 and he was able to slow Vettel significantly in the intervening period. It was all getting pretty punchy as Bottas steered the widest Mercedes in motorsport until Vettel finally sold him a dummy with a brave lunge into Turn One, but he'd lost crucial time.
Then Stoffel Vandoorne had a curiously clumsy accident with Felipe Massa's Williams and ground to a halt in a dangerous place, triggering a Virtual Safety Car (VSC) at a mid-stint tyre phase for the leaders.
Could Mercedes get through the remaining 30+ laps on a set of soft tyres? They seemed to be prevaricating while watching the progress of the stricken McLaren being craned away, with tyres out in the pitlane as drivers cruised past pit entry. But Mercedes were cleverly playing cat and mouse and, in the end, they got it absolutely right with a late stop just before the VSC was switched off giving them a cheap pit stop with regard to track time lost at the reduced VSC pace.
Ferrari missed the moment and pitted on the very next lap fitting necessary medium compound tyres with a 'green flag' track at full speed, and as it happens Vettel emerged absolutely side-by-side with Hamilton into Turn One. Turning in from an acute angle and with cooler tyres, Vettel slid wide and ran Hamilton out of track.
I've seen a couple of still images where it's clear Vettel didn't have that much steering lock on, a scenario that's had Hamilton and Nico Rosberg at war in the past when they were team-mates fighting for the championship.
But the stewards today are like the policeman who gives you the benefit of the doubt when just over the speed limit, and the traffic warden who says, '"OK, no problem, have another 10 minutes", and no action was taken which kept the race alive.
Hamilton recovered to the track just before the speed bumps and so was not obliged to go around the penalty bollard far to the left. The race was still on.
Initially, Vettel could steal a slipstream and DRS activation from backmarkers. We may have heard him say a few times in recent years on the radio 'get them out of my way' but right now he needed the lapped runners.
With better traction on the soft tyres compared with Vettel's mediums, and with a slipstream and DRS, Hamilton simply cruised past an exasperated Vettel as soon as he couldn't be parasitic on other cars piercing the headwind for him.
Hamilton: Why this is my favourite fight
But would Hamilton's tyres last the distance? And given the way Lewis was surprisingly huffing and puffing on the radio as he punched in relentlessly fast laps, would he? It was an intense race but I don't remember him even remotely struggling before.
I'm surprised that Ferrari didn't three-stop Vettel immediately after they lost the lead and put pressure on Hamilton, his engine, and his tyres. But they didn't and Lewis won a great victory.
Seventy-five seconds behind in third place, after Bottas's engine, the one he has used for most of the season so far, cried enough, was Daniel Ricciardo for Red Bull. They turned the motor down in the face of a clear deficit but it was painful nonetheless.
In reality, it was a solid fifth or sixth if others didn't have trouble.
I said to Adrian Newey after the race "looks like back to the drawing board?" He said no, the updates had worked well, the correlation of aero tools had been good, it was just that they needed much more of the same.
Tough times for the mighty Red Bull team and some long faces to match.
The Force India team and drivers put in stand-out performances yet again, as did Pascal Wehrlein for Sauber. It was a dismal day for Williams as Felipe Massa clouted Fernando Alonso in the aftermath of the first-corner contact and they continue to pay the price for a rookie in Lance Stroll in the second car who has yet to find the pace.
Jolyon Palmer is having a similarly miserable time at Renault as Nico Hulkenberg came home sixth in the sister car.
There were many fresh initiatives from the new owners of F1 at the weekend to 'reach out' to fans and they were generally very impressive. I spoke with Mr E for a while and he seemed less impressed, but there's an increasingly carnival atmosphere around particularly on race day and I like it.
Next up Monaco. Can the long wheelbase Mercedes stay in touch with the mighty 2017 Ferrari? And can Red Bull finally join the party up front?
We'll see soon enough while Alonso attacks the Indy 500 and Jenson Button comes off the reserve's bench.
Don't miss it.
MB
Have your say! Comment below to get involved in the debate, but please adhere to our House Rules. If you wish to report any comment, simply click on the down arrow next to the offending comment and click 'Report'.