Martin Brundle: F1 in a spin at end of 2017 to leave questions for 2018
Sky F1's Martin Brundle signs off from F1 2017 with his thoughts on the season finale in Abu Dhabi and a reminder for 2018 that it's the product which counts...
Last Updated: 28/11/17 3:37pm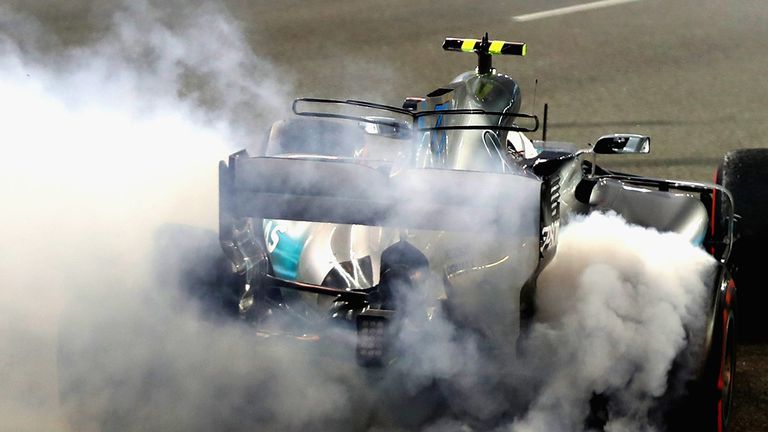 That was a tremendous weekend for Valtteri Bottas, outqualifying his illustrious team-mate and then, after a perfect start, soaking up the pressure for 55 laps.
I just wish I could have been more excited about the race. Indeed I wish Valtteri could have too.
I would also have loved his race performance on my CV because his third victory of the season was sweet, along with fastest lap.
The stat that Lewis Hamilton has never outqualified a teammate or won a race after having won the world championship is fascinating, although tempered by the fact that he won the '08 and '14 titles at the last race of course. On our Sky F1 show Nico Rosberg said he knows for a fact that Hamilton loses focus, which was punchy.
Maybe Lewis spends so much mental and physical effort in his impressive achievements that he simply reaches a crescendo and an unsustainable peak. He definitely took his foot off the gas in 2015, although without his qualifying crash in Brazil, and with a better qualifying lap in Abu Dhabi, he might easily have won the last two races.
The fact remains though that Bottas was top scorer in the last three races on 61 points.
Conclusions from F1 2017
Abu Dhabi plans track change
The Abu Dhabi track layout should promote a lot of overtaking, and indeed it does with F2 and GP3. It's F1 which is the primary problem, not wholly the track. They could take the chicane away before the T7 hairpin onto the long back straight but the run off would be marginal. They'd have to turn the track at the hairpin earlier which is no big issue.
Some said to me they thought it all looked like a set piece to allow Bottas to win and maybe take second in the championship. I checked with the team and they confirmed my thoughts that it was a gloves-off scrap, and the way they thrashed Ferrari and Red Bull rather underlines that too.
Seb Vettel spent the race in no man's land for a lonely third, even though his pace was strong at the end. Kimi Raikkonen just wasn't at the races at all and unfortunately had Max Verstappen captive in his aero wake.
Force India were strong again in 7th and 8th and the last runners unlapped albeit some 92 seconds behind.
I know one team suggested to race control a safety car for 'debris on the track', or Ricciardo and Sainz being recovered, or possibly because there's an 'r' in the month, or just any reason to liven up proceedings. It was denied.
My feature on SkyF1 about the future of F1 and the challenges and problems which need a fix, not least the engines, probably received more positive feedback than any other feature I've made over the last 21 years.
This is the least points Mercedes have scored in the fours seasons of 1.6 Turbo V6 hybrids, due to Ferrari's resurgence, but other than for the Silver Arrows this hybrid era has been a dismal failure due to sound, costs, field spread, and unreliability. It shows no signs of improving and I fear for the next three seasons unless Ferrari and the Renault engined cars can make significant gains this winter. But then Mercedes are hardly going to stand still either.
Despite losing Carlos Sainz from a healthy race position with only three wheels firmly on his wagon after a pitstop, Hulkenberg's solid 6th was enough to leapfrog Renault past their customer team Toro Rosso, taking 7 million dollars of prize money away from them. I bet that went down well after the endless power unit dramas Toro Rosso have endured of late. They have Honda power and dollars for 2018, along with a yet unproven and inexperienced F1 driver line up. Could be a tricky one to say the least but I'm not going to lose any sleep over Red Bull's finances…
Hulkenberg was lucky not to receive more than a five-second penalty and delay at his one and only pit stop having overtaken Perez's Force India across a chicane run-off. This is a dangerous precedent because teams will realise it's well worth the pain in order to pass a slower car.
Well I've made 694 words out of the race, a good effort I feel in the circumstances.
So let's talk logos and the F1 rebrand.
I don't mind change or the new logo, it's fresh and will probably work well into the digital future we hear so much about. It's also another step away from the Ecclestone era for the new team at Liberty.
Unfortunately, these and other changes we've witnessed at race weekends are all relatively easy gains in terms of polishing the periphery of F1. The controversial and time-consuming part is getting the core product right and it seems we have to wait until 2021 for noisier, closer running and more futuristic cars.
Frankly, I see a decluttered version of the current 1.6 Turbo Hybrid as a vanilla and committee decision. And even then I'm told the FIA are wavering about making any changes at all.
Pirelli contributes a great deal to Formula 1 in terms of tyres and sponsorship. However, I feel that its announcement of seven different dry compound tyres to cater for 21 races is not only confusing in number and name, but suggests it is a little lost on what to do.
I'm just a simple car dealer from West Norfolk but I did learn a few things. Never confuse your customer, because confused people back away and don't buy. Sell your customer exactly what they want and need for fair profit, not what suits you to sell to them. Look after them well, build trust, and you've a customer for life. Race fans are our only customers.
Overall I've thoroughly enjoyed the 2017 season, and looking forward to the winter tests in Spain, along with checking in for the flight to Melbourne and a whole new season.
Have a great Festive Break team.
MB
Comment below to get involved in the debate, but please adhere to our House Rules. If you wish to report any comment, simply click on the down arrow next to the offending comment and click 'Report'.