Martin Brundle: Formula 1 at its best in Germany
Martin Brundle reflects on the German GP, a race of extremes and excellence, and how it all went wrong for Sebastian Vettel...
Last Updated: 06/12/18 2:50pm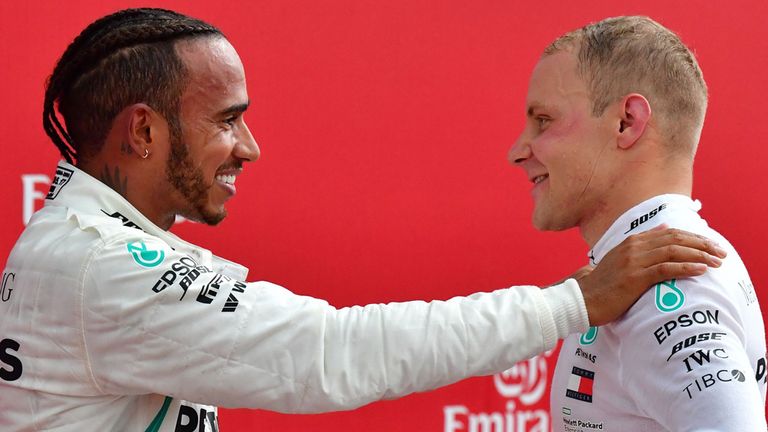 Where do you start to pick the highlights out of that race, which was surely F1 at its very best? Fast, chaotic, unpredictable, controversial, dramatic and closely fought.
It was a race which Sebastian Vettel in his Ferrari had totally under control until he ended up behind his team-mate and losing time, and then finally sliding off at town limit speeds. We've all had silly 'offs' like that, but not often for a home GP victory to handsomely extend your championship lead.
That one will hurt Seb forever.
The track was greasy, the braking systems are very effective but complex, and his rear axle locked so he arrived into the hairpin with too much speed. He may look back at that incident and wish he'd been lower down and off the slick racing line. Being an old-school track the gravel traps are baked and short and clumsy race-ending contact is inevitable. I didn't see him trying to reverse out but he may have done.
Was Vettel pushing too hard?
Hamilton savours 'drive of my life'
Seb was having to push so hard because Lewis Hamilton was flying along and closing his lead down, not helped by being stuck behind his team-mate Kimi Raikkonen for a while who was on older tyres. The team eventually made the obvious switch around call in those circumstances, regardless of who is driving which car.
Before that Vettel was comfortably leading from the start and he was managing his strategy, with an eye on the inevitable rain, whilst controlling his only apparent rival at that time in Valtteri Bottas in the Mercedes.
Hamilton was quickly making his way through the pack from 14th to 5th but by then he was 27 seconds behind the leader. It was a measured drive of low risk and high success rate as he scythed through the field. A very fast car and an over-effective DRS zone making it rather too easy for everybody to overtake on the parabolic run down to the turn 6 hairpin made the difference.
He coaxed his starting tyres 42 laps and then crucially pitted for ultrasoft tyres just before the rain came at turn six. The track was so dry elsewhere it seems strange that so many went to intermediate tyres instead of just tolerating T6. I guess it was a roll of the dice for those who had little to lose, but Pierre Gasly on full wets in the Toro Rosso looked bizarre. They all soon pitted for a second time to ditch the wet tyres, but at least it ensured that all five tyres available for the race were used, which rather sums up the chaos.
It must have felt much wetter to the drivers than it looked because even Max Verstappen requested the inters and that's normally his kind of territory on a marginal track in a Red Bull.
Then, of course, we had the phantom pit stop for Lewis where unusually his engineer Pete Bonnington was a touch flustered in the heat of the moment. In, out, and shake it all about, Hamilton stayed at the front of the Safety Car queue for the restart.
As you will know by now, F1 rules are complicated and open to interpretation, being a combination of the general Sporting Code, the F1 Sporting Regulations, Supplementary Event regulations, and clarifications at FIA team manager briefings. Pretty much every pit-in and pit-out is unique in some way.
Hamilton was close to getting a five-second penalty, which would have given the victory to a buoyant Bottas, but in the end they settled for a reprimand and the sensational victory stood. The stewards were satisfied that the team had been open, and that as it was under a Safety Car, not dangerous.
In a feature over the weekend where Lewis wrote a theoretical letter to himself, he told the young Lewis that he would be 'screwed by the FIA in Spa'. He's probably just been paid back.
Hamilton keeps German GP victory after investigation
The updated latest championship standings
Lewis was very emotional through the whole process, and I must say he has been extremely intense of late. You may remember in my last Silverstone column that I recounted the post-qualy and race interviews with him. And watching his actions, listening to him, and reading his words from Hockenheim he is in a remarkable and probably unusual place. Wherever that is, it's working in terms of results and comeback drives.
Daniel Ricciardo started from the back of the grid with engine penalties before less spectacularly making his way through the pack on medium compound tyres and then into retirement with yet more technical issues. The end of the race would have been just the kind of territory the Aussie likes, when there's a race to be stolen
There was some great driving all round, not least from Nico Hulkenberg in the Renault, the two Force India boys of Esteban Ocon and Sergio Perez and Brendon Hartley scoring a point in the Toro Rosso.
Romain Grosjean was outstanding in the last few laps for Haas, showing that he can keep his head in the most extreme circumstances. Marcus Ericsson drove very well too for Sauber.
The Safety Car played into the hands of some and against others. Bottas was hurt again although he was allowed one dramatic lap to try to pass Hamilton on the restart before he was called off to behave himself and keep Raikkonen at bay. Under team instruction, Lewis was pushing like crazy to gain more than a five-second lead over Bottas as the team had worked out that previous pit lane indiscretions risked such a penalty.
Charles Leclerc had his first big test in changeable conditions and flew off the road a couple of times. It's those sort of moments you can just about get away with in a Sauber but not a works Ferrari.
I'm very sorry to hear that Sergio Marchionne, the Ferrari boss, is very unwell and not returning. This will have a big impact on the imminent direction of Ferrari and probably F1 too. I'm pretty sure that Fernando Alonso will be having a word with the new boss Louis Camilleri in one last desperate attempt to regain a winning car. Judging by his on-track performance and radio transmissions in Hockenheim he's at the end of his tether otherwise.
We may or may not ever go back to Hockenheim, or even a German GP apparently. It's down to the finances but it does seem strange not to have a German race given the might of their car industry and the championship success of Michael Schumacher, Vettel and Nico Rosberg.
Times are a changing.
MB