Lewis Hamilton states his championship intentions in Monza with emphatic win
Sky Sports F1's Martin Brundle reviews a good race for Monza and an even better for one half of the Mercedes garage...
Last Updated: 23/09/14 8:49am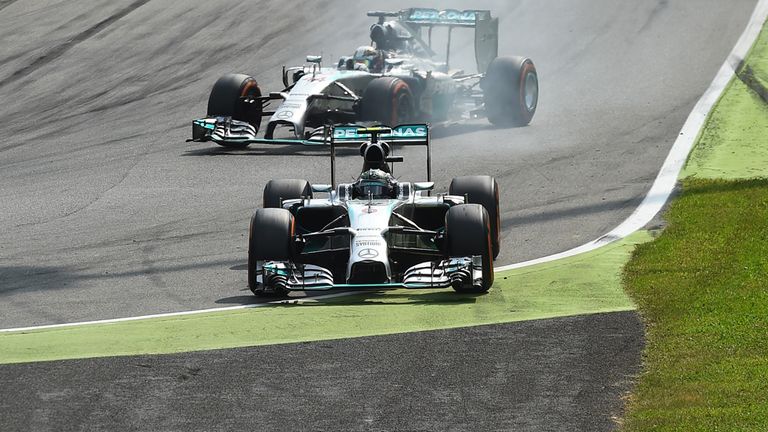 Lewis Hamilton made a very big statement about his championship intentions in Monza by dominating Nico Rosberg in both qualifying and the race.
His poor start was confirmed by the team as a pure car problem, but this was one of those calm and happy weekends for Lewis and so he simply refocused and got on with the job for the rest of the race.
His racer's instinct clinched it by politely ignoring a team radio proposal to hang loose in his teammate's slipstream for a while, far enough behind to pick up a tow and presumably save fuel, while not close enough to slide around in turbulent air and damage his tyres or overheat the engine, and then attack at the end. Instead he used the grip of the fresh hard compound tyres to attack and shortly afterwards, as Rosberg faltered for the second time on the brakes into turn one, Hamilton took an easy and commanding lead. His response was simply and effectively 'let my team mate choke on the fumes'
Some inevitably suggested Rosberg did it on purpose as part of the post Spa 'deal'. I've only ever known drivers yield like that by pulling over on the pit straight, hand aloft, so that the whole world knows what happened. I can't really see why he'd make himself look silly with intentional errors to give up a 14-point turnaround in the championship battle. During his first mistake Hamilton wasn't even running second.
I asked Lewis on SkyF1 if he'd had similar problems in turn one and he confirmed that he had, one of which was caught nicely in slow motion near the end of the race.
Three of the remaining six races traditionally throw up a few challenges - the lengthy Singapore race, spectacular Suzuka, and the often crazy Interlagos in Brazil. And Sochi is totally unknown. There's a very long way to go yet and reliability and the Abu Dhabi double points bonanza will affect it all too.
It was another good race, particularly for Monza. In fact if we hadn't have had so many great races this season we may even have been raving about it. The great overtakes from Daniel Ricciardo, especially his trademark dummy into the second chicane, where thrilling in the closing stages as he made the best of his fresh tyres having anonymously but smartly been looking after the initial set in this one-stop race.
The side-by-side action with Button and Perez pretty much everywhere but especially in the Lesmo corners even had the drivers buzzing with excitement. This new lenient stance from the Stewards has unleashed the drivers and they're much more inclined to have a go at overtaking. For this reason I would not have penalised Kevin Magnussen for his wheel to wheel action with Valtteri Bottas, but I can easily see why it was questioned as Bottas was effectively ahead at one point in the braking zone, although Magnussen has a right to release the brake a little and fight the corner.
The Magnussen situation is interesting as he endeavours to establish himself as tough racer. He was rightly penalised for running Alonso out of space on the Kemmel straight in Spa, and he does have an unnerving habit of moving around the race track rather dramatically and sometimes a little late, but he's fighting for his career and his boss likes what he sees. Psychologically he's establishing the tough combat racer nicely but he needs to back it off a notch because the Stewards and the other drivers are onto him.
Many of the cars were heavily discarding carbon dust off the front brakes throughout, especially the McLarens and Sergio Perez in the Force India. Daniil Kyvat lost his brakes near the end too and his avoidance driving was brilliant. I asked Jenson if he noticed this dust on track and the answer was very definitely yes, having just been cleaning his face and commenting that his balaclava and overalls were discoloured too. I was often concerned about this during my F1 and sports car days when looking like a coal miner after heavy braking races but I'm assured it's inert and luckily the balaclava and your inherent breathing system protection do a good job.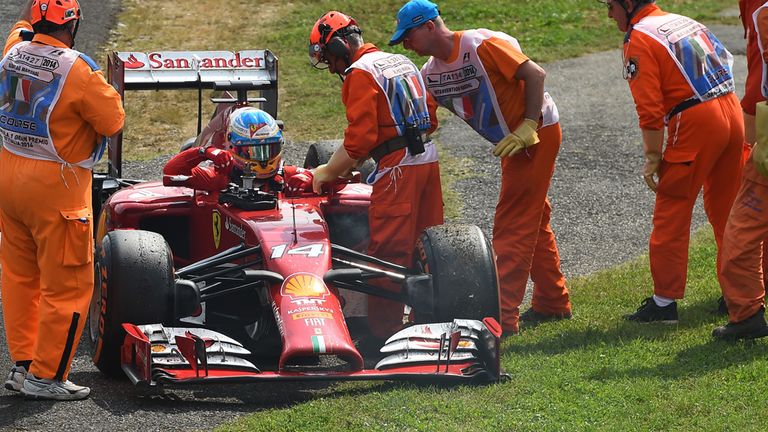 What a terrible day for Ferrari, Alonso finally losing his finishing and points scoring streak, Raikkonen struggling for pace, and the team losing out to Williams once again in the championship. It was Alonso's first mechanical retirement in 86 races stretching back to Malaysia 2010 which would be more impressive if the car had been faster meanwhile. It's sad it happened at Monza and there'll be some more heavy meetings going on in Maranello. Mercedes' power pack underlined Ferrari's problems at this high speed venue, they have some major catching up to do and Mercedes won't stand still either.
So from a short and sunny race in at speedy Monza we head to the long, bumpy and dark street race of Singapore, one of my favourite of the year. The championship battle is fascinating both on and off track and that can only intensify. 
MB