Nico Rosberg needs to do his talking on the track against Lewis Hamilton
Sky Sports F1's Martin Brundle reviews a comfortable win for Lewis Hamilton and Nico Rosberg in Shanghai and calls for F1 to clean up its act with dirty air...
By Mr Angry from Norfolk
Last Updated: 14/04/15 9:10am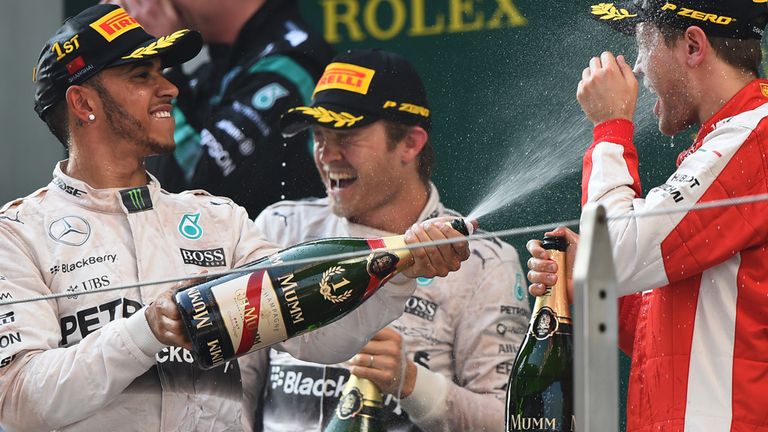 Mercedes were playing with Ferrari during the Chinese GP like a cat with a ball of wool, as to an extent was Lewis Hamilton against Nico Rosberg.
Racing greats like Sir Jackie Stewart and Alain Prost had a champion's mentality of winning at the slowest possible speed, although that was much more about car reliability and surviving rather than tyre management.
The race's fastest lap on Sunday was 1.8 seconds slower than last year. This year was hotter than the 16C back then but the cars have significantly improved over those 12 months and tyre compounds were the same soft and medium choices. Indeed, last year's race was won with a theoretically slower soft/medium/medium strategy. 
After losing in Malaysia to a dressage Prancing Horse, the Merc boys were in conservation mode this weekend. The reality is that the Ferrari never at any point looked as hooked up as the Mercedes on this track.
Hamilton's pace for a couple of laps while he ran longer than Rosberg showed just how much latent potential there was, and the Ferrari boys were having to mind their tyres too, which they could easily afford to do with Williams so far behind.
The race at the front looked orchestrated to me, the only real excitement being that Rosberg felt he was being fed to the Ferraris by his team-mate. It's probably true but Hamilton is entitled to pace himself just as fast as he feels right in order to win. The team gave him a hurry up and a target time which he diligently followed thereafter. Rosberg was right to complain too, they are competitive selfish animals, it goes with the job. The sad thing is that the best solution of cruising up and passing his cautious team-mate didn't seem to be an option.
There will always be such conflicts, F1 is a team sport paradoxically focussed on two individuals.
I'm feeling for Rosberg as he desperately tries to find a way around a very on-form Hamilton both on and off track. Since Spa last year, Lewis has pretty much had him beaten on pace and psychology. Rosberg playing the nice guy just feeds Hamilton's confidence. Playing the grumpy nasty guy is a better option but it just bounces off now and puts the spotlight back on himself. The only answer is to out-qualify him and that's why Rosberg was so frustrated to miss pole position by four hundredths of a second. An ordinary second attempt from Hamilton opened the door and Rosberg failed to get his foot in it.
At the start of the race, Lewis lined his car up on the grid as if he wished he was on Nico's side anyway, and he later admitted to me on Sky F1 that he rather overdid the angle. His only mistake of the weekend, and even that worked a treat.
In all of this the real story for me is that it seems even harder to follow another F1 car in 2015. It's something I mentioned in the Melbourne race, and we saw it again when the Mercs didn't exactly sail through the pack after the early safety car in Malaysia. The front wings now look like an impressive but overdressed Christmas tree. Hugely expensive, easy to damage, and most importantly too far from the track to seal properly and help in turbulent air. We keep taking downforce from underneath the car, but it should be from the top aero surfaces.
And so we didn't have a race at the front, merely a holding of station just outside the invisible hot and turbulent air used and discarded from the car in front, all regulated by Hamilton's cadence and comfort in the lead.
GP2 cars can follow each other and overtake with relatively similar tyres and apex speeds, and so should F1 cars. We have to think about The Show as a priority when making these performance and safety changes. There are just too many people on too many commissions to sort this out properly. Sorry to be Mr Angry from Norfolk but it really frustrates me, as I know it does many of you.
In other news I wonder which championship-contending team will be first to sign Max Verstappen up to a longer term deal. The boy looks the real deal and seat vacancies will appear.
Verstappen has a lovely touch on the wheel and brakes to go with his confidence and racecraft. And I don't think stardom will go to his head but time will tell. I doubt his dad will allow that while he's the boss.
I hope Williams have plenty of development parts in the pipeline because they can't hang on to Ferrari's shirt tails at the moment and Red Bull, McLaren and even Lotus are potentially looming in their mirrors through the year. We need them strong to spice up the racing at the front.
It's painful having to watch McLaren-Honda and their drivers portray a super excited and confident mindset. It's all they can do as what's the alternative? How long can they keep it up? China didn't really see another step forward from what I could see. The chassis looks solid enough, outperforming Sauber in the downforce-dominated middle section of the track and they had two cars in the top ten, but the motor looks sluggish and sounds horrible. Honda's first big 'FIA token' spending upgrade will be very telling.
Mind you it was interesting and slightly confusing to see Button going past the Lotus-Mercedes of Pastor Maldonado albeit with the assistance of a tow, DRS and most likely battery assistance. But when Maldonado breezed back past he needed DRS and still had to finish the job on the brakes.
Let's hope Bahrain is as exciting as last year.  
MB