Brundle: Sparks fly in Bahrain
Sky F1's Martin Brundle on why F1 looked so good under floodlights in Bahrain as sparks flew literally and metaphorically
Last Updated: 22/04/15 12:06pm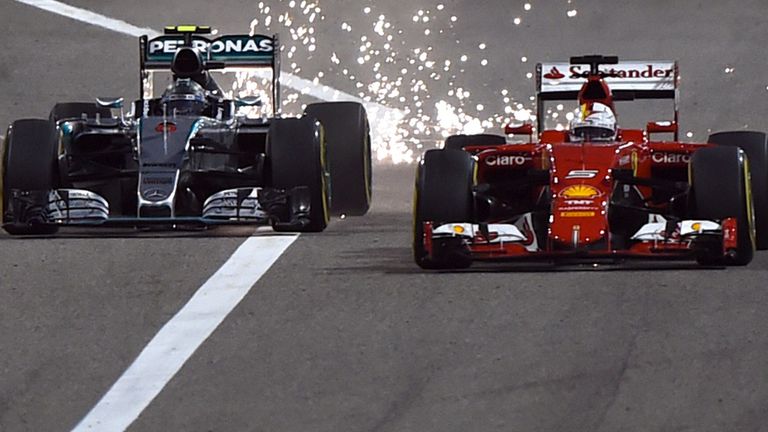 Bahrain is slowly but surely becoming one of the very best events of the F1 calendar.
The circuit looks sensational under the lights and it's just beautifully manicured both in front of camera and behind the scenes The significant spectator entertainment area behind the main grandstand was heaving with people spoiled for choice with shows and music.
Of course it will be many years before the fans will be as numerous and vociferous as the passionate and knowledgable petrolheads at the likes of Silverstone, Spa and Monza but Bahrain should be on your overseas GP wish list.
I've seen a few Tweets saying that the sparks from the new-for-2015 titanium skid blocks are fake. I don't agree. Having raced through the original pyrotechnic period I feel something has been rightfully returned to F1. I remember the somewhat extreme FIA president Mr Jean Marie Balestre always moaning about the crazy sparks until they went away.
One of the more iconic moments in F1 was in Barcelona 1991 with Senna and Mansell playing dare just a few centimetres apart down the main straight as both cars grounded out under the downforce and sparked away to add visual drama.
In the same way, the vision of Lewis Hamilton exiting the pits on Sunday evening as Nico Rosberg was putting another monster move on the Ferrari of Sebastian Vettel in his rear-view mirrors whilst throwing up copious sparks, sand and discarded rubber will stick in my mind for a good while.
As Daniel Ricciardo said to us later at the airport, these days when you're following another car you make sure your helmet visor is down. This is a mild relief from the 'eternal run off and don't go out on track if it's a bit too wet' H&S nanny state we have to abide by these days.
It wasn't as good as last year but I really enjoyed the race. The overtakes of the new and improved Rosberg were worth the heartbeats you consumed watching the race alone. Now he has to have the belief and confidence to throw those moves at his team-mate, but with conviction and not just loitering with intent and clipping his rear tyre.
Rosberg was under a media siege through Thursday and Friday as he had to explain his comments during and after the Chinese GP. He has nothing to lose now because he was beginning to look like the psychologically beaten weak link at Mercedes. He has to go for it because the Merc bosses will be looking nervously around due to the pairing of Vettel and Raikkonen at Ferrari, and the McLaren partnership too if the car ever comes on song. Not to mention the impressive new boys like Valtteri Bottas, Max Verstappen, Felipe Nasr and Carlos Sainz. I hope Nico Hulkenberg doesn't get passed over too.
Mercedes improved their cars between Friday evening and the race because it seemed that Ferrari looked even stronger than when they won in Malaysia, although saving a pitstop compared with the Silver Arrows was never an option here.
Ferrari split them on the grid and split them in the race. When I did a qualifying lap comparison between Hamilton and Vettel on Sky F1 it really struck me just how close the cars are now, and Ferrari seem very excited about development parts in the system.
Bottas was back on form and punished Vettel for his unusually scruffy race with several errors and an unscheduled stop for a new nose having been off track and yet still reluctant to lift the throttle.
The rest of the midfield battle didn't really develop as hoped although there was still some action. Red Bull's Ricciardo had a relatively lonely race until he was nearly joined by one of his conrods just after he crossed the line. He will now use his fourth and final engine from the next race in Spain before he starts taking penalties. It looks like he'll be having some long walks to the national anthem line-up on the grid through the second half of the year as those penalties kick in.
Many of you say 'don't penalise the driver if the car or team fails' but you can't separate the combination. It would be madness, for example, to expect to give the team points even if the driver crashed on the last lap. They are one and the same thing.
Two drivers under pressure are Daniil Kvyat and Pastor Maldonado. They've both had some clumsy incidents and need a calm and solid race in Barcelona. Kvyat seems under pressure at Red Bull and it won't help that Sainz and Verstappen are going so well in the junior team.
Maldonado has had too many contacts and errors but he's in the luxurious position of funding a significant amount of the team budget. Both can do a much better job.
One man who doesn't seem to understand pressure at all at the moment is Lewis Hamilton. He looks so confident and relaxed and surely heading to championship number three. He's led the last 13 races at some point and has converted nine of his last 10 pole positions into glorious victories. But he's more than wise enough to know that Rosberg and the Ferrari boys are not always going to be lighting up his rear view mirrors and he just might be having to ensure his visor is down instead.
MB