Mercedes take the blame for 'crazy' call as Hamilton shows leader skills
Sky F1's Martin Brundle reflects on one of the biggest strategy errors of recent times and the other standout talking points from Monaco
Last Updated: 26/05/15 12:20pm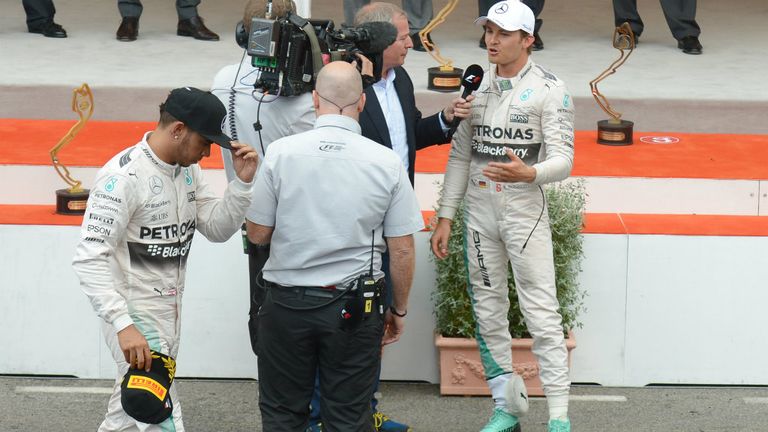 It was a rather steady Monaco Grand Prix until a teenager shared a scary shunt with us live on board, and the subsequent 'Virtual' and then actual Safety Car, along with a failed maths test, changed the face of the results.
Lewis Hamilton had been master of most of the weekend. Only in the early phase of qualifying did he look anything other than in control, and even then a most impressive collective call to arms by him from the cockpit to his gang by radio saying "let's calm down and reset..." put him back in control for pole position.
A fine start left him controlling the pace up front seemingly at his will.
It's quite normal in Monaco, but especially so this year, to eke out the tyres early on to make just the one pit stop and keep track position. But the cruising drivers were frustrated at being restrained in this way, particularly the Ferrari jockeys. It was all rather pedestrian.
Toto Wolff confirmed to me that when the infamous Safety Car came out there was some concern by Hamilton on the radio about the condition of his tyres and that he wouldn't be able to get them back up to temperature on the restart, and it seems he'd misunderstood what he saw on the big trackside screens. 
But even if this started the thought process, the team are rightly taking full blame. Out of our commentary box window we could see the Mercedes guys in the pitlane with fresh tyres for some time. It was a very conscious decision and not some calamity. But it doesn't require anybody to get fired – we have to remember the hundreds of very good decisions made.
The team incorrectly thought they had three or so seconds in hand which still very much begs the question 'why risk it?' There are so many variables under the Safety Car, especially depending when the leader is actually scooped up. How quickly Bernd Maylander drives the Merc Safety Car when searching for the leader cannot surely be factored in to any strategy simulation software, especially if he has to go around incidents or suchlike.
Hindsight is a wonderful thing, but to so many people at the track and at home it just looked like a crazy decision – and so it proved to be. Sebastian Vettel would beat Hamilton to the critical Safety Car line after the pit exit and so this meant it wasn't even a Mercedes one-two, in which case they may have tried to negotiate with Rosberg to reverse positions.
I really thought Hamilton had a reasonable chance to pass Vettel and then the sister Mercedes, but he didn't get a look in and seemed to lose his spirit when it became clear the victory had been taken away from him. He hesitated on the slowing down lap before returning to parc ferme, and then after the podium ceremony several people were successfully endeavouring to convince him to take part in the rest of the procedure.
I learned just before the race that I was doing the podium interview and after organising a jacket and somewhat of a sprint from the commentary box (well a fast limp anyway) I approached with some trepidation. This reminded me of the Red Bull 'Multi 21' saga in Malyasia two years ago when I also happened to be doing the podium.
I'm approaching a man who had just won back-to-back GPs and his third consecutive Monaco GP to join a list of greats, and so I could hardly open with 'well, you lucked into that Nico...'  but thankfully he had the good grace to say it himself. He fully recognised that Lewis was the best man on the day but as he would say later, it's another Monaco win and that he's still going to celebrate. I'm sure the other Monaco hat-trick makers didn't win everything easily without incidents or breakdowns for competitors.
Next up for a podium chat was Mr Happy in his red romper suit. Vettel seemed slightly bemused by it all and happy to accept yet another strong podium for Ferrari.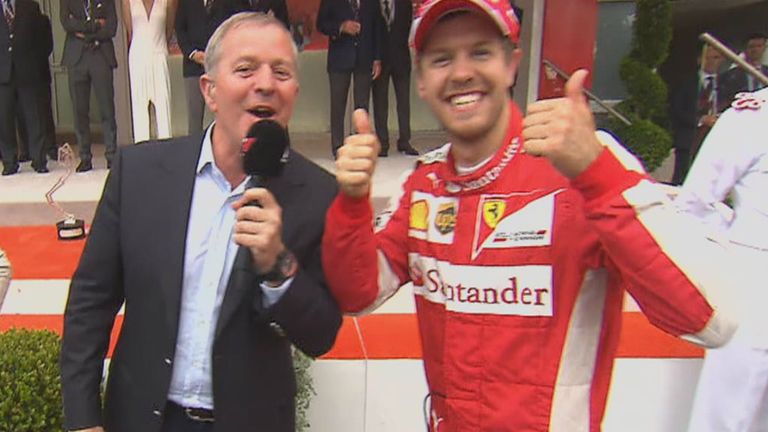 And then Lewis. Standing a few centimetres from him I could feel the absolute emotion and despair radiating from him. He's a winning machine and he'd just been robbed of a victory which was very important to him personally. A race his hero Senna excelled at.
He played the team game: win together, lose together and so on. He often mentions these days about being a leader of 1,000 people and he stuck to that in his moment of despair. As he would say later, 'I'm the world champion, I will behave like one'. When the dust settles, the calculations reviewed, the meetings concluded, the disappointment dulled slightly (but never completely) I'm sure of one thing – he will be super fast.
Elsewhere, it was nice to see McLaren and Jenson Button get some points and his pace was competitive over a large part of the race. Fernando Alonso, despite his five-second penalty for barging Nico Hulkenberg into the wall, was in for points too before his car failed. He used the word fragile a couple of times pre-race and reliability is giving him some real pain at the moment.
Red Bull massaged Daniel Ricciardo past his team-mate Daniil Kvyat because he was on much fresher tyres and in order to let the Aussie have a crack at passing Hamilton. It didn't work out and so the team asked him to let Kvyat back through. Surprisingly, he did so.
Carlos Sainz secured a point having started from the pitlane, which was a truly great effort. But his team-mate Max Verstappen, who was equally fast all weekend, found himself rear-ending Romain Grosjean's Lotus.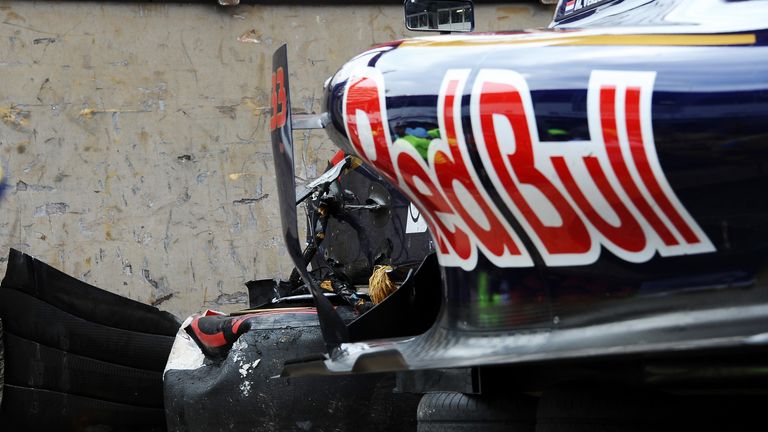 With fresher tyres, a slipstream and DRS assistance he got rather drawn in to the back of the Lotus, which then braked reasonably early for Turn One just as Verstappen was delivering a junior racing-style 'dummy' and switching sides. They were both unlucky but the teenager takes a five-place grid penalty away from Monaco along with some bruises, but at least no broken bones. Verstappen left an indelible mark on the paddock this weekend, as well as on the barriers.
Sergio Perez put in a sterling effort for Force India, translating a fine qualifying lap into a great result. Unfortunately, Williams had an event to forget in just about every respect – their first pointless weekend in 25 races – and will have to wait for another day when the strength of their package will pay better dividends, such as at the next race in Montreal.
MB