Martin Brundle: F1 delivers powerful tribute to Jules Bianchi in Hungary
Sky Sports F1 pundit Martin Brundle reviews the Hungarian GP, F1's powerful tribute to Jules Bianchi and a race which had everything
Last Updated: 29/07/15 8:03am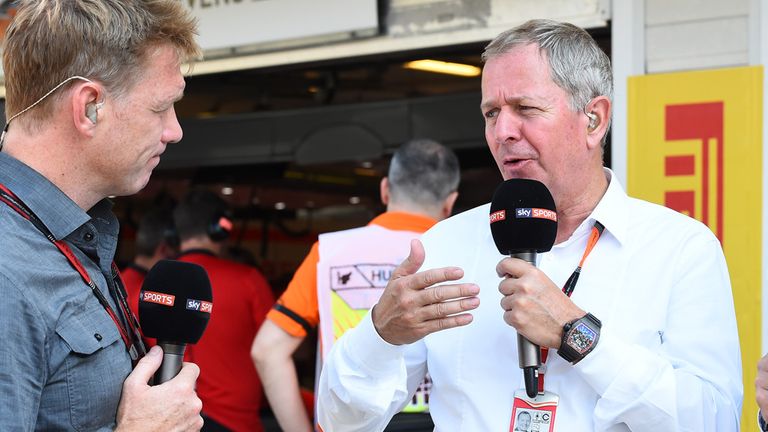 I found Sunday's pre-race tribute to Jules Bianchi probably more dramatic than Monaco in 1994, the race which followed the deaths of Ayrton Senna and Roland Ratzenberger at Imola, along with Rubens Barrichello's shunt and Karl Wendlinger in a coma.
Back then, I sensed that a lot of the drivers were scared and wondering 'what's going to happen next?' This was different with the drivers forming at the front of the grid in grief and seemingly asking themselves 'how and why did that happen?' after the loss of such a young and popular driver. The presence of Jules' parents and his family on the grid made for a very powerful scene and, to be honest, l felt a little tearful. The emotions were just overwhelming.
Somehow, as human beings, the drivers were required to switch from those emotions and, just a few minutes later, close the visor and become Mr Competitive. But that's what they mostly did.
I wondered after the race whether the tribute to Jules had been a factor in the number of 'unforced errors' we saw on Sunday, but when I bumped into three-quarters of the grid at the airport that night they were all adamant that it hadn't destabilised them. They just felt it had been a difficult day on the track because of the wind direction - which had picked up and changed direction overnight - among other factors and there was so much close racing going on through the field.
Christian Horner conversely did feel that the grid emotions initially destabilised his man Daniel Kvyat although he somehow impressively found himself second at the finish.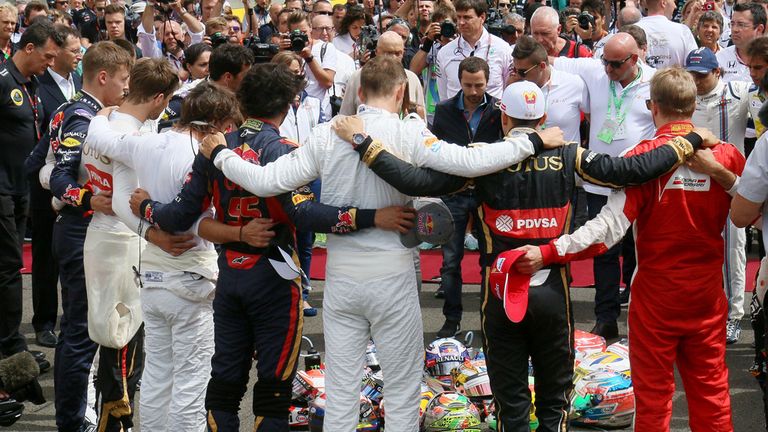 Felipe Massa admitted it was difficult on the grid, with so much going on, but also said that his 'mistake' in triggering the aborted start was entirely unrelated to the minute's silence and remembrance for Jules. He said he simply couldn't see his grid box and he was pretty surprised that he was given a penalty for being a couple metres shy of his markings - it was hardly like he jumped the start or gained an advantage. The slippery track itself must have played a part in the number of errors that occurred because the bumps and kerbs are a lot more pronounced than at some other circuits we visit.
What followed was one of those races where you really did ask yourself 'what is going to happen next?' because it seemed to have everything - and l found it interesting that rain wasn't required to make an exciting race. The Safety Car spiced it up but it had already been very intriguing with plenty of overtakes, collisions and surprises.
The surprise at the start wasn't only the fast getaway of Ferrari but their pace once they had grabbed the lead. They had the race under control – or at least they had Nico Rosberg under control because it might have been very different if Lewis Hamilton hadn't made such a scruffy start. Lewis seemed to have a much better package than his team-mate all weekend. But Ferrari certainly had Rosberg covered and the significant difference to Malaysia, where they were able to save a pit-stop, is that they won on outright pace in Hungary with the same strategy.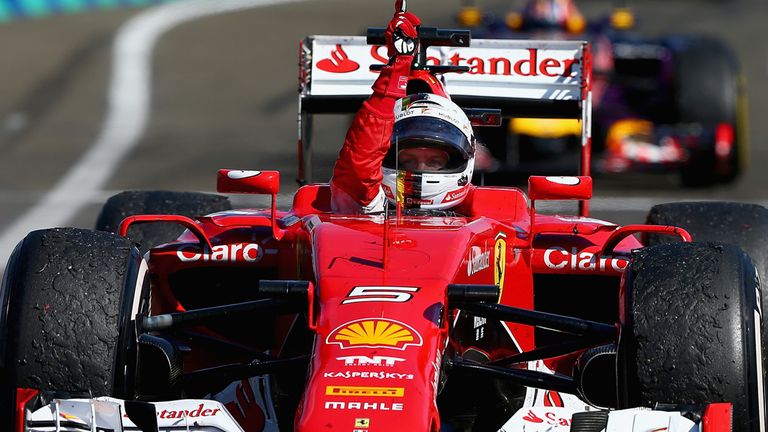 Lewis has received quite a bit of stick on the backpages but that's irrational. You can't produce all those brilliant performances, and secure nine out of 10 pole positions as reigning world champion and championship leader, and then be panned for one bad race. This is sport, and that's how it rolls. If he has several bad races on the bounce then ask the question.
The first corner just didn't work out for him - although he was probably too cautious after being squeezed by Sebastian Vettel - and there can be no complaints about his penalty when he ran wide into Ricciardo on relatively gripless tyres.  After going off the track when running behind Rosberg he sounded angry on the team radio, but after the race he pretty much put his hand up to everything and Nico's defence looked legitimate to me.
The Safety Car, deployed after the front-wing failure on Nico Hulkenberg's Force India, left us with a fascinating dynamic as the race boiled down to a 20-lap shootout for victory between four drivers with wildly different expectations and ambitions. We had Vettel with an outside shot at the title but who is more interested in race victories, the two Mercedes drivers who are only thinking of the world championship, and then Danny Ric thinking ' I might just get one chance of a win this year'.
Such was the swing of Sunday's race there was a moment when Rosberg effectively had the lead of the world championship only for it to all swing around again in the next breath. There were more than a few in the paddock who felt that Ricciardo was totally out of order making his move into turn one on Rosberg. It was ambitious and the Red Bull was coming from a long way back, but Ricciardo said after the race that he "didn't want to leave anything out there". In other words, he didn't want to go home thinking 'I should have given it a go' and I can understand that mentality. We also don't want to dissuade drivers from overtaking moves.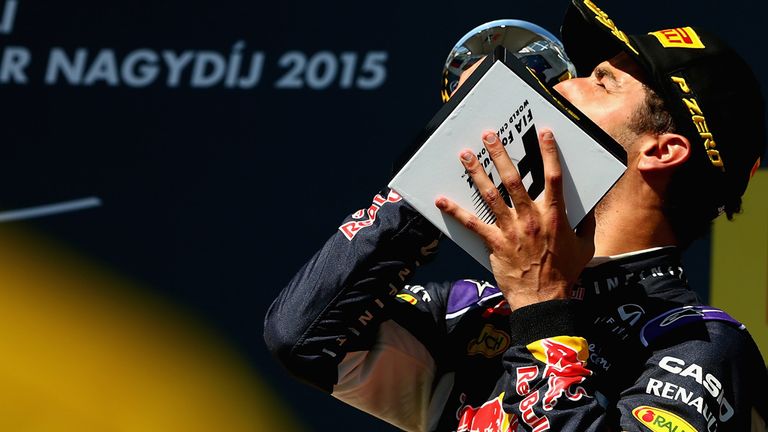 But it's a trait of these young drivers to squeeze each other on the exit, to put on that final little bit of pressure and stick their wheel in to make sure that they don't come back up on the inside. In Rosberg's situation, fighting for a world championship, it's surely not worth the risk of squeezing someone like that and on this occasion it cost both of them a chance to win the race. At the same time it wasn't Rosberg's fault at all. These moments can win races, but not on Sunday. It was a real hero/zero kind of day.
Mercedes' decision not to send Rosberg out on soft tyres when he pitted from behind the Safety Car looked odd at the time, but the team were at pains to explain on Sunday night that the option (softer, grippier) tyres only become their default choice when they believe they have a sufficient lifespan to make it to the chequered flag and they were one lap away from that when Nico came in.
I take that explanation at face value, but Mercedes have probably become too used to having enough pace to choose their own strategy, and their own timing, and it seems to catch them out when a race doesn't run smoothly. We've seen it a few times already this season that they just don't seem to react well to pressure or when they're required to think on their feet, which is why Williams should have tried to surprise them at Silverstone a couple of weeks ago.
A teenager in fourth and two McLarens in the points. And consecutive great races. I think we need a break. Talk to you from Spa. 
MB
Don't miss the F1 Midweek Report for all the analysis of the Hungarian GP. Reuters F1 correspondent Alan Baldwin and The Daily Telegraph's Daniel Johnson join Natalie Pinkham in the studio. Catch it at 8:30pm on Wednesday July 29 on Sky Sports F1.