How Jenson Button is winning McLaren poker game with Ron Dennis
Sky F1's Mark Hughes on the high-stakes game of contract poker being played at McLaren - and being won by Jenson Button...
Last Updated: 28/09/15 1:06pm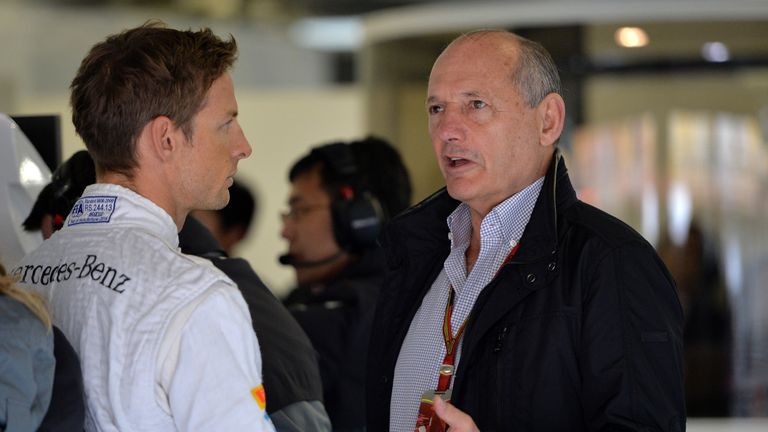 Jenson Button has played a brilliant game of poker in response to pressure from Ron Dennis in trying to bring his salary down.
Button has used the threat of retirement - a threat only he can know if he'd be prepared to deliver on - to effectively dare Dennis to initiate the contract break this Wednesday that would be necessary to not pay Button the contracted terms of the second year of his current agreement. Button has skilfully used the media by refusing to refute the retirement rumours, with the purpose of instilling greater doubt in Dennis' mind about whether he'd be prepared to deliver on his threat.
Button last year negotiated a two-year McLaren deal, believed to be worth £18million (£6million for 2015, £12million for 2016). As is quite common, the payment was 'backloaded' - i.e. the lion's share comes in the second year - with a contract break on McLaren's side that would allow it to nullify the contract at the end of the first year. In this way, the team is protected if it feels the driver has under-delivered because the team isn't actually committed to anything in year two.
However, if it intends to initiate the contract break, there will be a cut-off date by which it has to inform the driver. In this case it's believed to be September 30th - i.e. this Wednesday.
Because McLaren is facing a difficult financial time, it would ideally like to retain Jenson but at a significantly reduced fee. Its initial 2016 budget was based around finishing fifth in this year's Constructors Championship whereas the reality looks like ninth place. The difference in team income between those two positions is around £15million. Suddenly, a £6million increase in Button's salary begins to look very expensive - even if it is only around half the salary of team-mate Fernando Alonso, who is contracted for three years and largely paid for by Honda.
It was with this backdrop that Dennis tried to lower Button's salary. The implication was that he would initiate the contract break, nullifying the current agreement. This would then leave him free to negotiate with Button a new - and cheaper - contract. Button's reaction to that has been to play hardball - to say in effect, 'If you initiate the contract break I will refuse to negotiate a new contract and will retire'.
Dennis could, of course, initiate the break regardless - and either accept Button's retirement or gamble that he doesn't really mean it. In this scenario Button cannot afford for Dennis to believe that he is not prepared to deliver on his threat. Hence it plays very well for Button for the media to believe he is genuinely considering retirement. They have inadvertently become part of his negotiation strategy.
Why would Dennis not simply initiate the break and accept that Button will retire? Partly because of what Button brings to the team as a driver, but also because of his very high marketing value. The commercial value of his name and image is vastly higher than either of the junior drivers he'd be replaced by. Normally, a talented junior driver can be made marketable very quickly - by success. But with the McLaren-Honda partnership in an uncompetitive early stage, success cannot be guaranteed for quite some time. In order to give the commercial team a good opportunity of raising backing for the team, Button's presence is hugely valuable.
Complicating the matter further for Dennis - and playing perfectly into Button's hands - is the matter of Fernando Alonso's future with the team, brought into doubt by comments from his manager Flavio Briatore, and also by Alonso's frustrated comments during the Japanese Grand Prix about the Honda's lack of power at the Honda-owned Suzuka circuit on Sunday. If Alonso did decide to leave short of his allocated contract time, and Button had retired, the commercial team would be left with a team line-up of unknowns.
For all McLaren's current struggles, its driver line up of two world champions is one of its last links to its great days. For the sake of McLaren's standing in the commercial world, it badly needs not to call Button's bluff. 
Don't miss the F1 Midweek Report on Wednesday night at 8.30pm when Ted Kravitz and David Brabham join Natalie Pinkham to discuss the Japanese GP