Jenson Button plans to return to roots in year off from F1 in 2017
Jenson plans more karting in 2017 and eventually rallycross events
By James Galloway
Last Updated: 08/09/16 4:28pm
Jenson Button says his "dream" new McLaren contract will allow him to engage in some of his original motorsport passions, such as go-karting, in 2017.
The 36-year-old will take a year out from racing in F1 next season, but could return to the grid with McLaren in 2018 if a seat is available after agreeing a revised two-year contract with the team.
Although Button will attend some races in 2017 and serve as reserve driver to Fernando Alonso and the newly-promoted Stoffel Vandoorne, he has also made clear he will use the year to take time out from F1 after 16 uninterrupted years on the grid.
And Button, whose former team-mate Rubens Barrichello last weekend competed in the World Karting Championship, says racing in other areas is on his agenda.
"I'll definitely do some karting in the future and probably rallycross as well, that I'm very fond of and it's very close to my heart," said Button.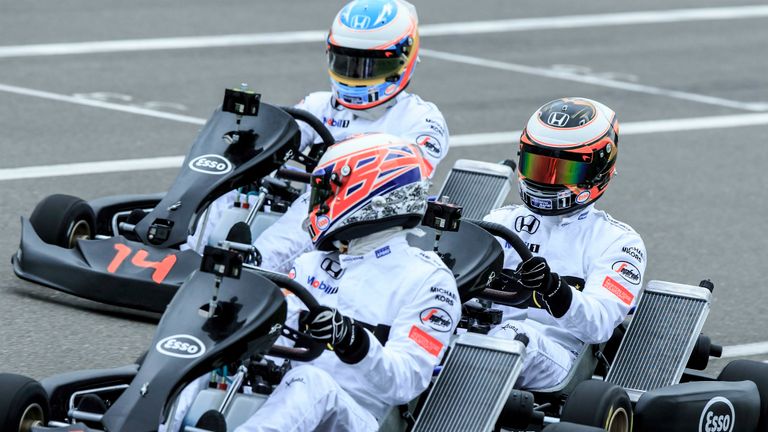 "I'm still racing, very busy and loving my racing. I only finished 12th at the weekend [at the Italian GP], but I had a great race and loved fighting through from last where I was after lap one.
"So that love is still there for the sport but I just feel I need a bit of time to recover after this season and live on my schedule.
"Motorsport has been my life since I was seven and it's the best job in the world - it really is. But even with the best job in the world you need rest. Grands prix are a massive part of my life, before and after grands prix with recovery and preparation, so it's nice to have a bit of me time and family time.
"Then if we get two thirds of the way through next year and I want to go racing, and the team still want me, I'll be racing in 2018. So it's the perfect situation. For every guy who's raced in Formula 1 for a long time, this is the dream contract they could have."
Button was speaking at an event for McLaren sponsor Esso who have launched a 360-degree Virtual Reality karting experience in which the 2009 world champion is pitched against Alonso and Vandoorne, along with former drivers Mika Hakkinen and David Coulthard, on the Spaniard's kart track.
"That's given me the buzz again so I will be karting a lot more over the next 12 months," Button added.
Although his new deal includes the option of Button returning to the grid in 2018, it also means that November's season-ending Abu Dhabi could eventually prove his F1 swansong. 
Asked by Sky Sports News HQ if he could regret not having a formal opportunity to say goodbye to the sport if he did not return, Button replied: "I understand what you mean, but emotional moments for me are when you are winning and celebrating with the crowd and people that you love. That's the sort of moment you savour.
"Whereas retiring - which I am not doing at this moment in time - is a send-off, you are in the spotlight and that not something I'm a big fan of anyway.
"I think this is an amazing idea that we have. Ron [Dennis] and myself, 40 minutes we talked about what I'm going to do in the future and it was like 'this is perfect'.
"After 17 years in the sport living by Bernie's schedule, 21 races, it's nice to have a year when I can live by my own schedule, do my own thing. [I'll] still have the ambassador role with the team and still come to some races, but I can still recharge my batteries so 2018, if I'm racing, I'll be fitter and stronger than ever and more focused than I've ever been."