McLaren's Jenson Button says he has no plans to retire at the end of the 2014 season
But 2009 champion admits his age makes decision over where he drives "difficult"
By James Galloway
Last Updated: 13/05/14 11:29am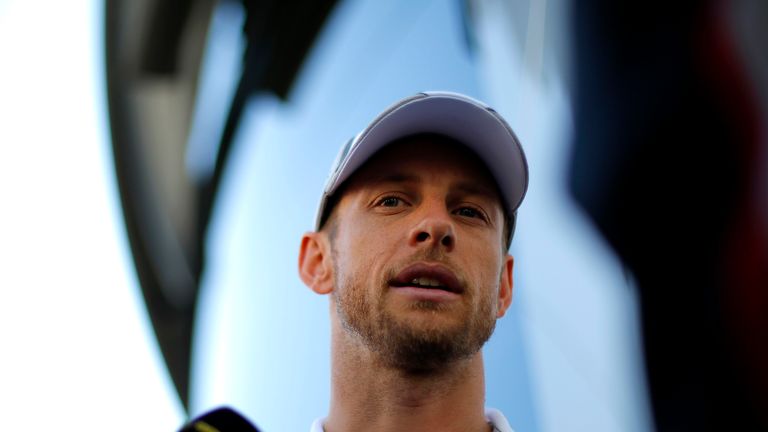 Having begun his F1 career back in 2000, the now 34-year-old Button is the most experienced, and second-oldest, driver on the grid and after celebrating his 250th race at last month's Bahrain GP, he will move into third place on the all-time list of most starts later this season.
The fact Button is out-of-contract at McLaren, the team he joined in 2010, at the end of the year has prompted speculation that his future in F1 could be in doubt, particularly since the death of his father and mentor John in January.
However, although McLaren are currently in their longest point-less run for five years and toiling in sixth place in the Constructors' Championship, Button insists such disappointments only increase his desire to continue in the sport and achieve further success.
"I definitely want to be in F1. This sort of season does not make you want to retire," said Button.
"If you do retire, you want to retire on a high and if you have the possibility to do that, then you continue racing to get that high. The problem then is when you do that you don't want to stop racing either, so you could be racing for many years.
"But no, I don't feel I want to retire at the end of this year. I am happy about my future, and think it is quite exciting."
Lingering question marks over Button's future, therefore, look set to centre on whether or not it is McLaren with whom the Briton continues his F1 career into 2015, when the team reunite with Honda.
Since news of the high-profile remarriage was announced last year, Button has been thought likely to stay on at Woking owing to his past long-time links with the Japanese carmarker.
Button, who drove for BAR/Honda between 2003 and 2008, has made clear he hopes McLaren is the place where he wins races again, but admits his age creates a dilemma over that decision.
"The biggest problem is I need to be in a car that is competitive, that gives you confidence as a driver as well. I hope that's here," the 15-time race winner explained.
"It is a difficult decision for a driver in my position, with so much experience and so much to give. I'm at the point in my career where I've only a few years left where I will be in F1, and I want to be in a position where I can win races or be close to winning races.
"I would like to think I'll be here and the team will be competitive towards the end of this season, which will then give me good reason to want to be here."
Speaking to the official F1 website last month, McLaren's returning CEO Ron Dennis said that, at present, there was no reason to replace Button.
"Anything is possible, but Jenson is doing a great job," said Dennis. "He is quick and he is dedicated so there is no reason not to stay with Jenson from any perspective. But we still have a whole season to go."
Having ousted Sergio Perez after just one season to promote young Dane Kevin Magnussen to the seat alongside Button, McLaren have a second high-rated youngster on their books in Stoffel Vandoorne, who is signed to the management stable Button co-owns, with the Belgian winning on his GP2 debut last month.
Ferrari's Fernando Alonso continues to be linked with a shock return to McLaren, despite being under contract to Ferrari until the end of 2016. The grid's other established front-running drivers - Sebastian Vettel, Lewis Hamilton, Nico Rosberg and Kimi Raikkonen - are all also under contract with their respective teams for next season.