Lewis Hamilton 'proud' of first-lap move past Nico Rosberg at Suzuka
World champion extends title lead to 48 points; Rosberg says he "had to avoid a collision" with his Mercedes team-mate at turn two
By Pete Gill and James Galloway at Suzuka
Last Updated: 28/09/15 9:25am
Lewis Hamilton says he is 'proud' of his move on Nico Rosberg at the start of the Japanese GP that saw his Mercedes team-mate run off the track.
Hamilton has extended his championship lead over Rosberg to 48 points - almost the equivalent of two race victories - courtesy of his win at Suzuka, which was effectively secured at the second corner when he out-muscled Rosberg for the lead.
While the two Mercedes cars didn't touch, Rosberg ran on to the grass as he took avoiding action and briefly fell to fourth. "It was close, I had to avoid a collision," the German said afterwards,
But a jubilant Hamilton, who eventually won the race by almost 20 seconds, was adamant that his move could be filed in the 'firm but fair category'.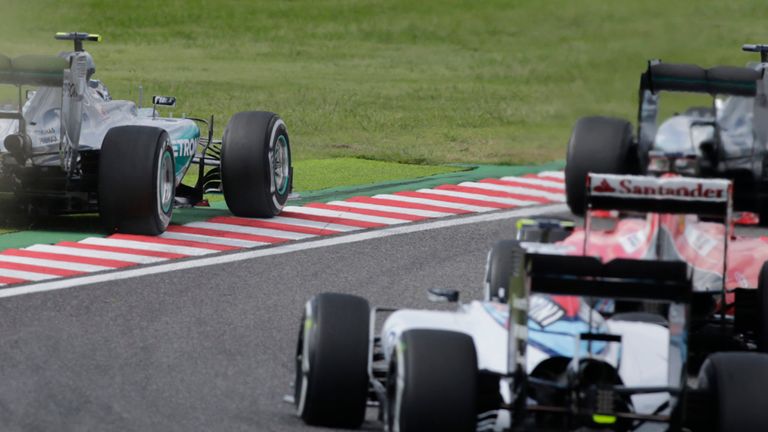 "I didn't want to run wide and run him off and I tried to give him space initially," Hamilton reflected to Sky Sports F1.  "The outside line into turn one is best and Nico had that but fortunately I was on the inside and I had to give it some power and make it stick. When I got ahead I started running out of road and he had to back off."
While Rosberg returned to the track behind Sebastian Vettel and Valtteri Bottas, Hamilton settled into cruise control at the front of the field.
"I was super-super proud of myself because l had to make it stick and if I didn't I would have been kicking myself."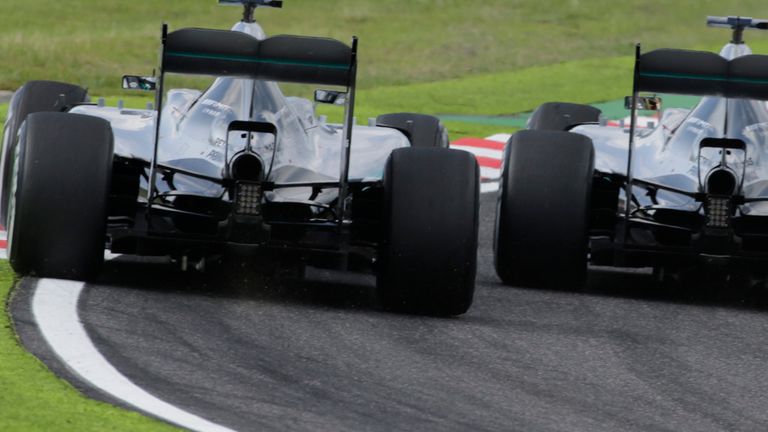 When it was suggested by Sky F1's Martin Brundle that he had 'hung Rosberg out to dry', Hamilton responded: "When you are on the outside you have to expect that. It's tough for sure, but this is not a friendly game of chess - and I didn't do anything dangerous to take us out of the race. I wanted to win the race."
Mercedes team boss Toto Wolff, meanwhile, said it was a challenging moment for both drivers given the narrowness of the track at that point.
"I don't think it has anything to do with [Rosberg] being soft or not, it's always very difficult to race your team-mate. We have seen some great overtaking [from him] afterwards against Bottas," Wolff said.
"It was a tricky situation for both because Lewis said he had understeer in the car and he ran out of track, and two cars side-by-side through turn two is difficult anyway."
Despite having the advantage of pole, Wolff says Rosberg's run to Turn One was hampered by a "slight drop in power" in the second phase of the start due to a spike in engine temperatures.
"The initial getaway was good for both cars but Nico had a little bit of an issue with a hotter power unit and when it kicked in after a couple of seconds he didn't have the same power as Lewis," he added. "This is temperature related. It was showing up on the formation lap."
"We don't know whether it's down to the driver or the car. That affected him in the fight into turns one and two mainly."
Don't miss the F1 Midweek Report on Wednesday night at 8.30pm when Ted Kravitz and David Brabham join Natalie Pinkham to discuss the Japanese GP