Lewis Hamilton: 'No gusts of wind' as 2015 champ praises Nico Rosberg
"No mistakes, no gusts of wind," says straight-faced Hamilton in Mexico a week after Rosberg was caught out by a gust in Austin
By James Galloway
Last Updated: 05/11/15 11:43am
Lewis Hamilton has congratulated Nico Rosberg on the German's victory in the Mexican GP - but couldn't resist a cheeky dig at his team-mate's expense.
For the first time since the Austrian GP - 10 races and four months ago - Hamilton was beaten on the road by the sister Mercedes as Rosberg delivered a commanding performance from pole position to prevail at the Circuit Hermanos Rodriguez.
The German's near-faultless drive was in contrast to his attempts to close out victory in Austin last weekend, when an unforced mistake in the closing stages let Hamilton through to claim the win - and the world title.
On his arrival in Mexico on Thursday, Rosberg explained that "it was a gust of wind" which had caused his costly off-course moment.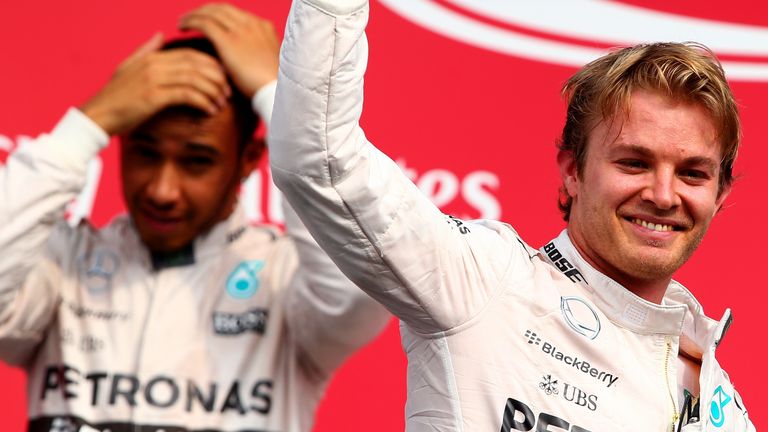 Speaking in the post-race press conference on Sunday, Hamilton praised his team-mate for his victory, although made veiled reference to Rosberg's Austin error.
"Nico drove really well today," Hamilton said. "No mistakes, no gusts of wind."
Although the battle for this year's world championship is already over, the final races of 2015 are already being viewed as the chance for Rosberg to set his stall out for a more sustained challenge to Hamilton next year.
"It was a little dig," said Sky Sports F1's Johnny Herbert in response to Hamilton's 'wind' remark, which the world champion delivered with a straight face.
The race winner joined the Sky F1 presentation team after the press conference and made clear that he had taken full responsibility for his slip-up last weekend.
"No, it was my mistake for sure," Rosberg said. "I didn't blame it on anything."
Despite finishing as the second Mercedes in Mexico, Hamilton said he had enjoyed the race and the atmosphere generated by the 130,000 capacity crowd on F1's first visit to the country in two decades.
"It was really difficult to follow here, but what a crowd we had today," the 30-year-old added. "It was just incredible. I gave it my all, it was fun to just push and not have to worry about points. So it was a fun race for me."
Hamilton rarely found himself within DRS range of Rosberg during the 71-laps of racing, although did twice briefly inherit the lead during what turned out to be two pit-stop phases for Mercedes.
At the second stops, which Mercedes chose to take as a precaution to guard against excessive tyre wear, Hamilton stayed out an extra lap longer than anticipated while he questioned over the radio whether he needed to stop again.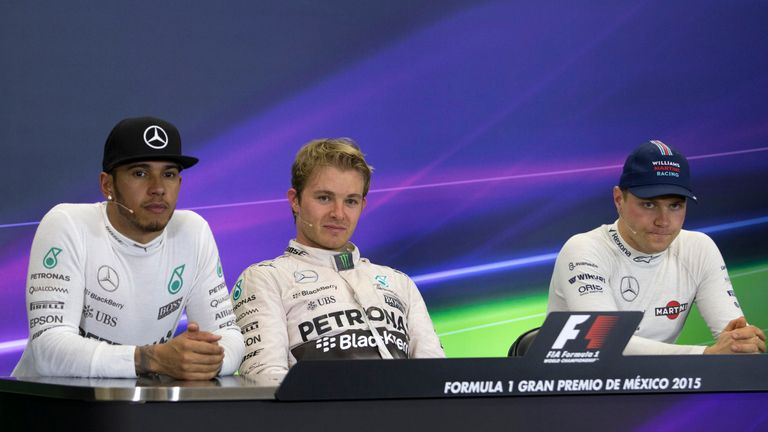 He eventually pitted, resuming in second place, but Hamilton still stressed over the radio that he wanted "feedback" about the state of the medium tyres which had just come off his car.
Asked afterwards if the team had given him those details, Hamilton replied: "They didn't. But it is irrelevant anyway. The team said they had concerns about safety and I don't know if that was coming from Pirelli or whatever.
"It doesn't really matter now. The team did a great job."
Although Hamilton can no longer tie the all-time record for 13 wins in a single season, his second place finish means he remains on course to equal another F1 milestone - 17 podium finishes in the same year. The Briton has finished in the top three 15 times and there are still two races to go.