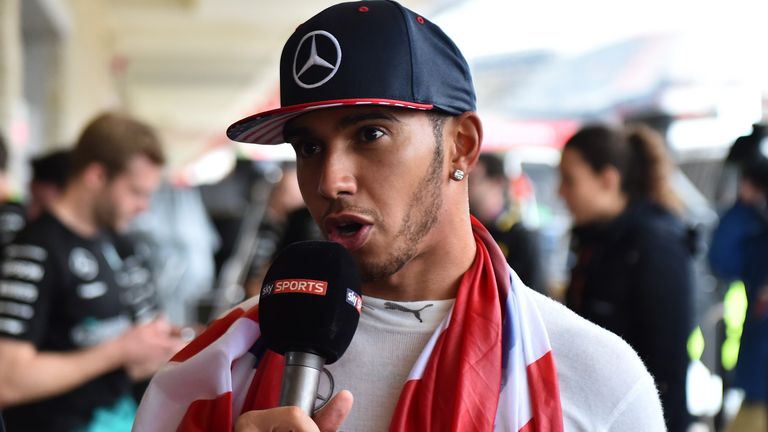 Super-strong despite the occasional knock-back, 2015 was a phenomenal year for the Mercedes driver, who claimed his third title with 10 wins in 19 races. Hamilton reflected upon his season with Sky Sports F1 at the Abu Dhabi GP...
You made a storming start to the season, what did you change over the winter? The brakes?
LH: "It wasn't just the brakes. It was understanding the car in terms of balance, to be able to fine tune it and extract what I want from it."
Whenever you got a knock-back this year, you always came back super-strong, like in China for example. But Nico Rosberg was upset after you won there, and he accused you of backing him into Sebastian Vettel?
LH: "It's very rare that he's happy! There's been lots of experiences like that."
There was that moment in the press conference, though, when he said 'Well actually Lewis, you were driving too slowly'…
LH: "I don't really remember too much. All I remember is winning the race."
But if you do something that disadvantages your team-mate, it's to your advantage. It's always been that way in motor racing…
LH: "That's not how I think, I think about winning the race. It's not something I would do, I just want to win the race."
You followed in Nico's tracks in Spain and the same happened in Brazil. If you could devise a new rule to promote better racing, would you look at that?
LH: "Obviously something does need to change because Formula 1 has been the same for a long, long time. I know they're talking about giving us more aerodynamics [in 2017] which for me is the worst idea. It just shows that, for me, they don't really know what they're trying to solve.
"From the driver's point of view, we want more grip from the tyres; we want less wake coming from the car so therefore we can get closer."
There were a couple of lows. Of course there was Monaco, where the team's decision to pit was criticised at the time. Was it 100 per cent their fault, or do you have to take some responsibility?
LH: "Ultimately the team take the decision. So the team make the call and then you follow that call. Ultimately we win and lose together. It doesn't matter, we made a mistake together - we lost the result together, but it doesn't matter as we won the championship."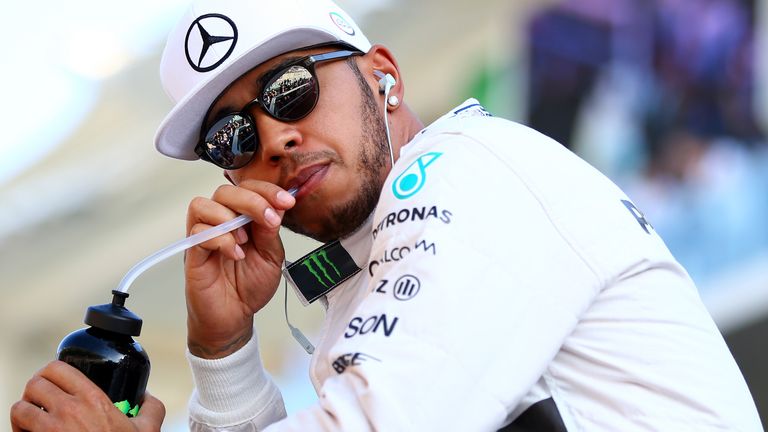 It's amazing to think that Singapore was the only DNF, but it was a bad race for the team in general. So wasn't it a good race for you, in the sense that Nico didn't win?
LH: "I don't think we have a full understanding of why, all of a sudden, we were behind. But it could have been much worse.
"I think the only time you feel critical or negative is when you make a mistake yourself, and then I feel like an idiot."
The next after Singapore was Japan. If you were in Nico's position, would you have expected to be given room on the outside (of Turn One on lap one)?
LH: "Nope."
So were you a bit surprised that he complained?
LH: "Nope."
Then in Austin he put himself in that position again…
LH: "I don't know. It's motor racing. We got to Interlagos and he pushed me wide, and that's what I expect. I would have done exactly the same thing; I was like 'Good on you man!'"
And then we get to the podium in Austin and you describe it as the greatest moment of your life…
LH: "Austin was a really spectacular race for me. I just kept hoping and kept thinking 'It's still possible, it's still possible' and that happens in every single race that I do.
"My goal is to come here, I want to win the race. I'm going for my 44th win and it's an important win for me, so my goal this weekend is to see if I can capture that.
"But, of course, the end of this season - the end of this year - the recovery phase, the training that goes into next year is as important as it's ever been."