'Lewis Hamilton could dominate F1 for next 10 years'
World champion's father fires warning to rivals ahead of new season
By William Esler
Last Updated: 08/02/16 2:30pm
Lewis Hamilton could dominate F1 for the next 10 years, his father Anthony Hamilton has warned the triple champion's rivals.
Hamilton made it back-to-back drivers' titles last year after a dominant campaign saw him crowned with three races to spare.
He turned 31 in January and told Sky Sports F1 ahead of last November's Mexican GP he planned to retire at 37, but his father sees him competing longer.
"He is only going to get better, he is only going to get stronger," Hamilton Snr told Sky Sports News HQ at the Zoom Charity Auction.
"He has another seven to 10 years left in the sport and he is extremely competitive. He is still young so he has quite a few left in him."
Despite having many interests outside of F1, including in the music industry where Hamilton has recorded a studio album, his father doesn't see him walking away from the sport any time soon.
"You can never say never, but I don't believe so. Lewis is a competitive soul, he loves motor racing and he loves to win," he added.
"As long as he has got that spirit he is going to remain in F1. I think he has another seven years minimum left in the business. That is bad news for everyone else."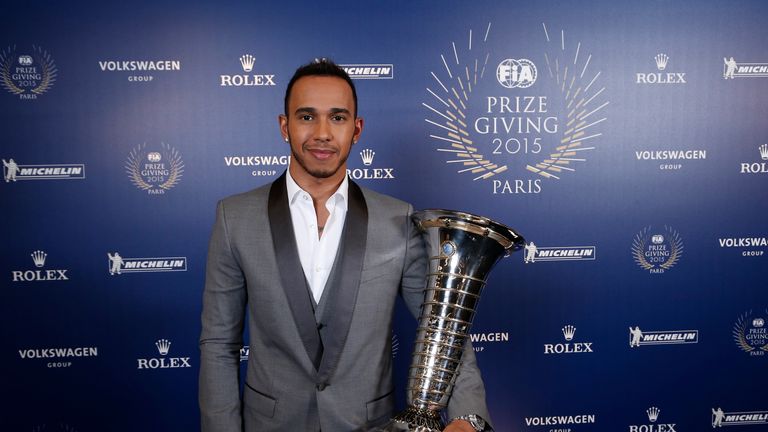 After two years in F1's dominant car, Hamilton believes his son wants to see others close the gap in 2016 to make it more of a challenge.
"If they were all in the same level car it would be fantastic," Hamilton Snr said.
"What Lewis doesn't want to do is run away with it and just win races because the others cars aren't up to scratch or the other teams are struggling. He wants everyone to be at the same level and he wants to win on merit.
"He's winning on merit because he's in the best team and is doing the best job, but he would like to see other people compete and have to struggle for a win."