Lewis Hamilton dedicates Canadian GP win to Muhammad Ali
"I was able to flow with the car and it was almost like when he was like 'float like a butterfly and sting like a bee'," says Montreal victor
By James Galloway
Last Updated: 20/06/16 1:31pm
Lewis Hamilton dedicated his Canadian GP victory to the late Muhammad Ali, after 'stinging' the defeated Sebastian Vettel in Sunday's race.
Hamilton cut team-mate Nico Rosberg's title lead to nine points after overcoming Ferrari rival Vettel at the Circuit Gilles Villeneuve to claim his second win a row.
On his slow-down lap, Hamilton took to the radio to say "Float like a butterfly, sting like a bee. That was for Ali" in reference to the boxing legend's famous quote from 1974.
Ali passed away on June 3, aged 74, and was laid to rest in his home city of Louisville on Friday.
"That guy was an inspiration and will be forever to so many people for what he did, how we was and how he fought," Hamilton told Sky Sports F1.
"I don't know why, but the last 15-20 laps I was thinking about him and some of his fights. And how I was able to flow with the car for some reason and it was almost like when he was like 'float like a butterfly and sting like a bee'.
"I very rarely do dedicate races to anyone, but it's an honour for me to be able to do so for him."
Coming off the back of his first victory of 2016 in Monaco, Hamilton's win in Montreal represents another key moment in his attempt to reign in Rosberg at the head of the Drivers' Championship and win a fourth world title.
Race report: Hamilton beats Vettel
The Briton was challenged for most of the Montreal race by Vettel, with the German making two pit stops to Hamilton's one.
"It felt like I was floating and every time he did a good lap, I was able to put another good lap in - which I'm sure was painful for him in terms of [being] like a sting," Hamilton added.
Vettel led the opening stages of Sunday's race after vaulting ahead of the front-row starting Mercedes cars off the line.
Hamilton has yet to convert one of his four poles this season into the lead of a race and admits he is keen to understand what went wrong this time. He also described his subsequent wheel-banging clash with Rosberg, which pushed the sister Mercedes onto the grass, as "unfortunate".
Rosberg says Lewis move 'really hard'
"The first start was amazing for the formation lap and I was thinking 'okay, this is going to be a breeze getting off the line!'" Hamilton said. "And then I came round [for the real start], let the clutch out and it went nowhere. I need to go and speak to them [the team] to figure out what happened.
"Then massive understeer into Turn One, being attacked by everyone, and an unfortunate tap with Nico. After that it was really about trying to hunt down Sebastian."
Vettel led the opening 12 laps, but then ceded position to Hamilton as Ferrari made an early call to move on to a two-stop strategy. They later admitted this had been a mistake.
"I definitely was surprised," Hamilton said. "My team told me to stay out, but I was excited because I was thinking we're going to have a little bit of a race coming up in the next 10 laps or so. I wanted to race him on the track.
"But then he came in and the Virtual Safety Car was coming to an end. I didn't know how long those tyres were going to go. They looked like they were graining from quite early on and I thought 'jeez, they're not going to get to lap 25' and then I got to lap 25 and I could have kept going at the pace I was going. And then I moved onto the other tyre and it was just sweet. It was smooth, like butter."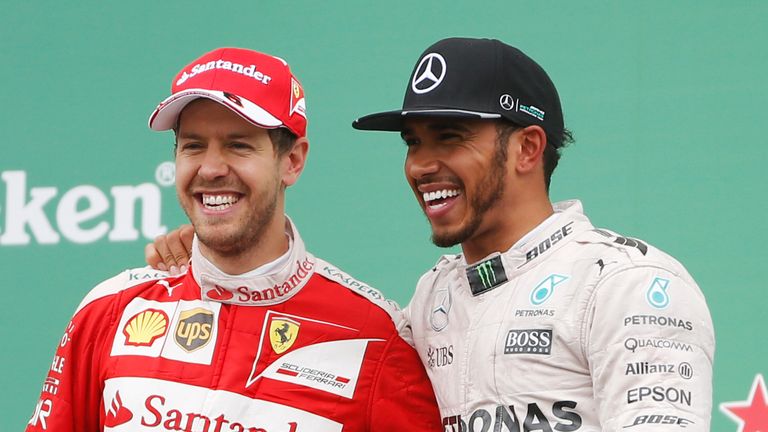 While Vettel's later attempt to come back at Hamilton was undone by two errors at the final chicane, the Mercedes driver was delighted with his own near-faultless performance.
"Other than Turn 10 - I had a slight lock-up, which I just released [the brake] and drove a little bit wide - I didn't make any mistakes and was really happy," he added.
"Great strategy, the team were right in the strategy call, and I can't really believe it's gone as well as it has."