Belgian Grand Prix: Lewis Hamilton clings on for victory ahead of Sebastian Vettel
Title rivals now separated by just seven points; Ricciardo claims podium finish for Red Bull; Force India team-mates collide twice
By Pete Gill
Last Updated: 30/09/17 8:53am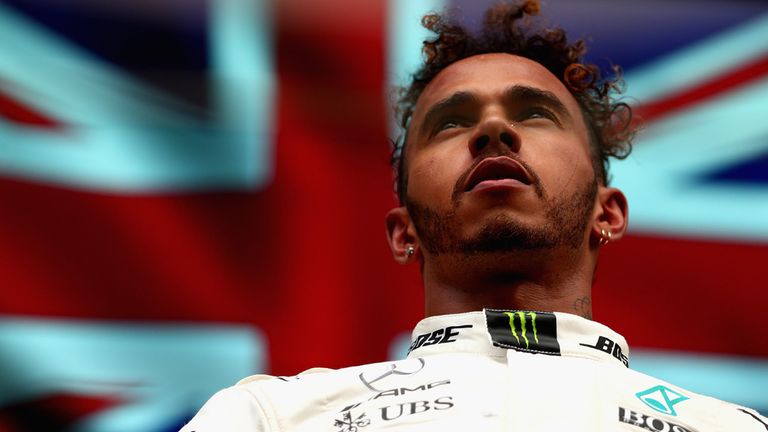 Lewis Hamilton has closed to within seven points of Sebastian Vettel in the world championship after a tense victory over his title rival in the Belgian GP.
In a high-class battle rich in quality if not signature drama, the two championship rivals spent the entire race within two seconds of each other with Hamilton successfully able to fend off Vettel and maintaining track position on two separate occasions to race-winning effect.
Hamilton explains how he kept Vettel behind
After rebuffing Vettel's advances at the start of the race when the Ferrari challenged along the Kemmel Straight, Hamilton, running on slower tyres, had to repeat the trick when the race restarted after a Safety Car deployment sparked by another collision between the two Force Indias of Esteban Ocon and Sergio Perez.
"It was fun to be racing against another team with Ferrari at their best and Sebastian at his best," said Hamilton. "That's what racing is about. They had the better pace today but fortunately I was able to stay ahead.
"There was not a point where I could say I could be comfortable."
Had Hamilton faltered, Vettel would have travelled to next week's Italian GP with a 21-point advantage. Instead, Hamilton will arrive in Monza knowing that victory will guarantee him the lead of the title race for the first time this year.
Courtesy of an opportunistic move past Valtteri Bottas at the restart, Daniel Ricciardo claimed third for Red Bull. But there was crushing disappointment for the legions of Max Verstappen fans packed around the legendary circuit when the engine of the teenager's Red Bull expired after barely 10 laps.
Inadvertently, Verstappen's retirement also triggered race ruin for Kimi Raikkonen after the Finn was hit by a 10-second stop-and-go penalty for failing to slow sufficiently when the Red Bull parked up.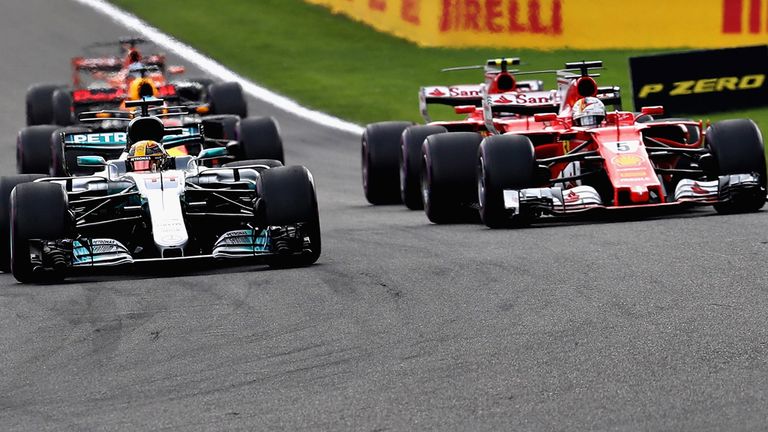 Vettel makes Hamilton work for it
Hamilton was making his 200th F1 race appearance in Sunday's grand prix but rarely can have been made to work so hard for victory.
In a Ferrari car which may well have been faster than the Mercedes, Vettel shadowed Hamilton from start to finish, ready to pounce throughout in a tense game of cat-and-mouse.
"It was really intense," reflected Vettel. "Every lap I was waiting for a mistake and he didn't make one. Every lap he was waiting for me to make a mistake and I didn't."
Ultimately track position was decisive, even when the Safety Car deployment enabled Vettel to bolt on a fresh set of ultrasofts with 15 laps remaining while Hamilton's Mercedes was fitted with softs.
After the pair charged up Eau Rouge, Vettel edged alongside Hamilton along the straight but the Englishman held on to the inside line and what may prove to be a pivotal victory.
"This race, I wouldn't have liked to have driven that," reflected Mercedes chief Niki Lauda. "From the first to the last lap, flat out. There was no room for nothing and Lewis did a fantastic job. You had to have everything right to win that one."
Force India in the civil wars again
While Hamilton and Vettel duelled for victory, the battle between the two Force Indias of Ocon and Perez proved no less intense but far more spectacular.
Ocon hits out Perez as Force India threaten orders
The pair have barely been on speaking terms since clashing earlier in the year in both Canada and Azerbaijan and collided twice more on Sunday with Ocon scathing of his team-mate afterwards and accusing the Mexican of "risking my life".
Although the stewards declined to penalise either driver, Force India's response is likely to be decisive in banning their feuding drivers from racing each other.
Ocon later tweeted that "Perez tried to kill me 2 times" with the pair's relationship apparently irreparably damaged.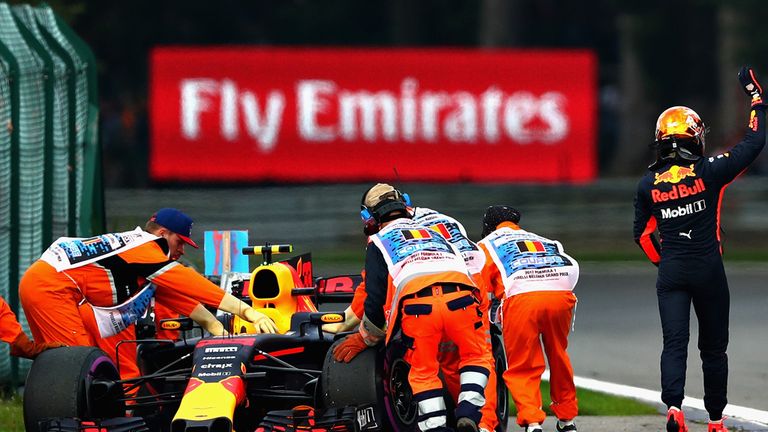 Alonso and Verstappen's frustration boils over
Due to its emphasis on engine power, Spa was expected to host a particularly painful weekend for McLaren. But with Fernando Alonso's patience fast evaporating as his lack of track-speed was exposed, the repercussions appeared to cut deep as the Spaniard all-but admitted afterwards he will quit the team if they stick with Honda for 2018.
The two-time world's champion's frustration frequently boiled over on team radio prior to his retirement:
Lap 5: "Embarrassing. Really embarrassing."
Lap 6: Engineer: "Magnussen is 1.4 seconds behind Grosjean." FA: "I really don't care too much about the gaps. This is just a test."
Lap 17: Engineer: "I suggest shape four to protect rears, just be careful of front locking." FA: "No more radio, the rest of the race."
Lap 20: "Every car I overtake, they pass me on the next lap. I have no protection now...anyway, it doesn't change my life."
Is it Alonso or Honda for McLaren in 2018?
Asked about his future after the race and the influence of McLaren's engine choice on his imminent decision about his 2018 whereabouts, Alonso told Sky F1: "We will see what happens in the next couple of weeks. McLaren is always one of the best teams in the world and I would be happy to keep working with them but we need to see how things evolve in the next couple of weeks."
As for Verstappen, his exasperation was no less pronounced following his sixth race retirement of an increasingly-dispiriting year.
"It's unbelievable," the Dutchman lamented as he parked up. How much more frustration could he accept before, like Alonso, considering his future, Verstappen was asked. "Not much," came the ominous reply.
For Vettel and Hamilton, their 2017 future is all to play for.
Belgian GP Race Result
1) Lewis Hamilton, Mercedes, 44 laps
2) Sebastian Vettel, Ferrari, + 2.358
3) Daniel Ricciardo, Red Bull, + 10.791
4) Kimi Raikkonen, Ferrari, + 14.471s
5) Valtteri Bottas, Mercedes, + 16.456
6) Nico Hulkenberg, Renault, + 28.087
7) Romain Grosjean, Haas, + 31.553
8) Felipe Massa, Williams, + 36.649
9) Esteban Ocon, Force India, + 38.154
10) Carlos Sainz, Toro Rosso, + 39.447
11) Lance Stroll, Williams, + 48.999
12) Daniil Kvyat, Toro Rosso, + 49.940
13) Jolyon Palmer, Renault, + 53.239
14) Stoffel Vandoorne, McLaren, + 57.078
15) Kevin Magnussen, Haas, + 67.262
16) Marcus Ericsson, Sauber, + 69.711

Did Not Finish
Sergio Perez, Force India
Fernando Alonso, McLaren
Max Verstappen, Red Bull
Pascal Wehrlein, Sauber