Lewis Hamilton credits heart and mind after taking lead of F1 world championship
Mercedes driver completes back-to-back victories at Monza to move three points ahead of Sebastian Vettel
By Pete Gill at Monza
Last Updated: 30/09/17 8:49am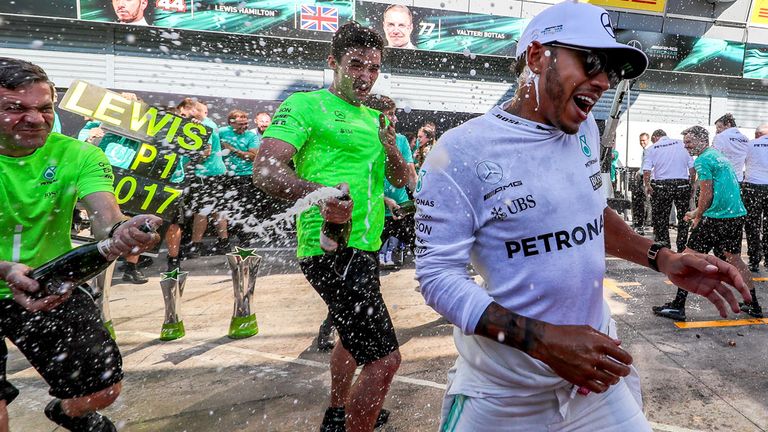 Lewis Hamilton says he feels "empowered" by taking the lead of the title race for the first time this season - and credited his heart and his mind for his superlative run of form.
Courtesy of the first back-to-back victories of the season, Hamilton's win at Monza, just a week after his Spa triumph, propelled the Mercedes driver above Sebastian Vettel in the standings and into the lead of a drivers' world championship for the first time in 12 months.
With seven races remaining this term, Hamilton, who will make a rare appearance in testing later this week, is three points ahead of Vettel.
"It's an empowering feeling," said Hamilton. "It's been a real constant search and battle for perfection to overhaul Ferrari.
"These last two races have been very solid. I feel more heart and passion within myself, l have found more in myself in the last three or four races.
"Silverstone was an empowering weekend and sparked a forest fire within me and hopefully that reflects in the way l am driving."
Hamilton was heavily criticised before the British GP in July after he declined to appear at F1's London Live event. Since then, however, Hamilton, who was 20 points behind Vettel when he arrived at Silverstone, has won three of the last four events including both of the races held after the summer break.
"The season is pedal to the metal all year long and going into the break l was flat-out," he reflected. "I recharged the batteries and they are fully charged. It's like an ERS pack - towards the end of the first part of the season you are running low end of the battery pack and now l am operating at the top. It's a great feeling.
"While l feel like l always drive with my heart, and my heart is the power and force behind what l do, I think my mind is like the rudder and l feel it has been steering me in the right direction."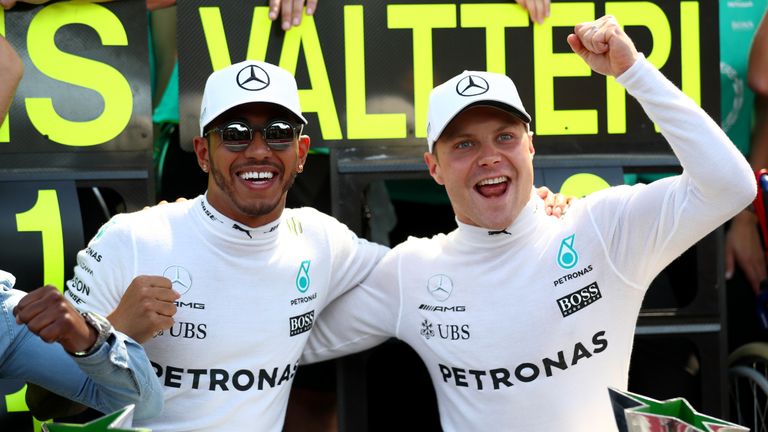 Hamilton strengthens his grip at Mercedes
Hamilton appeared to be in a class of one this weekend at Monza, claiming his record-breaking 69th pole position with over a second of lap time to spare and his victory a day later never appeared to be in doubt once he emerged ahead from the first corner.
"It's only a couple of points but l am grateful to be leading," said Hamilton.
"By no means do l feel comfortable. I am going to apply myself the way l have these last three or four races and hopefully reverse the picture because earlier in the year it was 20 points between me and him. I want him to have that feeling for a while."
Hamilton last led the world championship after last year's Italian GP before being overhauled by Nico Rosberg when the German won in Singapore.
Twelve months on, the battle within Mercedes is becoming altogether more one-sided with Bottas falling almost the equivalent of two race victories behind his team-mate.
Bottas doggedly kept Hamilton company throughout Sunday's race but Hamilton's superiority was never in doubt.
"From lap one l had good pace and was able to respond to whatever pace whoever was behind me put in. Valtteri did a very solid job but l felt l had a couple of tenths on him. If he had given me a time, l felt certain l had the pace in the car to answer it if not improve," added Hamilton.
"In the last few laps, the car is at its lightest and l like to get a feel and a picture what the car's ability is and where its set-up. The tyres felt good so l pushed for a couple of laps, not flat but enough to give me some information."
F1's next stop is Singapore but before then Hamilton will be back in action when Mercedes run 2018's Pirelli's prototypes tyres at the Paul Ricard circuit.
"I will be doing the test this week, which is very rare for me because l am not a tester," he said. "I am looking forward to it, l offered to do it."
Hamilton brushes off podium boos
Hamilton added he wasn't bothered by being booed on the podium after winning the Italian GP.
"To be honest, I had a real nice song playing in my head, and it kind of went over my head," said Hamilton. "It's to be expected here in Italy.
"They feel a bit more like football fans here - the aggressive ones! But it's all in the name of love for the red cars."
Hamilton described the heckles as inevitable after Mercedes defeated Ferrari to stop the Scuderia winning on home soil.
"We are the villains - if I wasn't driving today and Valtteri wasn't driving today, the Ferraris would have won. Some days I'm happy to be the villain, and I really don't mind. I just try to remain respectful. I admire their passion."
If you are using skysports.com you can comment below to get involved in the debate, but please adhere to our House Rules. If you wish to report any comment, simply click on the down arrow next to the offending comment and click 'Report'.