Mercedes claim it's futile to put Lewis Hamilton 'in a box' as they stick to hands-off approach
"The more you try to limit him - put him in a box - the more detrimental it will be for his performance," says Wolff
By Matt Morlidge
Last Updated: 05/10/17 9:46am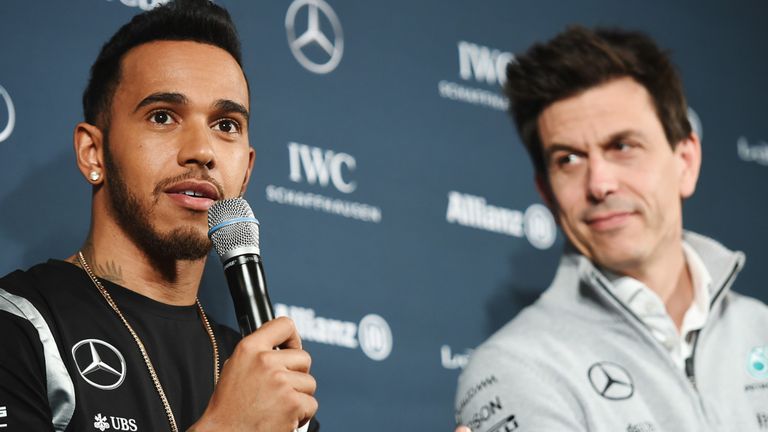 Toto Wolff has explained Mercedes' hands-off policy and trust when it comes to Lewis Hamilton, claiming it would be detrimental to "put him in a box" rather than providing the championship leader with the framework to drive at his best.
Hamilton insists he is better than ever in 2017 but is admittedly focusing on projects outside of Formula 1 too, travelling more than ever in the process, and attracted intense media scrutiny after missing a London Live event earlier this season.
But such an absence and criticism was soon tempered by a dominant British GP victory and four wins in five races - confirmation for Wolff that Mercedes are doing the right thing by granting Hamilton free rein.
Rosberg joins Sky F1 for the Japanese GP
"The more you try to limit him - put him in a box - the more detrimental it will be for his performance," the Mercedes boss told The Telegraph. "The old mentality of 'A racing driver has to be like this or like that' is invalid for Lewis."
Mercedes' approach with the three-time world champion is a far-cry from his McLaren days under Ron Dennis, and Hamilton says he has never consulted his team about recent comments on NFL protests and American politics.
Hamilton has admitted he is considering 'taking a knee' himself during the anthem at the US GP next month, while critical videos of President Donald Trump have also appeared on his Instagram feed.
But the Briton is clearly flourishing under the current Mercedes guidelines, 34 points clear of Sebastian Vettel in the standings with five Grands Prix remaining in 2017, and Wolff is understandably keen for that to continue.
"Lewis is a very talented racing driver - probably the best [in the sport] at this moment in time," Wolff explained.
The curious case of an FIA exit
"You have to accept that all of us pretty much know what's good and bad for us, and then leave him to adjust his life accordingly so that he performs best and we perform best.
"Lewis is a great personality in Formula 1. The kind of deal we have is that he drives the race very fast. And we provide the framework that enables him to do so. And it's a win-win situation."
Wolff has also put the more relaxed, focused Hamilton down to a better "dynamic" within the Mercedes team in 2017, with Valtteri Bottas replacing world champion Nico Rosberg.
"The dynamic between Valtteri Bottas and Lewis is completely different to how it was with Nico [Rosberg]," Wolff added. "You can see that they respect each other much more and there is a certain kind of feeling of satisfaction to the other one doing well."
Watch the Japanese GP LIVE ONLY on Sky Sports F1 this weekend. The race from Suzuka begins at 6am on Sunday. Want to watch but not got Sky F1? Buy a NOW TV pass from £6.99!