Australian GP: Lewis Hamilton in 'disbelief' after Sebastian Vettel win
Hamilton says "l did everything l was supposed to do" after stunning turnaround in Melbourne let in Ferrari rival Vettel for victory
By James Galloway in Melbourne
Last Updated: 13/12/18 3:04pm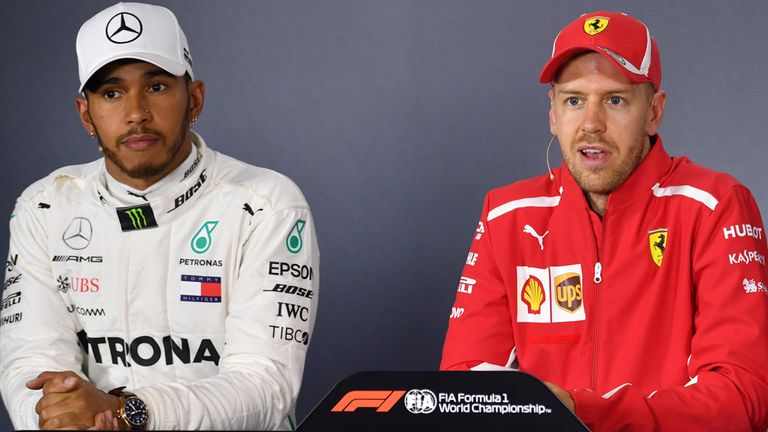 Lewis Hamilton admitted to being in "disbelief" after seeing victory in the Australian GP slip from his grasp, with Mercedes still unsure how Sebastian Vettel won F1's season-opener.
But Hamilton, in philosophical mood on Sunday night despite the disappointment of seeing his great Ferrari rival overtake him in the pits under a mid-race Virtual Safety Car, stressed there was no "dark cloud" hanging over Mercedes after the world champions' impressive pace at 2018's curtain-raiser.
How Mercedes lost out to Ferrari
Race Report: Vettel steals win
"I am in disbelief because l did everything l was supposed to do," Hamilton said after finishing second.
"I drove as well as l could and l didn't put a foot wrong."
Silver Arrows chief Toto Wolff told Sky Sports F1 immediately after the race that Mercedes suspected a computer glitch had caused them to miscalculate Hamilton's vulnerability to any Virtual Safety Car while Vettel extended his opening stint.
The VSC, which prescribes drivers' speed on track but not in the pit lane, was deployed after the two Haas cars stopped on track in quick succession.
Hamilton said Mercedes' engineers were still working out exactly how Vettel was able to leapfrog him having run only third up to the pit stops.
"I don't fully understand at the moment, they don't still fully understand it still," Hamilton told reporters.
"They couldn't give me an exact reason as to why it was the way it was. I can't really say how I feel about it, but it's never easy to lose a grand prix."
Hamilton 'had extra tools'
Hamilton held a 3.4-second lead over Kimi Raikkonen before the Finn made his pit stop on lap 17, and was 8.2s ahead of Vettel at the end of the next lap when Mercedes themselves pitted.
In a bid to try and bring his race to life, Ferrari kept Vettel out to set up a shorter final stint but he was still only 11 seconds ahead of Hamilton at the end of the lap before he pitted.
Hamilton felt he had the tyre life to go faster had he needed to both before and after his pit stop, but stressed Mercedes should not feel too downbeat as "we've got a great car" and "can win the next race" in Bahrain on April 8.
"In the race I had extra tools - I could have been further ahead by the first pit stop. I could have been further ahead after [the pit stop]," he explained.
"But there were so many good things we could have done, but if one thing's telling you one thing and you think you're doing it to the book and within the limit then there is nothing you can do."
The world champion added: "Everyone in the team is feeling it but there's so much great work and so much positivity to take forward with us. We still got second today so it feels like a dark cloud, but it's not. We still got a positive result, we've got a great car and we're still the world champions.
"With a couple of adjustments we can win the next race - I believe that."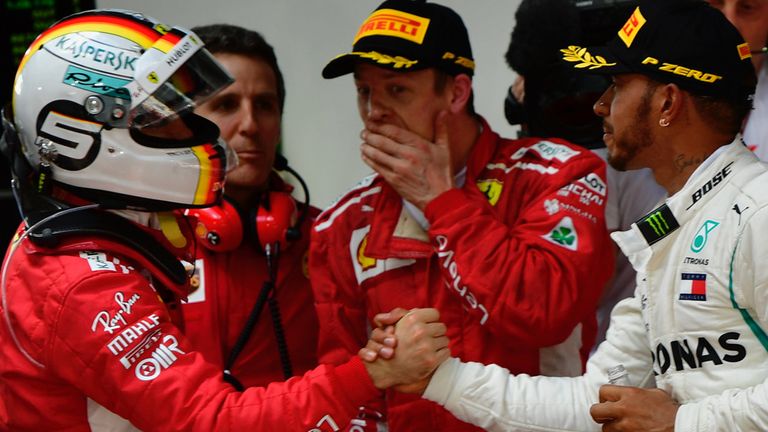 Why Lewis was always 'racing Vettel'
Against expectations and the usual pecking order at Ferrari, it had been Kimi Raikkonen and not Vettel who had proved Hamilton's closest pursuer in qualifying and the first stint of the race until the grand prix's hugely unexpected turnaround.
And, while complimentary of Raikkonen's performance and the pace of Ferrari, Hamilton insisted he always thought he was racing Vettel, his fierce title rival from last season.
The Englishman, who was shorn of a rear-gunner after Valtteri Bottas crashed in qualifying, said: "Everyone has been talking about 'party mode' and how much quicker we are...he [Raikkonen] was quick in the first stint. It was not easy at all to pull away from him."
"In my mind, I was racing Sebastian. Ferrari are always going to play one off the other - there were two of them, so they have two jokers. So pit one guy, which forces you to protect yourself under the undercut, but the other guy's in the clear.
"In my mind I was like 'just look out for number three [Vettel] because that's who I think I was racing. But Kimi drove fantastically well and was generally quicker all weekend."
And, implying that Vettel underperformed in qualifying, Hamilton concluded: "I'm not convinced that Sebastian did a good lap yesterday so I think it dimmed their performance through qualifying.
"I think their performance was better than what it looked."